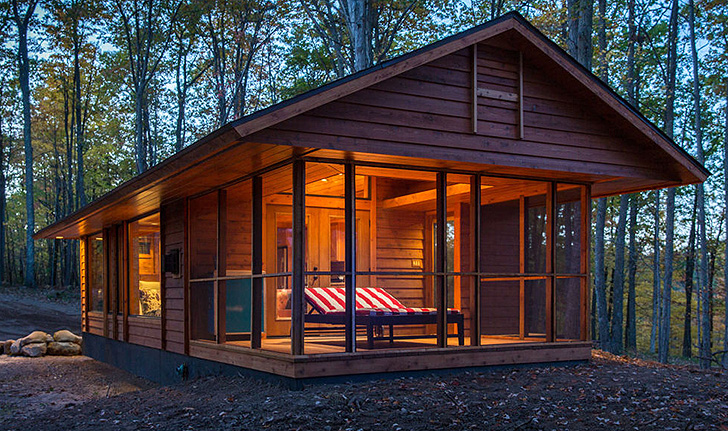 OK, This is a beautiful tiny cabin, with gorgeous interior and exterior. But $100k for a 400 square foot tiny cabin? That seems extremely expensive for such a small unit. Lets see what we get for our $100k.
The exterior has a gorgeous rustic look and feel, complete with porch area and over hanging eaves. The fit and finish is high quality and yes, impressive.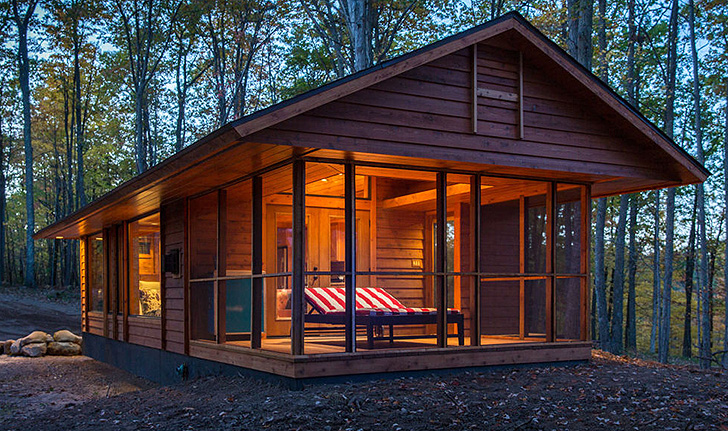 The beauty doesn't stop on the outside. The interior is phenomenally pleasing to look at in wonderfully aesthetic pine tongue and groove walls ceiling and floors, presenting a  warm and cozy feel that isn't lost on the price.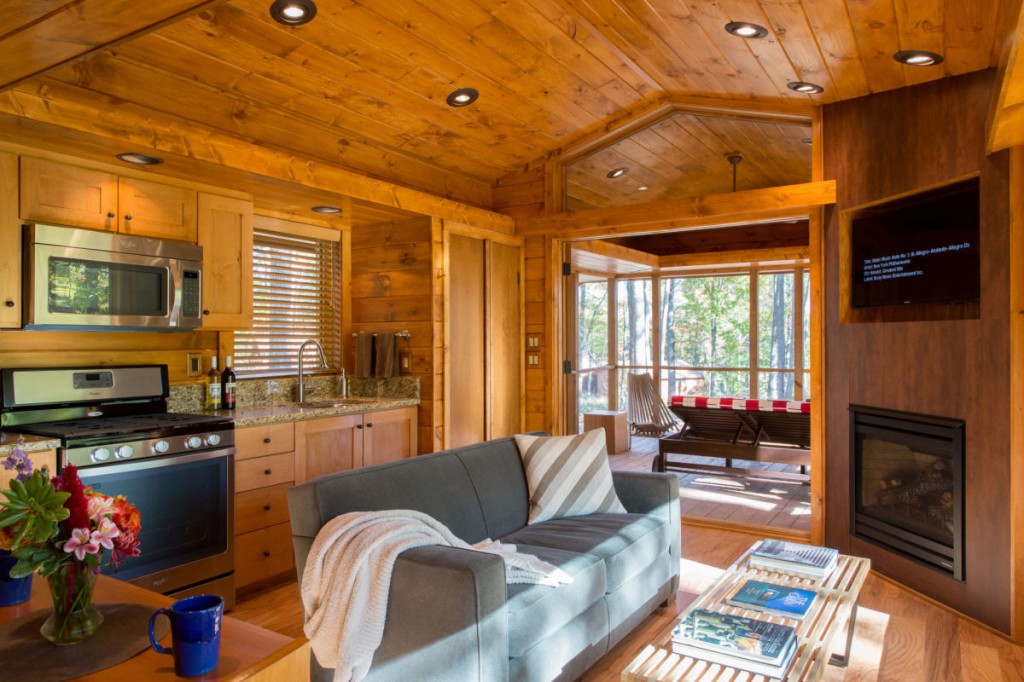 Oak hardwood floors throughout finish it off with a perfectly rustic look. The appliances give it modern convenience and luxury.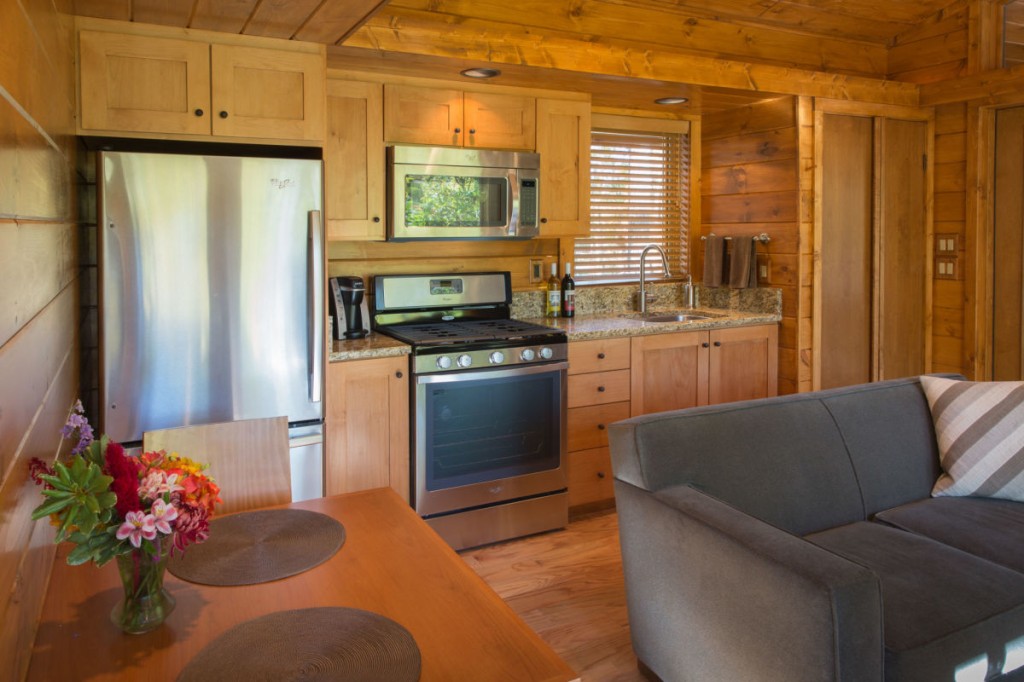 Here's a list of amenities.
ESCAPE Features
Typical Price:  $99,990,  Base version $79,990 until 5/1/14. 

Financing is available 

Exterior
• Beveled cedar siding
• Unique window fins & trim
• Low-E, thermopane windows. Note: Window placement can be changed.
• Architectural, 30-yr composite shingles with ridge venting
• Full light entry door
• Exterior weathertight outlet (GFI)

• Heat-tape receptacle

• Frost-free hose bibb

• Attached front, screened porch with recessed lighting and ceiling fan (Not on Base model)
Interior
• Pine tongue and groove walls, ceiling and trim.  
• Oak hardwood floors (Laminate or carpet floors in Base version)
• Recessed lighting throughout
• On Demand water heater (30 gallon water heater in Base version)
• Space saving pocket doors throughout
• Kitchen features: custom cabinets with choice of finish, Energy Star appliances including 30" stove, microwave/hood vent and 18.5 cu/ft refrigerator, designer laminate countertops, stainless steel sink, single handle designer faucet
• Bathroom features: Large vanity with single or double bowl sink and single handle designer faucet, custom cabinetry, fiberglass tub/shower or shower only, separate toilet room with water saving toilet, exhaust fan, recessed lighting.
• Bedroom features: custom built-in bed and nightstands, custom bedside sconces, beautiful cabinetry with choice of finish, ceiling fan and control.
• Living/Dining Room features: Recessed lighting, large window above entry door, front storage closet, large window wall, cantilevered dining table (Not on Base version), high efficiency, sealed combustion fireplace (Base Version no fireplace)

"Custom Home" Quality Construction
• Deep I-beam frame
• Detachable hitch
• Heavy poly belly wrap
• 2×8 floor joists
• 2×4 exterior wall framing
• Double wall construction
• House wrap and window tape weatherization
• Engineered roof trusses with sheathing
• 30# felt roofing substrate
• Water and Ice Shield membrane
• Exclusive 36" minimum eaves, enclosed and vented
• Vaulted ceilings throughout
• Typical Insulation: R-19 walls, R-30 floor, R-38 ceiling
• 50 Amp Electric Service or simple 30 amp RV plug.  ESCAPE is perfect for solar power.
• Plumbing: Wirsbo Aquapex Manifold System
• Metal water shut-off valves and full system drains
• Smoke/CO detector and fire extinguisher
• All U/L-approved electrical devices and wiring
• TV jacks and wiring

Each ESCAPE is hand-made in America and meets or exceeds the rigid ANSI A119.5 building standards. Please see the ESCAPE Options page to customize your unit to your exact needs and desires.
It's interesting to think what you can do with $100k. Is this cabin worth the price?
Perhaps…
***
Photos: http://www.canoebayescape.com/