Adding siding gives the cabin a more rustic look. Throw on some windows but be careful. Cutting a hole in the side of the shipping container can either be done with a plasma torch or a grinder with a metal cutting wheel. I've seen this done, and it's dangerous. The corrugated metal is heavy and if it falls on you while you're cutting it out it could seriously injure you. Use proper safety equipment and if you've never modified a shipping container for hire someone to do it for you. Always get help from someone with experience.
Add a front door and a small wooden deck.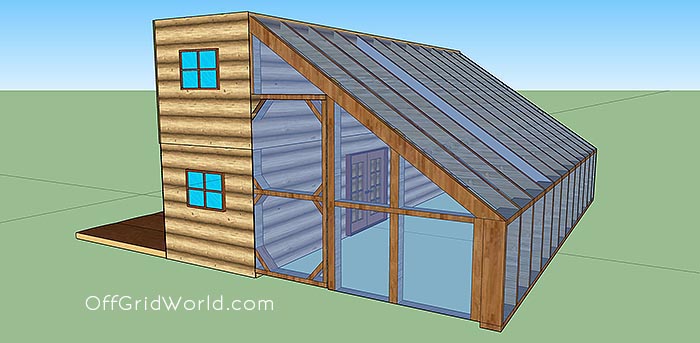 Mount the solar panels and you're ready to plant your greenhouse.
Build some simple raised beds or if you feel comfortable with it simply till the ground and plant directly in the ground. Personally I will be using an aquaponics system which will not only grow fruits and veggies but will also allow me to raise fish year round.
The beauty of this design is that it's practical. It uses natural and recycled materials to build a cabin on the cheap. Pricing varies depending on your sources, but most of these materials including the wire and pipe for electrical and plumbing can be purchased for a few thousand dollars.
Shipping containers range in price from as low as $1100 per unit (if you buy in bulk 10 or more units at once) or if you're buying only one or two container you're going to pay about $2500+ freight to your location. Have a plan in place to move them. When you set containers like this stacked on top of one another, you will need a crane to move them. It's not cheap and could cost you an extra couple thousand just to move them.
On average though shipping containers are still cheaper per square foot when compared to traditional buildings.
Pricing on the whole thing including the shipping containers, freight, greenhouse materials, wiring, plumbing, siding, insulation, flooring, etc should price out around $25,000 for a bare bones system.
The solar panels, mounting brackets, charge controller, batteries, and electrical system will run you about $5k to $10k alone depending on how large a system you put in and what you power needs are.
All in all this is a simple system that anyone with some land could build relatively inexpensively.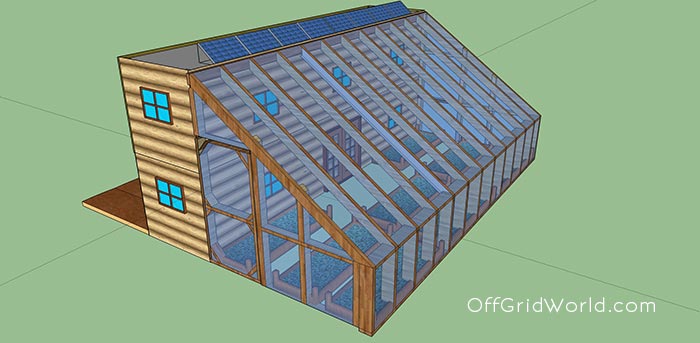 It's practical, efficient, affordable and not only gives you shelter and power, it gives you healthy food to eat too, and that makes it priceless.
***
Disclaimer: These are 3D design concepts for shipping container homes. They're only a design concepts, and they do not exist, and are not for sale. The pricing presented here (if any) are for BARE BONES materials, does not include freight, moving, crane rental, or any amenities. This design is licensed under an Open Source Creative Commons Share and Share Alike Non-Commercial license, as long as proper credit and link is given to this page.