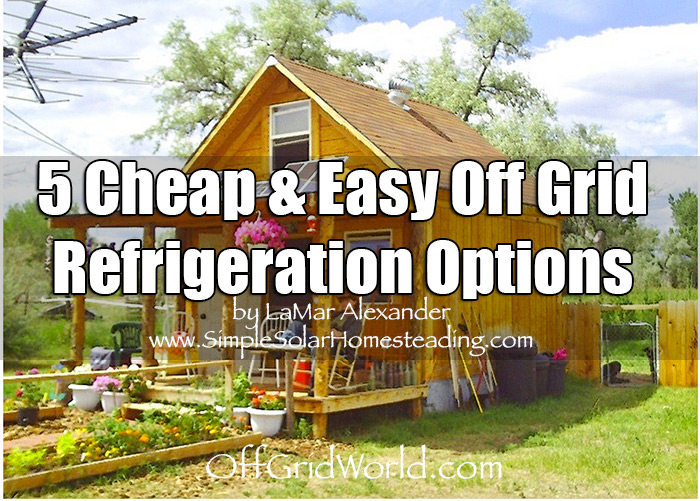 CHEST FREEZER CONVERSIONS
A chest freezer can be converted to a fridge/freezer using a control unit that monitors the temperature in the chest and shuts off the power so it stays cold but not frozen. This is a common off-grid application for making a fridge and if the temperature is set correctly you can keep frozen food on the bottom of the chest and food you do not want frozen on the top. The pros are chest freezers are fairly inexpensive, they average under 2 amps when running, they have good food storage space and fit into smaller houses.
The cons are it is a chest so finding the food is a hassle, they may require up to 1200 watts cold crank power to get running, they develop condensation, and you have to by a separate thermostat control unit.
For long term off-grid living the chest freezer conversion is probably the most used by off-gridders.
DANFOSS COMPRESSOR FRIDGE/FREEZERS
A Danfoss compressor is a multi-voltage compressor that can run on AC or DC and because it does not have a separate compressor motor it uses very little power and some use less than 1 amp when running. They can be found in Sundanzer chest freezers or smaller units like the ARB fridge/freezers. They are a true zero degree freezer and like a chest freezer you can freeze food on the bottom and have unfrozen food stored on top.
The pros are they use very little power and can run for 2-3 days off of a standard 12 volt battery. They are smaller for small houses and they have few moving parts to break down. The ARB units are portable for off-grid and off-road use.
The cons are they generally have limited food storage space and they are much more expensive averaging $1000 for a Sundanzer chest fridge to about $800 for an ARB fridge/freezer.
SUMMARY:
I have used all of these fridge types in my off grid house and for long term off-grid living I recommend a chest freezer conversion but if you want super low power use and the convenience of a portable camping unit the Danfoss compressor fridges are excellent and the durability and low power consumption offsets the high cost.
I have many videos of my fridges over the years and all my cabin systems on youtube:
http://www.youtube.com/solarcabin
Please drop by my website to see my cabin and many new off-grid cabin designs:
http://www.simplesolarhomesteading.com
-LaMar
***