There are many ways to take your living space on the road, some traditional, some whimsical, and some downright strange (though fun to look at).
Whether intended for weekend campouts or full-time residences, people have come up with some pretty interesting homes on wheels. Here we've gathered a list of 13 of the most interesting retro campers, RVs, and conversions we could find.
1 – Old bus conversion
Here's a creative bus conversion! An old bus turned into a camper with a rear deck and space for a grill.
2 – 1918 camper truck
Ever wonder what camping looked like in the early 1900s? This custom "camper" had a pull-out cooking area and screened in sleeping quarters.
3 – VW camper van
An old VW van converted to include a covered storage bed in the back, perfect for camping or hauling.
4 – 100 year old RV
The recreational vehicle turned 100 years old in 2010. According to the Recreational Vehicle Industry Association, about 8.2 million households now own RVs. Via Smithsonian Magazine.
5 – Gypsy caravan conversion
An old RV turned into a beautiful Gyspy caravan with upper sleeping loft.
6 – An RV inside a huge, hollow log
A hollowed out log became the company's mobile office. Hollowed logs were used to house and feed the crews. These pictures were taken in 1922.
7 – Vintage Model A motor home
This 1930 Ford Model A motor home sits in a museum in California. I'd love to see the inside!
8 – Retro pink camper
This retro trailer makes camping stylish!
9 – 1922 Motorhome in Germany
Now THIS is a luxury tiny house on wheels! They thought of everything, right down to the window planters.
10 – Bus home with rooftop balcony
This old bus in New Zealand was converted into a really cool home, complete with rooftop balcony and glass doors.
11 – Vintage Volkswagen vans
These were ideal for traveling with the family. Your vehicle and sleeping quarters all in once convenient package.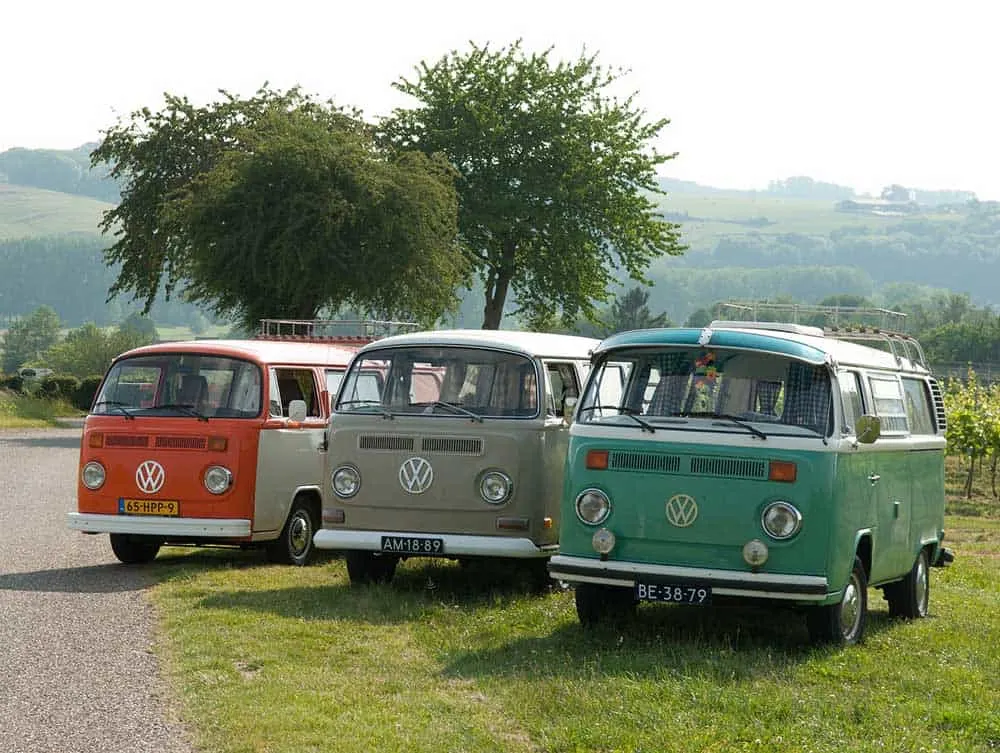 12 – Classic Buick with matching camper
This is the coolest combo yet. A 1939 Buick with a matching camper trailer.
13 – Volkswagen Beetle camper
We're seeing a common theme here with these Volkswagen campers and conversions! This unique creation is a cross between an old camper and a VW Beetle.