With spring well underway, many of us are ready to get our hands in the dirt and get some garden planting done. If container gardening is your style, you don't have to run off to the store and buy boring, run-of-the-mill flower pots. Check out these amazingly creative options for DIY planters.
1. Old wine barrel – Removing some of the wood slats from an old wine barrel results in a beautiful planter perfect for flowers or vegetables.
2. Canvas bags – fabric bags actually work really well for planting. They are lightweight and easy to store, flexible, biodegradable, and weather-resistant. Planters like these give a garden a nice, rustic look.
Bag planters can be made out of canvas, cotton, old feed sacks, coffee bags, felt, old jeans, and many other materials.
3. Paint cans – Who knew old paint cans could look so good? With a little spray paint and tape, Kate from Centsational Style turned these paint cans into adorable hanging flower pots.
4. Tires – with some colorful spraypaint you can turn a pile of tires into an artsy and fun stacked display in your yard, like these from Lemon, Bean, and Things.
5. Hanging tires – Another unique way to use tires is to hang them up for vertical planting. Tires can be found for free from a variety of places since it costs money to take them to the landfill. Just ask your local auto shop or check online classifieds for some freebies to make charming, colorful planters.
6. Stacked terracotta – For a beautiful vertical flower display, try using terracotta pots stacked on a rebar support, like this idea from Home Stories A to Z. These pots are easy to paint, so you can color them any way you like or keep the traditional clay color. This idea would work amazingly well for herbs, too.
7. Repurposed dresser – Kelly at Eclectically Vintage turned a $6 thrift shop dresser into this beautiful front porch flower and herb planter. What a cool idea! See how she did it here.
8. Tackle box – Have an old tackle box sitting around? Here's a very creative way to repurpose it! See the tutorial at Makezine.
9. Floppy disks – Ever wonder what to do with those old floppy disks you have stashed away in a box somewhere? Check out these cool little cube planters made from glued-together disks. See how to make them on Instructables.
10. Colanders – For something really different but super simple, try colanders as planters. They are the perfect size and shape – and they already have drainage holes. 🙂 Via Bonnie Plants.
11. Canoe garden – Not everyone has an old canoe sitting around, but those who do can turn them into a garden statement piece. Fill them with flowers, grasses, food plants, or a mix.
12. Chandelier – Who knew a chandelier could make such a gorgeous hanging planter? This project from DIY Showoff can be done with an old chandelier from a yard sale or thrift store, terracotta pots, and some paint.
13. Garden boots – Rosy-Posy used garden boots to make these adorable, colorful planters to hang on a fence. To do this yourself, just drill some holes in the bottom of the boots for drainage and hang them up with cup hooks or screws.
14. Plastic bottles – This plant wall utilizes upcycled plastic bottles for a gorgeous, practical vertical garden display.
15. Painted bottles – Here's another cute idea for using plastic bottles. These hanging planters from Hello Glow are made with painted coffee creamer containers and colorful string. They look great hung in a tree, as shown. They would also look cute hanging on a fence or front porch.
16. Repurposed shoes – Before tossing out your old shoes, consider using them in the garden! Or grab a few cheap pairs at your local thrift store for a whole variety of boot planters.
17. Chalkboard painted pots – Terracotta pots painted with chalkboard paint are not only useful for labeling plants but also a pretty and trendy way to display herbs and flowers. Kids would have fun making these, too, and decorating the pots with chalk pictures. See how these are made at Virginia Sweet Pea.
18. Wagon planter – When the kids outgrow their little red wagon, don't throw it away. Use it as a planter! Or search for an antique wagon and make it a unique feature in your garden.
19. Go vintage – For a fun, vintage vibe, try using old things you might have around the house taking up space. This old typewriter was planted with groundcover plants.
20. Bird cages – Old bird cages of all sizes can be found at yard sales and thrift stores. They can make beautifully unique planters to place around your garden space, hanging or sitting on the ground.
21. Old chairs – Chairs come in all shapes, sizes, and colors. They can easily be repurposed into raised plant stands in the garden.
22. Dishware – All kinds of old cups, saucers, and bowls from your kitchen can be turned into planters. Or raid your local thrift store for used cast iron, tea kettles, or whatever else you can envision putting plants in.

22. Broken tea kettle – A Proverbs 31 Wife turned this cracked ceramic tea kettle into a planter rather than throwing it away. Tea kettles of all sizes would make nice little durable planters to sit in a garden or on a porch table, as long as they aren't too delicate.
23. Repurposed wheelbarrow – If you're a gardener, you probably have a wheelbarrow or two. When it's time for a new one, hang on to the old one and use it as a big, mobile plant pot!
24. Recycled bottles – This is such a cute idea and a fun project for kids. Cut the bottoms off plastic bottles and go crazy with colorful paints and tape. Use some wire to hang them on a fence or from a tree for a unique, colorful display.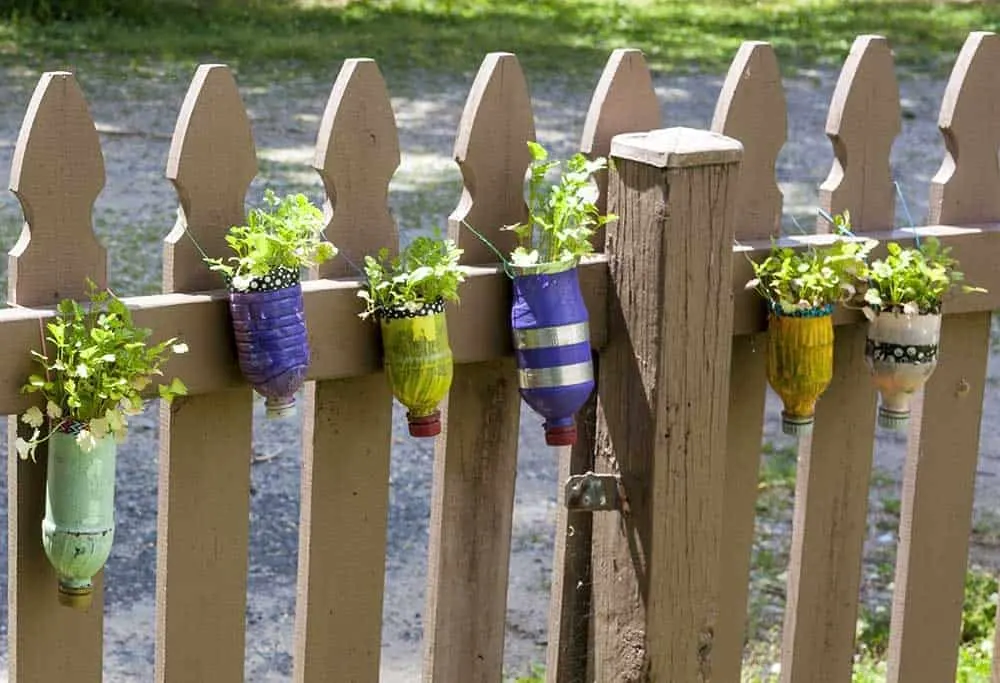 25. Yep, that's a toilet – We can't finish talking about creative planters without including a toilet, right? 😉
As you can see, there are all kinds of household items that can be turned into DIY planters with a little creative thinking. They're an inexpensive alternative to regular planters and they give your garden that touch of flair that just can't be bought in a store.