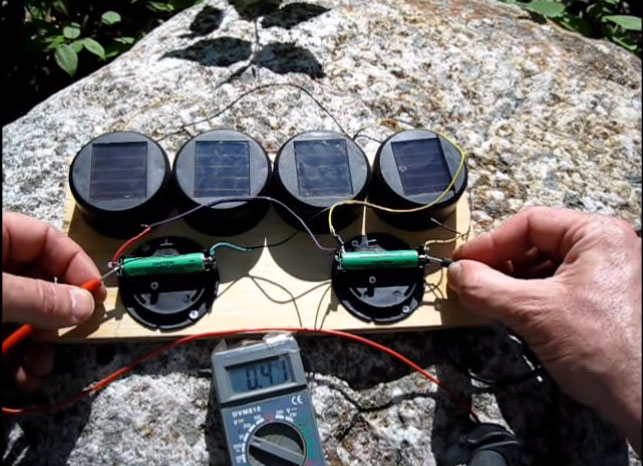 Here is a simple and inexpensive way to make a high-speed solar battery charger out of garden lights. You can find these solar path lights in the gardening area of many stores, usually for pretty cheap if you don't buy the fancy ones. You shouldn't have to spend more than a dollar apiece on them.
By dismantling the lights and rewiring the little solar panels in parallel, you can basically create a solar-powered rapid charger for AA or AAA batteries.
The size of battery you'll be able to charge depends on the size of the battery inside the light (which is sometimes hard to tell before dismantling it – some have AAA batteries and some have AA).
This would be a very handy thing to have around, whether you're living off the grid, camping, in a power outage situation, or just want to be able to recharge batteries for everyday use without using electricity.
See the detailed instructions at The Do It Yourself World
By the way, if you buy these lights at the end of the summer when they go on clearance, you can get them even cheaper. I picked up a bunch of them at several different stores this last fall for 25 to 50 cents each.