What could possibly be more dreamy than a gorgeous treehouse nestled in the Alaskan wilderness? Not much, right? This beautiful treehouse, built by Nelson Treehouse, offers stunning views of the surrounding forest and Mt. Denali, the highest peak in North America.
If you've ever watched the show Treehouse Masters on Animal Planet, you've seen the work of Nelson Treehouse. They are the talented builders on the show, and while all of their houses are amazing, this is one of my personal favorites.
There are many features of this treehouse cabin that make it so wonderfully appealing. How about the wall of windows looking out on the deck, for starters? The windows allow an unobstructed, panoramic view of the surrounding forest. The ample deck space gives visitors plenty of space for outdoor relaxation.
The extreme pitch of the metal roof easily sheds snow in winter. The entire cabin is built with cedar wood. Notice the dark color on the exterior panels; they are finished in a Japanese wood-burning technique called "shou sugi ban". This technique gives the wood a dark, smoky color which beautifully contrasts the light cedar decks and trim, and helps integrate the home into the surrounding scenery.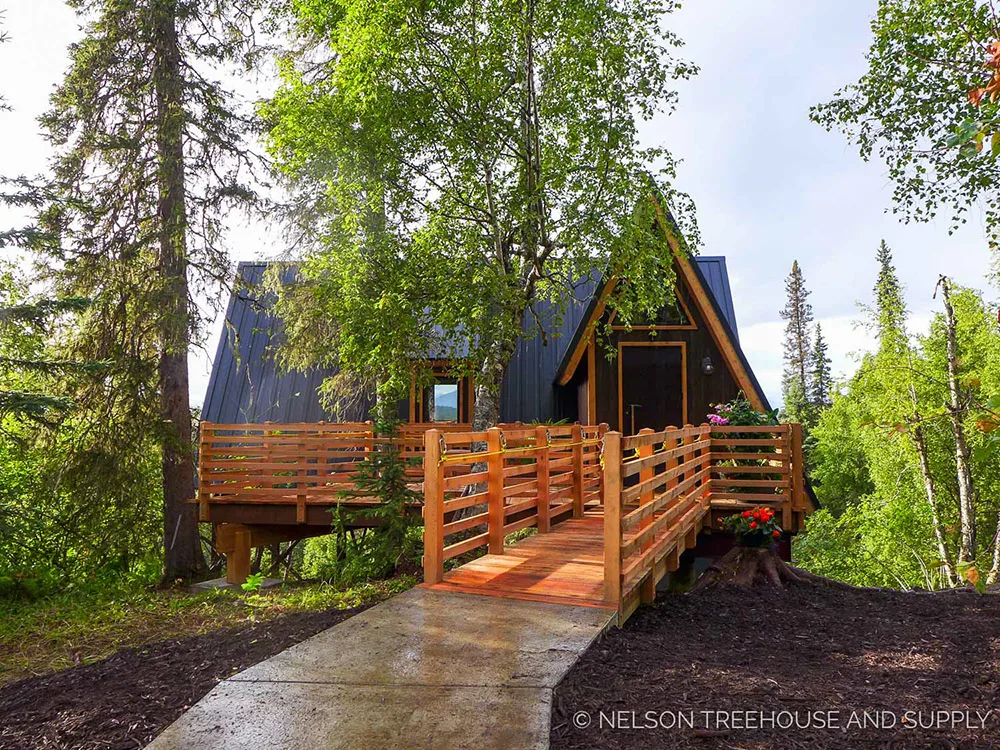 You may be thinking this is not quite like a traditional treehouse, per se, as it is not actually built into trees. It is raised above the ground on steel supports and has one supporting spruce tree that the front deck is constructed around.
Inside the home, exposed beams and wood floors keep the rustic feel so appropriate for an Alaskan cabin. Matching hanging shelves provide counter and storage space. The wall-to-wall windows surround a multipurpose room perfect for entertaining.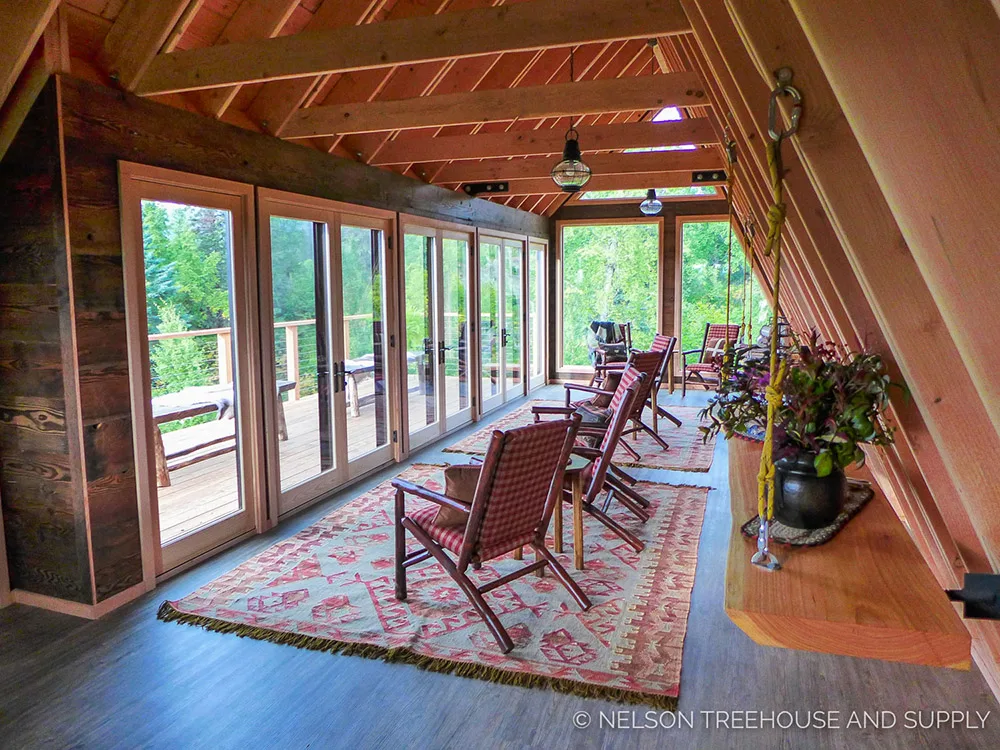 From the deck on clear days, you can see Mt. Denali off in the distance. At its highest point, the home sits 16 feet above the ground. You truly get a magnificent treetop view from this vantage point.
The concept for the layout was to move from the darkness of the woods to the lightness of the vista – visitors transition from walking in the forest, to the wooden entryway of the treehouse, to wide windows and airy views.
Visit Nelson Treehouse to read more about this Alaskan gem and to see more of their work.
Spending a few summer weeks in Alaska to build this treehouse for the Mt. McKinley Princess Wilderness Lodge was a dream come true. With its steep-pitched roof, exposed beams, and wall of windows, this treehouse makes the perfect base camp to soak in the surrounding beauty.