Perched above the ground and tucked into the pine trees against a hillside, three matching cabins accommodate guests seeking a relaxing respite from city life. The cabins reside in Whitetail Woods regional park in Minnesota, within the Minneapolis/St. Paul metropolitan area. Constructed by county employees and high school students as part of a vocational program, the cabins display how charmingly efficient a small space can be with deliberate and creative design choices.
Each cabin is built atop concrete pillars on a steep grade, reminiscent of a treehouse, yet easily accessible from the uphill side. They are 227 square feet with an 80 square foot deck. The cabin exteriors are clad in dark cedar shingles that blend beautifully into the surrounding pines, while red cedar provides a warm and welcoming interior environment.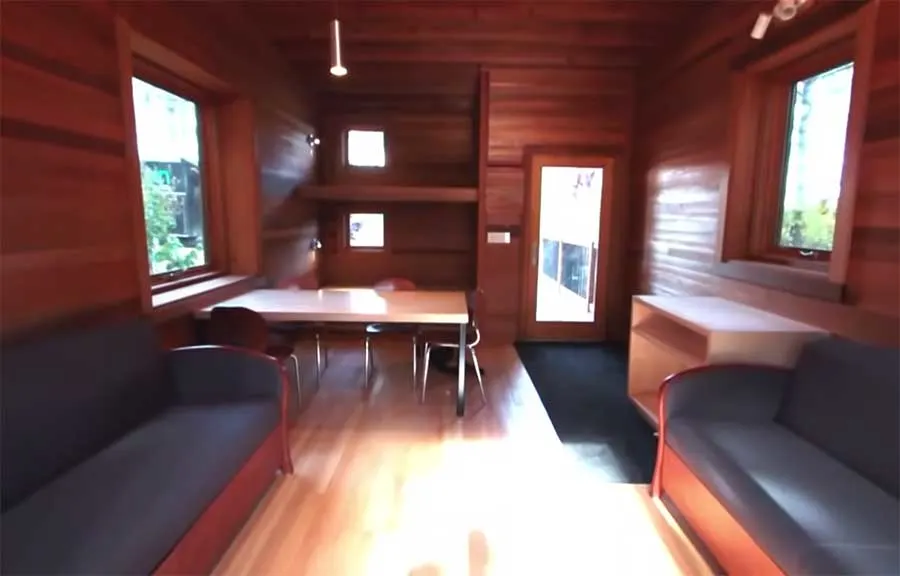 The cabins each hold two full beds, a table and chairs, storage areas, and two daybeds – plenty of room for six occupants. The large decks afford guests ample space for outdoor entertaining, and each cabin has its own fire pit and picnic table. Showers, toilets, and a water bottle filling station can be found in a nearby bathhouse.
Built on concrete piers to minimize the impact on the surrounding wilderness, the cabins hover between 14 and 16 feet above grade with trees almost at arms-reach, creating privacy and intimacy with the natural environment.
The layout and style of these cabins is very simple but elegant, an inspiring design for those looking to build their own cabin in the woods. With a few small modifications, this concept could become the ideal little off grid cabin.
They serve as a key amenity in the first phase of the parks master plan. The concept for the cabins riffs on the idea of a treehouse, but instead makes it accessible to all by building a "house in the trees" entered from a bridge at the crest of the hill along adjacent ski and hiking trails.
Visit Dakota County Parks for more information. Via Architizer.