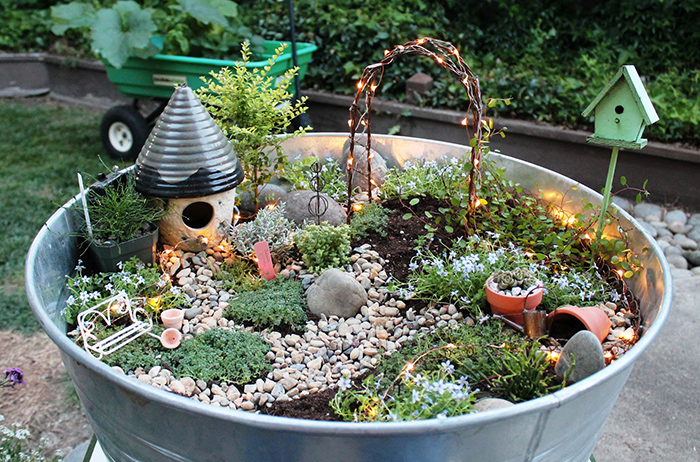 Fairy gardening, or miniature gardening, is a huge trend in the gardening world, and for good reason! These little gardens are beautiful, fun to create, and you don't need a large yard to make one.
A fairy garden can be grown in a space as small as a flower pot or spread out over a large part of a yard. And the design possibilities are endless, using materials that can be found anywhere, miniature plants, and your own imagination.
You can add fairy gardens right into your existing landscaping – around a tree stump or rock ledge, for example – or build them in pots or raised beds.
Check out these fabulous fairy gardens for some inspiration on what you can create with some tiny plants, a little space, and a little creativity.
This adorable little garden by Quiet Domesticity is planted into a portable little plastic container. It is beautifully detailed for a space so small.
If space and time allow, you can expand your fairy garden into a whole fairy city like this one from Marsha's Garden. This little city is made with all kinds of unique finds, including a little pool/hot tub from Goodwill and a house shingled with leaves cut out of aluminum cans.
This oak barrel fairy garden from Crow's Feet Chic features a stone-covered house made out of a craft store birdhouse, a path made from pennies, and plants such as dwarf delphinium, sea thrift, moss phlox, and Irish moss.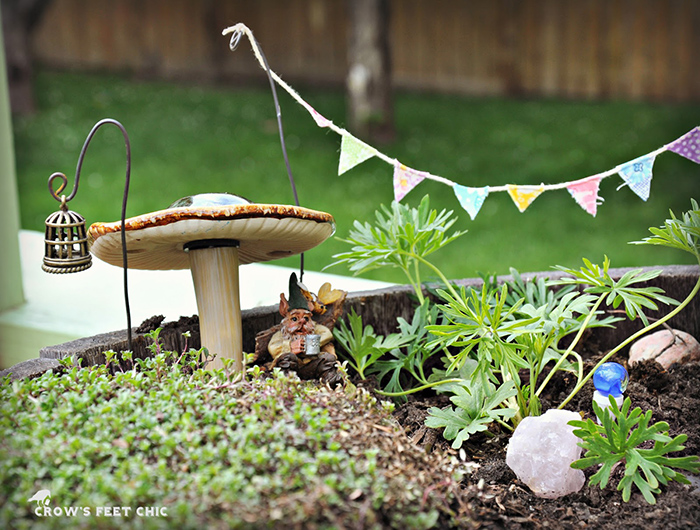 A tiny twig cabin with a bed made of moss makes a nice fairy dwelling in this flowerpot garden by Juise. The miniature plants thrive and bloom with flowers in this garden that is full of adorable accessories that the kids can play with.
This garden from Up the Rainbow Creek is built in a wooden box and furnished with mostly dollar store items with a 4th of July theme.
Miniature lights give this beautiful fairy garden from A Cuppa Tea the perfect finishing touch. The plants include tiny succulents and ground covers, and the house is an old birdhouse.
A miniature garden can be planted right in a tree stump, like this adorable creation from The Magic Onions.
A miniature greenhouse makes the perfect setting for an indoor fairy garden. This one from Beth Bryan has tons of elaborate detail in a tiny space.
Shades of purple fill the yard of this gorgeous little garden by Burgh Baby. Like many other fairy gardens, the house is a repainted birdhouse. The plants include Irish moss, lobelia, alyssum, and a couple of dwarf trees.
Just about anything can be used as a container for a fairy garden, like old wagons, wheelbarrows, and broken pots, just to name a few. These gardens are by Jean Neuweg, via Flea Market Gardening.