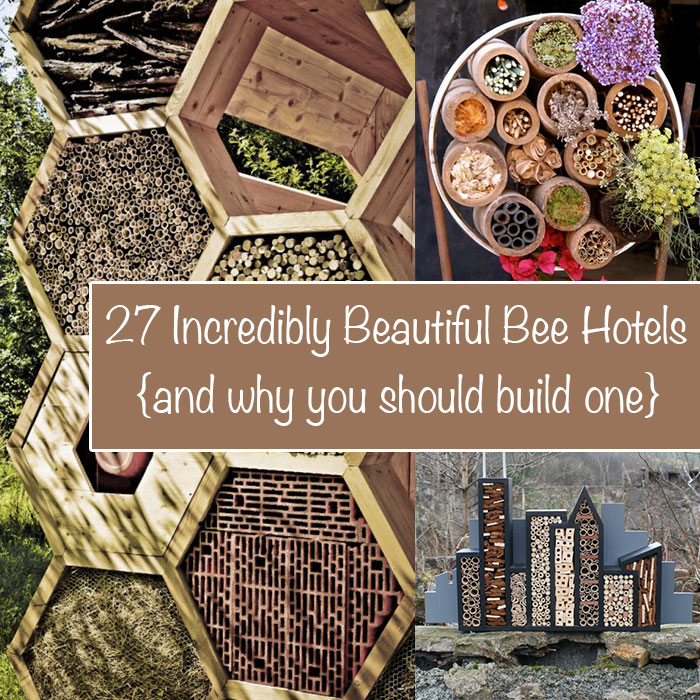 Did you know that not all bees live in colonies or build hives in which to live and nest? Many bee species are solitary. They live alone and build their nests in tiny places like hollow stems and holes in wood. Bee hotels replicate this nesting habitat and aid in boosting declining pollinator populations.
Though they do not make honey, solitary bees are absolutely essential for pollinating crops and flowers. These bees are usually very docile and peaceful, very reluctant to sting. Building a bee hotel is a great way to attract more of these beneficial pollinators into your garden.
What are bee hotels?
A bee hotel contains materials that bees like to nest in, like wood drilled with holes, hollow bamboo stalks, and other materials that mimic the bees' natural nesting areas. A bee hotel can contain a huge variety of materials, or just a few, and can be large and elaborate or small and simple. Size really doesn't matter, since each bee really only needs one hole in which to nest.
Building bee habitats like this is obviously beneficial to garden plants and to bee populations in general, but they also look really cool! Here are 27 awesome bee hotel ideas, from tiny simplicity to grandiose luxury.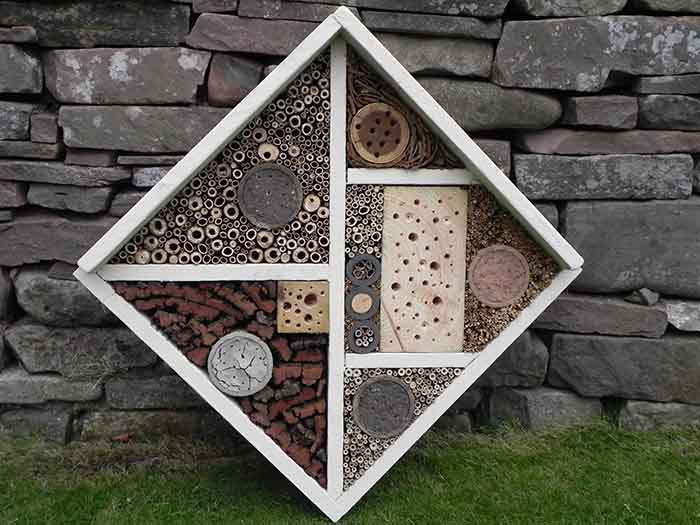 This artistic bee box from Chris Carpenter Garden Design is full of a variety of materials and textures. It is for sale on his website, but would also make a great DIY project.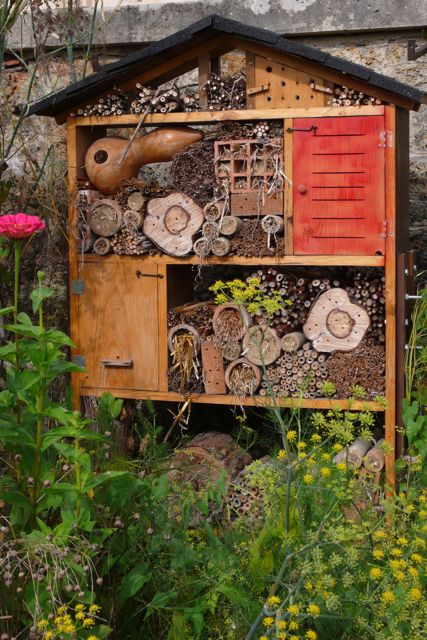 A bee hotel can be made out of all kinds of materials, as you can see in here. This house sits in the kitchen garden of Louis XIV's palace in Versailles. Image via Landscape Lover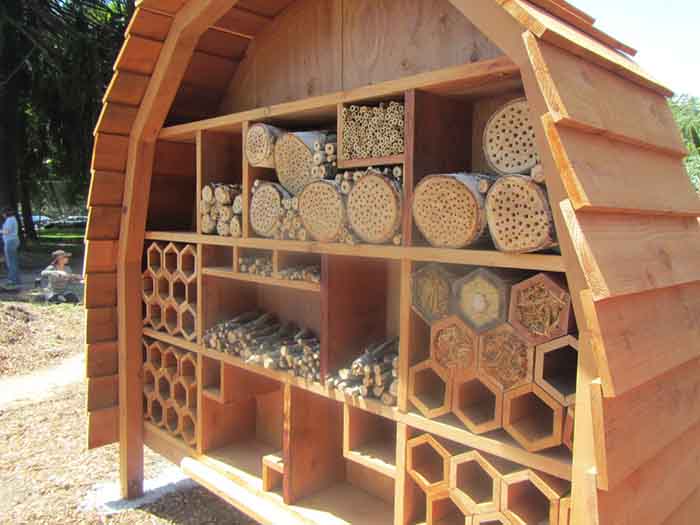 Many communities are adding bug hotels to their parks and education centers. This is a large one that sit at The Gardens at Lake Merritt in Oakland, CA.
This gorgeous, rustic bee condo sits in Luxembourg Gardens in Paris. Image via CBC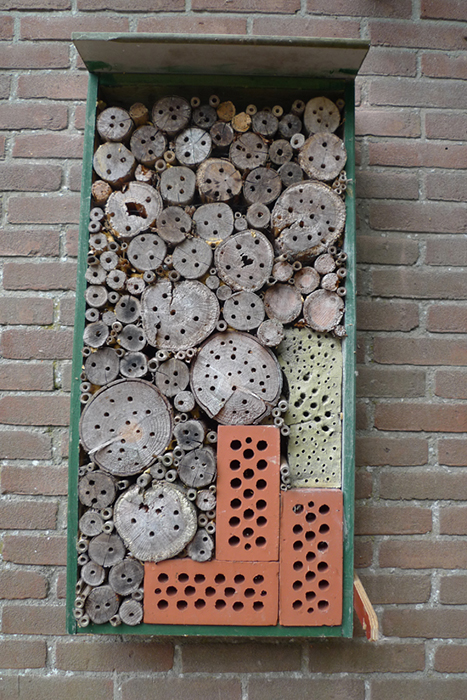 Bee hotels can be large, freestanding structures or small enough to hang on a wall, like this one. This is a great way to add interest to an outdoor wall or fence while helping out your local pollinators! Image via Debra Solomon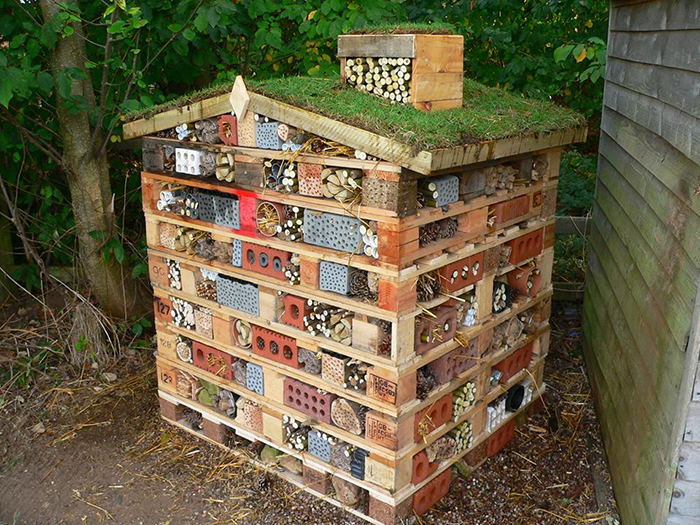 This gorgeous bee house from Greener Spaces Ltd features tons of different materials with lots of space for insects, complete with a living roof and chimney. This would be a great way to upcycle some old pallets, and the living roof could be planted with annual flowers to give the bees a convenient food source.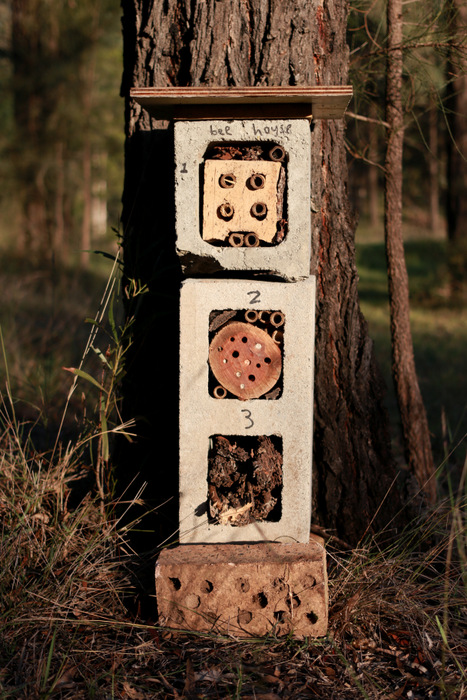 A bee hotel does not have to be large or elaborate. This cute little cinder block house from Little Eco Footprints is a great example of how you can make one out of scrap materials, and it takes up very little space.
Bricks and pieces of cinder block make perfect spaces for extra holes and bamboo stalks in this bee condo. Image via www.sav-überlingen.de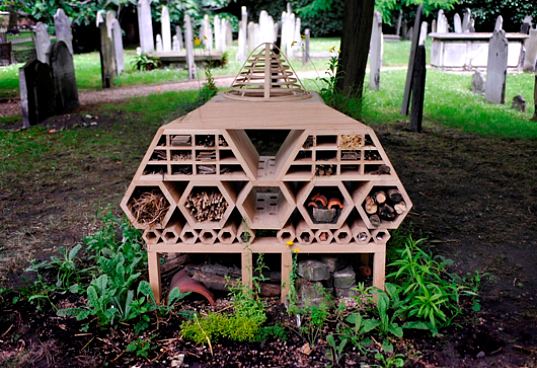 This gorgeous little bug hotel was part of the Beyond the Hive competition, in which designers competed to create sustainable bug habitats for London parks. Image via Inhabitat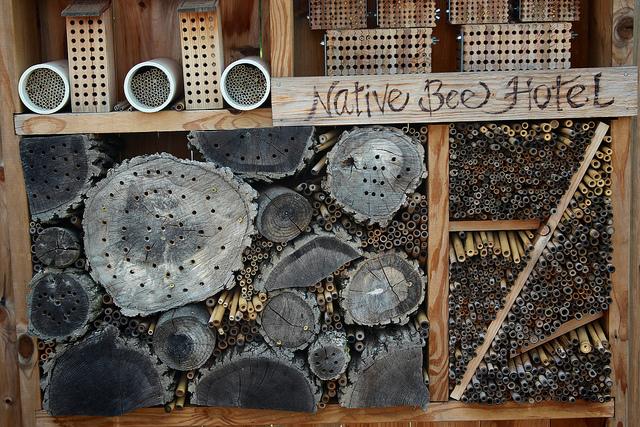 Bee hotels were a focus of Michigan's Bee Pallooza. This one is made with logs, bamboo, and pieces of wood with holes drilled into them. Via Michigan Radio
Larger habitats like this one from the Metropolitan Field Guide can include areas for other small creatures like butterflies, amphibians, and ladybugs. This would be another fun DIY project using upcycled pallets, bricks, wood, and other materials you might already have lying around your property.
This beautiful shabby bee hotel is made from an old cabinet and filled with natural materials. As you can see here, rocks, bark, pinecones make ideal hiding spots for bugs. Via Smilahome
As you can see with these adorable hanging houses, a habitat for bees can be as tiny as a little birdhouse, perfect for even the smallest of spaces. Via The Honey Beat
This gorgeous display from Amy Curtis Floristry mixes bee habitat with beautiful succulents.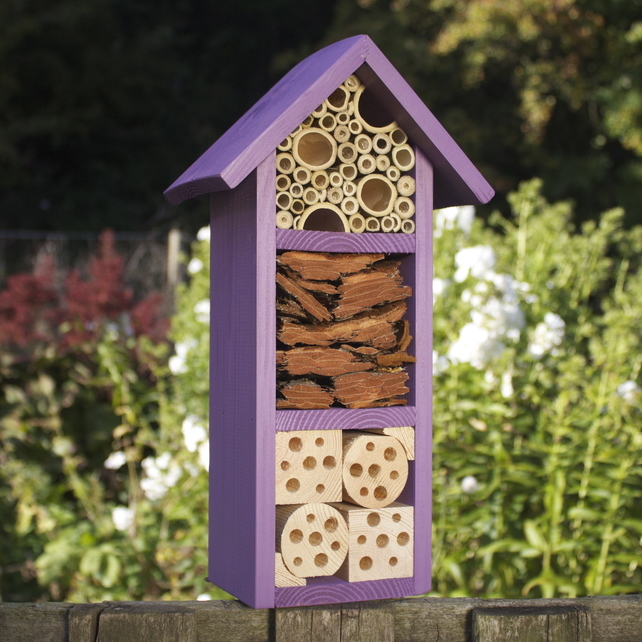 This beautiful three-tier bee hotel can be found on Folksy. This would also make a simple and fun DIY project for gardeners and kids that adds a splash of color to any garden space.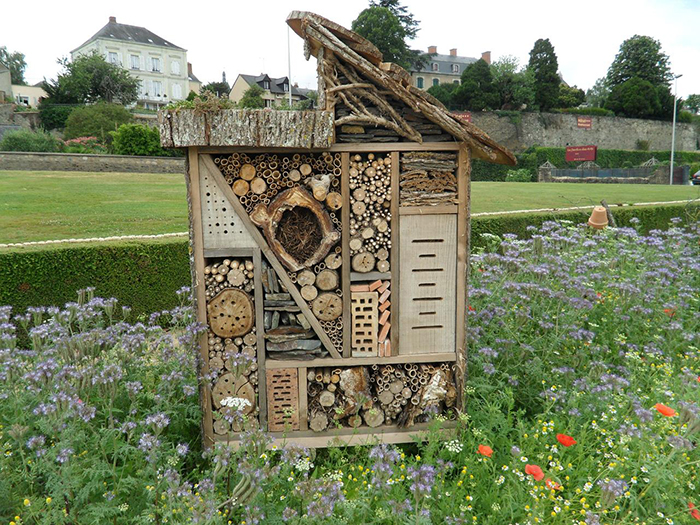 Here's an amazingly gorgeous bee hotel perched in a patch of flowers. This is made with rustic natural materials and the angled lines give it wonderful visual interest. Via hobby.blogo.nl
An old pallet is repurposed to make this bee hotel. What a great idea! Via Bee Keeping
This insect highrise with living walls on two of the sides was featured at a flower show, and it makes awesome use of space. Via Little Green Fingers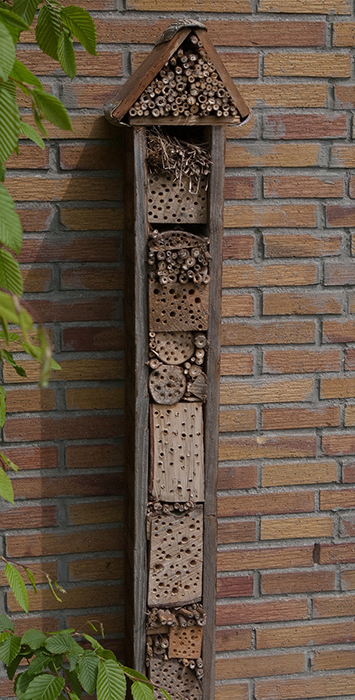 Here's another beautiful vertical bee hotel built on a much smaller scale. This would be a super simple DIY project for those without much garden space for a larger version. Via Bijenlint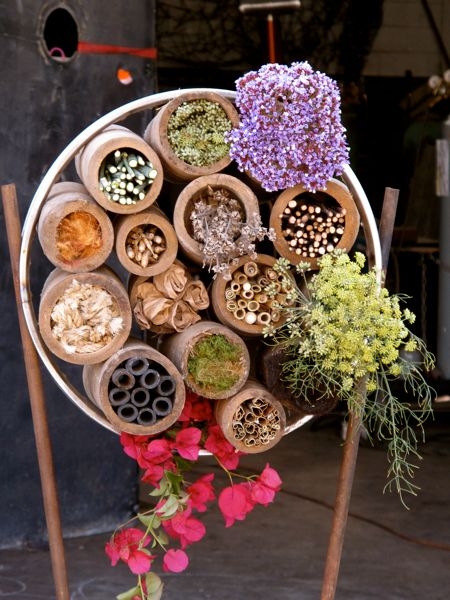 This is a gorgeously artistic habitat created in an urban setting – something anyone could replicate with a few inexpensive materials. Via Studio G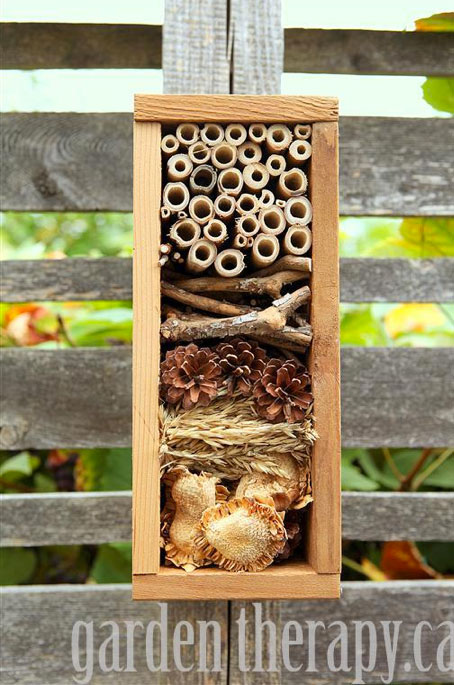 Garden therapy has a great tutorial on how to build this little bug hotel, perfect for hanging on a backyard fence or in a garden.
This big bee hotel sits in Place des Jardins in Paris, and is absolutely gorgeous! Image via Moira Dunworth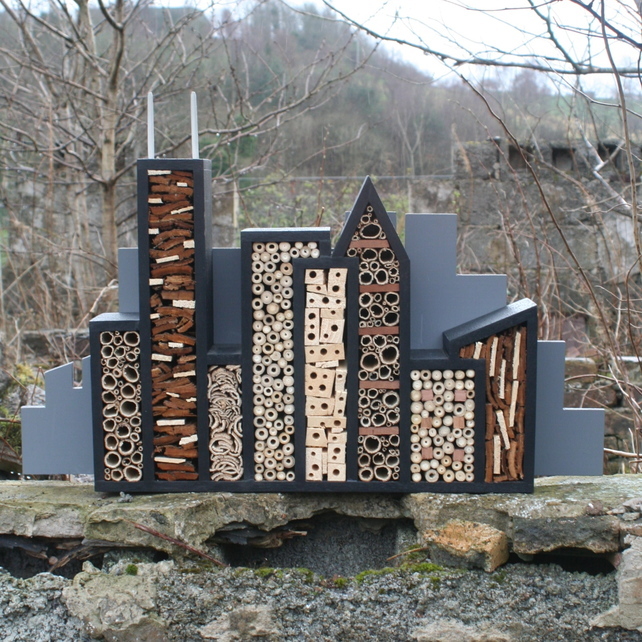 This is such a cool idea! This bug hotel is made to look like a miniature cityscape. Via Folksy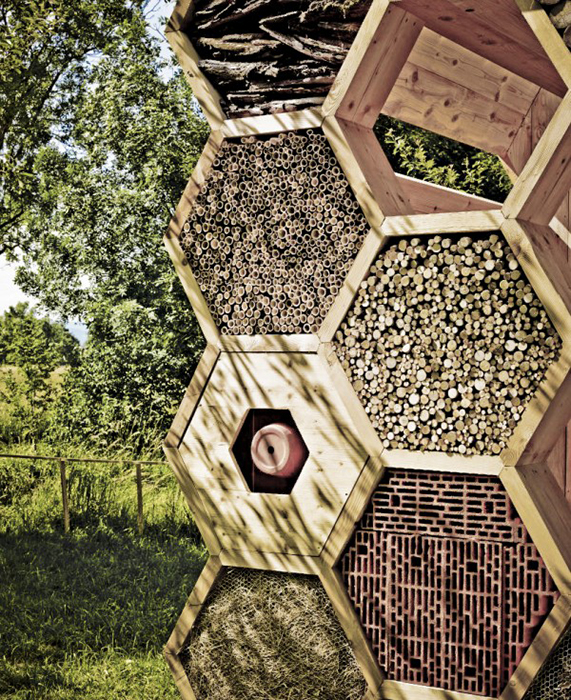 This incredible honeycomb-shaped bee hotel is part of a larger pavilion built with spaces for human observers to rest in the shade. Built by architecht AltierD, this pavilion sits in Muttersholtz, France. Via Architizer
Here's a great example of just how simple and inexpensive making a bee hotel can be. A terracotta pot, some bamboo canes, and raffia are all you need to make this little hanging bee hotel from HGTV.
A hollowed out log is another great place to assemble a bee hotel that can be easily hung from a tree. Via Apartment Therapy
This is one of the neatest bug hotels we have seen yet. This one resides in Oakham, UK at the Lyndon Nature Reserve. Via Ann Creasey
Are you convinced yet that a bee hotel would make a really cool addition to your yard while helping out one of nature's most essential little critters? I hope so! For more information on how to build a bee hotel and what to include in it to attract visitors, visit National Geographic Education.
---
Like this article? Subscribe to our newsletter to get more great content and updates sent to your inbox!