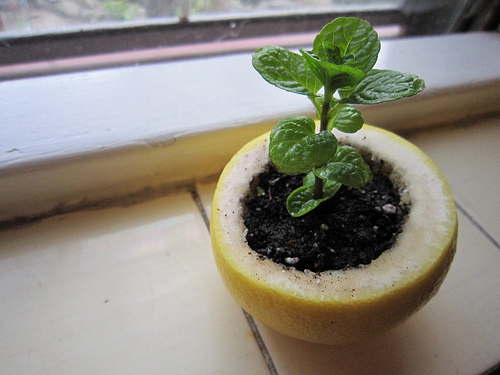 This time of year many people are already planting their gardens, but here in colder climates we are still a good month away from being able to put anything in the ground.  It's not too late to get plants started indoors for a head start on outdoor planting.  Here are 5 ideas for seed starting pots using materials found around the house.  All of these items are biodegradable, so you don't even have to take the plant out of the pot when it's ready to be transplanted into a bigger pot or the garden – just plant the whole container!
I love this idea from Garden Therapy to use toilet paper rolls for starting seeds.  Toilet paper rolls are something we all have around and usually throw away, so this is a great way to recycle them.
My Roman Apartment shows a brilliant way to use citrus peels.  I have started saving orange peels for this and they retain their shape even when they dry out, so you can stock up on peels for a while before planting them if you want to plant several at once.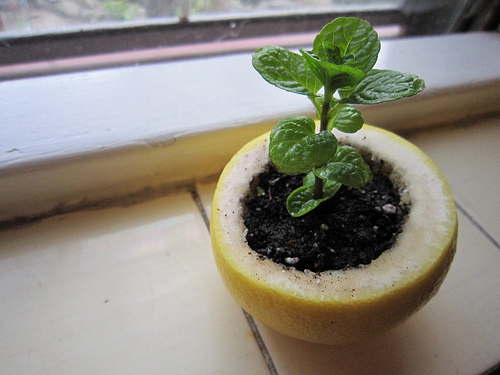 Egg shells make great seed pots.  Just poke a hole in the bottom of the shell for drainage, fill with soil, and add the seeds.  Taste of Home shows these displayed in cardstock rings (a cute idea for Easter), but you can store the egg shells in their cartons for convenience until they are ready to be transplanted outdoors.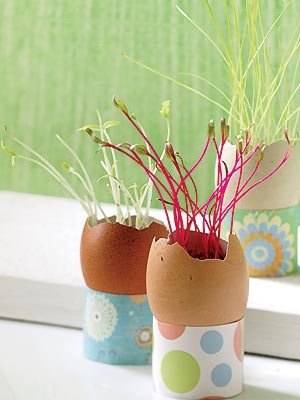 Egg cartons are the perfect shape and size for starter pots.  Just fill with soil and seeds and transplant straight into the ground when ready.  If the plants you put in the egg carton don't need much space, you can plant the whole carton in the ground.  If not, they can be separated and planted individually.

And finally, we posted about these newspaper pots a while ago as a free, earth-friendly alternative to plastic starter trays.

I chose these 5 options because they are biodegradable, but there are many other materials found around the house that can be recycled into seed pots.  Yogurt containers, soup cans, water bottles with the tops cut off (which can also double as mini greenhouses), deli food trays, and baby food jars are just a few ideas.