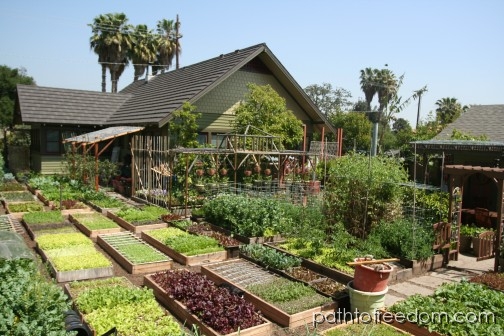 Grow 60,000lbs of organic fruits and veggies per acre!
According to Urbanhomestead.org they can produce approximately 3 tons of food annually (2009) on only 1/10 of an acre.
The Urban Homestead model at a Glance

Location: Northwest Pasadena, one mile from downtown Pasadena [California]
Property Size: 66' x 132' = 8,712 sq.ft. (1/5 acre)
House: Simple, wood frame craftsman bungalow. Circa 1917.
House Size: 1,500 sq. ft.
Garden Size: ~ 1/10 acre (3,900 sq.ft. / ~ 66′ x 66′)
Garden Diversity: Over 350 different vegetables, herbs, fruits & berries
Productivity: Up to 6,000 lbs harvest annually on 1/10 acre
SOURCE: http://urbanhomestead.org/urban-homestead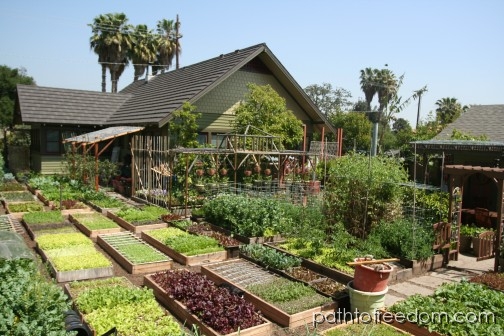 Scaling this up would in theory, produce 60,000 lbs of food annually on just 1 acre of land.
60,000lbs of Organic Food!
The average American family of 4 consumes about 4 tons (8000 lbs) of food annually. 1 acre of land (208ft X 208ft) farmed like this and scaled up, could (theoretically) support 7.5 families 30 men women and children for a full year!
Imagine being able to feed 30 men women and children with food grown on just 1 acre of farmland!
There are 43,560 square feet per acre of land. If you're capable of producing 60,000lbs of food, that equates to almost 1.4 pounds of of organic food per square foot!
Numbers don't lie. And this is real world application with the proof it works.
Let's take this up a notch.
Of course you'd have to buy another acre of land to build your house on, but technically that would be enough space to build one HUGE 43,560sqft home. That's big enough to allow 20-30 people to live very comfortably. But that's not very realistic now is it?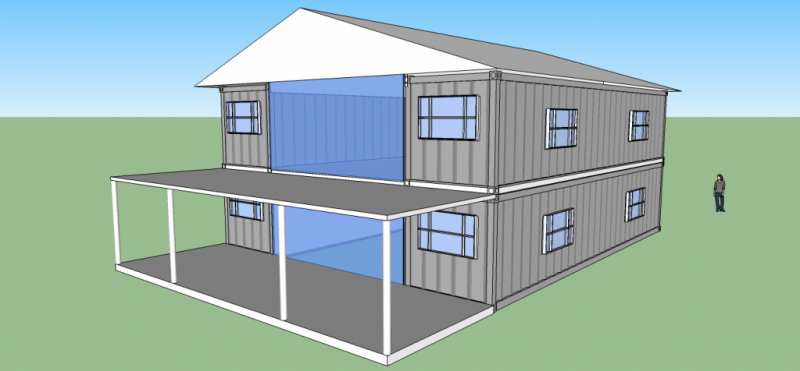 On that second acre of land, you could technically build eight 2560sqft 5BR 2BA Shipping Container Homes, each sitting on 1/8 of an acre 5445sqft (approximately a 73.79ft x 73.79ft square).
That's a nice chunk of land, and lots of square footage in excess of the 1280sqft footprint of each home. Each home has a footprint of 40ft x 32ft.
That leaves about 4165sqft of land around each home, or a strip of land 17ft deep in the front and rear of the building and a 21ft wide strip of land on either side of home. (42ft between homes).
Even with 8 homes on the extra 1 acre of land, that leaves a whopping 33,320sqft of land to grow more food on.
This is enough empty land to produce an ADDITIONAL 45,981lbs of organic fruits and veggies.
Including the original 60,000lbs of food produced on the first acre, that's a grand total of 105,981lbs of organic fruits and veggies produced on 2 acres of land with 8 homes, capable of supporting at least 8 families of 4 people each, comfortably for a FULL YEAR, with food left over to preserve and or sell to generate income for the property.
Of course this is taking things to the extreme. You may not have enough room to walk in the yards, but you can sure feed a whole bunch of people for a year and make some money to boot.
So all this stuff you hear from the "experts" about needing a minimum of 2 acres per family to produce enough food to live off grid is basically BULL$#!+
***