Off Grid solar powered shipping container cabin with an attached greenhouse. This is another Off Grid World original home design which combines the best of many aspects of off grid living. Shelter, food, and power. This design assumes water is readily available through a well or city water system. It might appear the cabin is placed directly on the ground, but this article assumes there are foundation pillars or a concrete slab foundation already in place under the shipping containers.
The idea of course is to build the simplest structure possible while still being sturdy, practical, efficient, and inexpensive. Building inexpensively seems nearly impossible in this day and age, but it's truly not expensive if you use some creative material sourcing and throw in some good old fashioned hard labor and do as much as possible yourself.
I wanted to design something that met the basic criteria for self sufficiency while at the same time provided maximum living area, small footprint, and a large growing area to produce as much food as you could possibly eat.
Energy efficiency needed to be considered as well. Since the cabin will be powered by solar, there needed to be an efficient heating system. So borrowing from the Earthship design, I've combined several of the efficient systems used in Earthship design with shipping container home design and greenhouses.
I've personally always loved the idea of having an attached greenhouse, and the Earthship design is a beautiful example of this. Not only does having an attached greenhouse make it convenient to grow you food close by, it also helps heat your home in winter. Now in summer this might pose an issue, so in geographical areas which receive more sunlight or areas which are more arid, one could essentially build a thicker south facing wall on the exterior of the shipping container to better insulate the cabin.
This home starts with the most basic of structures and build onto it's sturdy and efficient modular design. Shipping containers are also inexpensive and by using them for shelter, you'll be recycling materials as well as creating a home for yourself.
Each shipping container is 40 foot long and has 320 square feet of space inside.
Stacking two shipping containers together doubles the living area and also provides some height that is needed to create a large surface area for the greenhouse that will be attached.
Shown above is a large wooden beam which will be the base to attach the greenhouse frame to. The frame can be simple 2×4 lumber, or PVC pipe. The greenhouse panels can either be polycarbonate panels (which are pricey) or you can use roll plastic which won't last as long, but will be inexpensive and get the job done.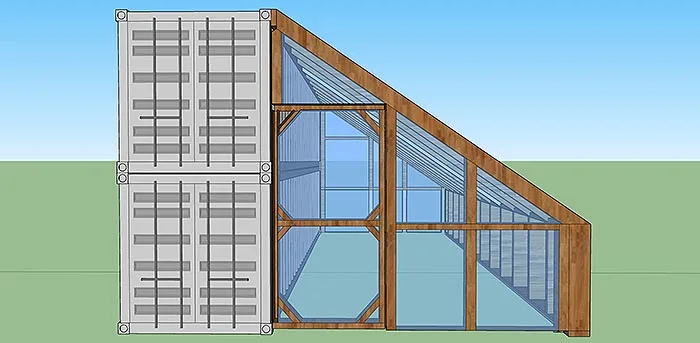 The steep roof should keep all the heavy snow off your greenhouse.
You can choose to put vents in the roof and the sides of the greenhouse to circulate the air and manage the temperature/climate inside.
A good thing to note is the metal sides of the shipping container. IN my design, I'll experiment with covering this with siding or not. The metal sides are great conductors of heat, and could very well heat your greenhouse and home in winter. However in the summer it will get very hot. Michael Reynolds said his original Earthship design got so hot it endangered the building so he had to modify it so it wouldn't be so efficient at heating.
At this point it would be easier to add the log/wood siding BEFORE connecting the greenhouse. Or if you prefer not to put on siding that's up to you. In northern climates which get very cold and southern states which get rather warm, insulating your shipping container becomes an issue. There are many ways to insulate.
You can insulate the interior but if you stud the interior walls and sheetrock over that, that will make you lose up to 53.33 square feet of space inside per level. It might be better to get some spray foam insulation and put it on the OUTSIDE of the building and then cover that with wood siding of your choice.
NOTE: Cut the holes for the windows BEFORE adding the siding.
Adding siding gives the cabin a more rustic look. Throw on some windows but be careful. Cutting a hole in the side of the shipping container can either be done with a plasma torch or a grinder with a metal cutting wheel. I've seen this done, and it's dangerous. The corrugated metal is heavy and if it falls on you while you're cutting it out it could seriously injure you. Use proper safety equipment and if you've never modified a shipping container for hire someone to do it for you. Always get help from someone with experience.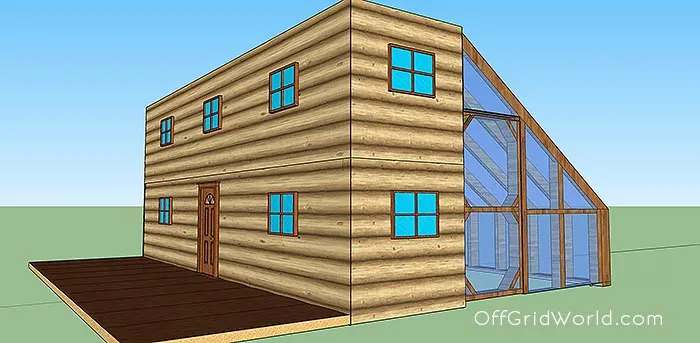 Add a front door and a small wooden deck.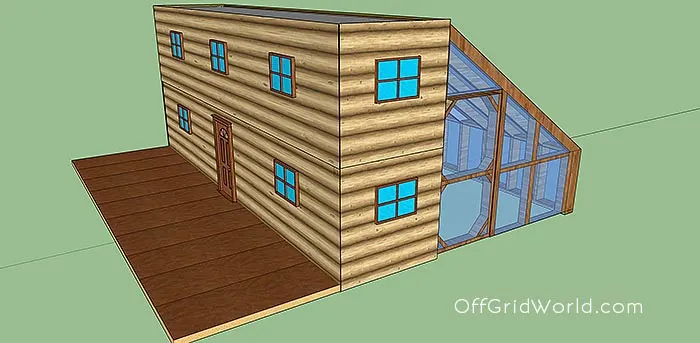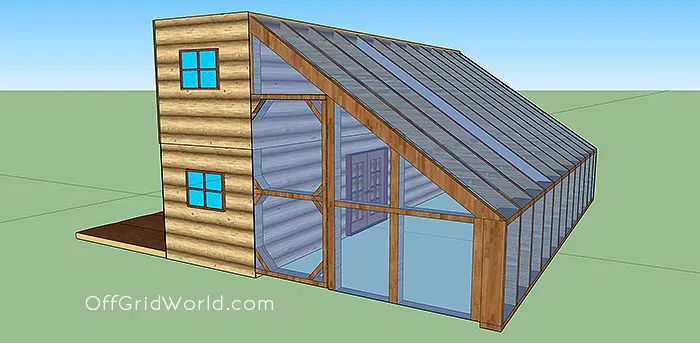 Mount the solar panels and you're ready to plant your greenhouse.
Build some simple raised beds or if you feel comfortable with it simply till the ground and plant directly in the ground. Personally I will be using an aquaponics system which will not only grow fruits and veggies but will also allow me to raise fish year round.
The beauty of this design is that it's practical. It uses natural and recycled materials to build a cabin on the cheap. Pricing varies depending on your sources, but most of these materials including the wire and pipe for electrical and plumbing can be purchased for a few thousand dollars.
Shipping containers range in price from as low as $1100 per unit (if you buy in bulk 10 or more units at once) or if you're buying only one or two container you're going to pay about $2500+ freight to your location. Have a plan in place to move them. When you set containers like this stacked on top of one another, you will need a crane to move them. It's not cheap and could cost you an extra couple thousand just to move them.
On average though shipping containers are still cheaper per square foot when compared to traditional buildings.
Pricing on the whole thing including the shipping containers, freight, greenhouse materials, wiring, plumbing, siding, insulation, flooring, etc should price out around $25,000 for a bare bones system.
The solar panels, mounting brackets, charge controller, batteries, and electrical system will run you about $5k to $10k alone depending on how large a system you put in and what you power needs are.
All in all this is a simple system that anyone with some land could build relatively inexpensively.
It's practical, efficient, affordable and not only gives you shelter and power, it gives you healthy food to eat too, and that makes it priceless.
***
Disclaimer: These are 3D design concepts for shipping container homes. They're only a design concepts, and they do not exist, and are not for sale. The pricing presented here (if any) are for BARE BONES materials, does not include freight, moving, crane rental, or any amenities. This design is licensed under an Open Source Creative Commons Share and Share Alike Non-Commercial license, as long as proper credit and link is given to this page.