Raised garden beds are a convenient and attractive way to contain herbs, vegetables, and flowers. When I bought a house in town several years ago, the back yard was one giant, water-sucking lawn. I immediately began turning most of that lawn space into garden areas.
I have dogs and kids, so I knew that raised garden beds were the most practical solution for keeping little feet and paws from traipsing through freshly-planted areas.
We've written about using upcycled materials for garden containers before, including the popular cinder block raised garden beds and wood pallet vertical gardens. Inspired by the idea of upcycling materials, and not wanting to spend a ton of money to get my beds done, I looked around my property for materials I could repurpose.
I found a few things that worked wonders for raised bed gardening, including old shelves, tires, and foam. Yes, foam!
Wooden shelves as raised garden beds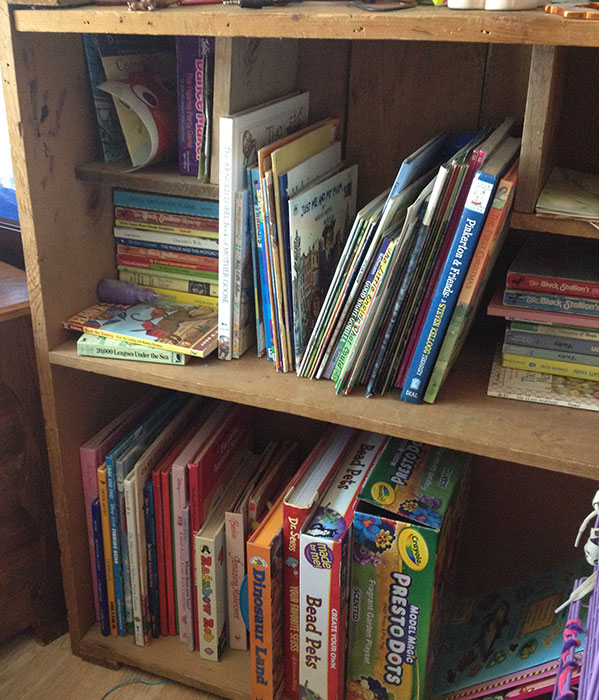 Once I got around to exploring the attic of my house, I found it was full of heavy wooden packing crates from the previous owner, who was a soldier during WWII. He had his belongings shipped home from overseas in these, and they were just way too cool to throw out We repurposed several of them around the house as shelves, like this one in my kids' playroom.
I pulled the back boards off of one of these shelves, laid it right over the grass in my yard, and filled it with a topsoil and compost mix. This one makes a good spot for strawberries and herbs, and in the two end slats I put vining plants that can hang over the edges, like pumpkins and watermelons.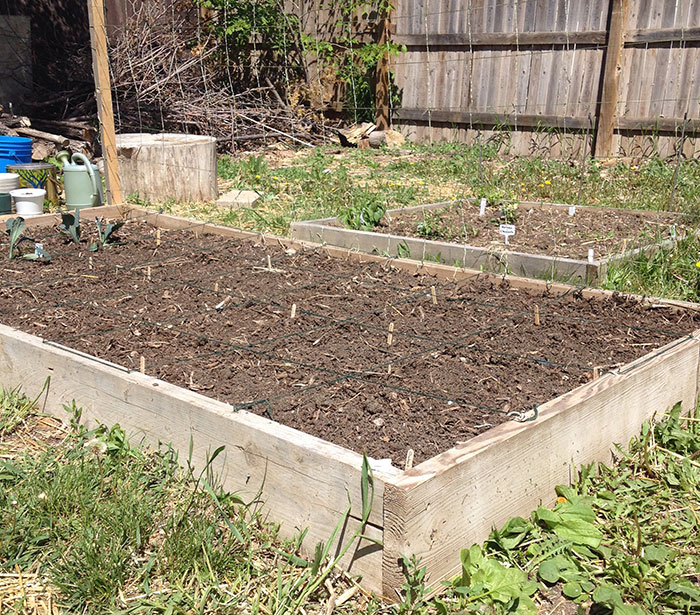 I also made these shorter beds from a set of grungy old shelves I got from a nearby shop that was closing down. They had a cheap plywood backing that I pulled off before laying them down and filling them with dirt.
With these shelves I made two 4′ x 8′ raised beds and one 4′ x 4′ bed. Of course, these could be made easily and cheaply out of 2″ x 6″ boards if you don't have shelves available. The picture above shows them freshly planted in late spring…
…and this is how they looked by late summer. I was absolutely amazed at the amount of food I was able to grow in these beds.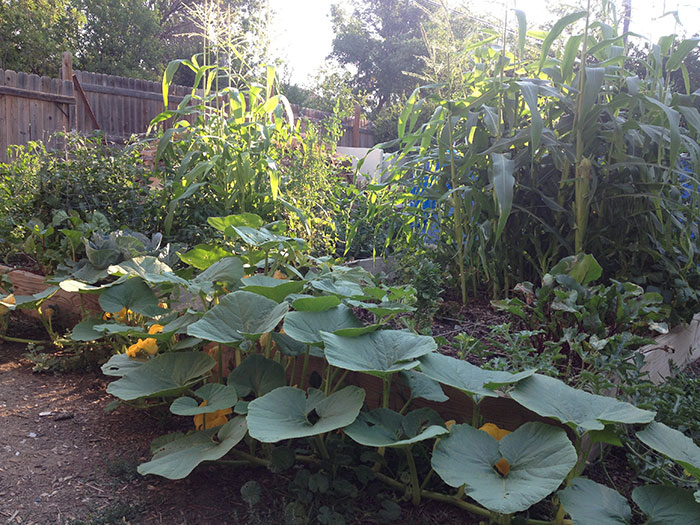 Just for the fun of it, here's another idea of what you can build out of old shelves. This was my (not very pretty but awesomely functional) compost bin made from wood pulled off of the old shipping crates in my attic. I used this for years with great results!
Using tires as raised planters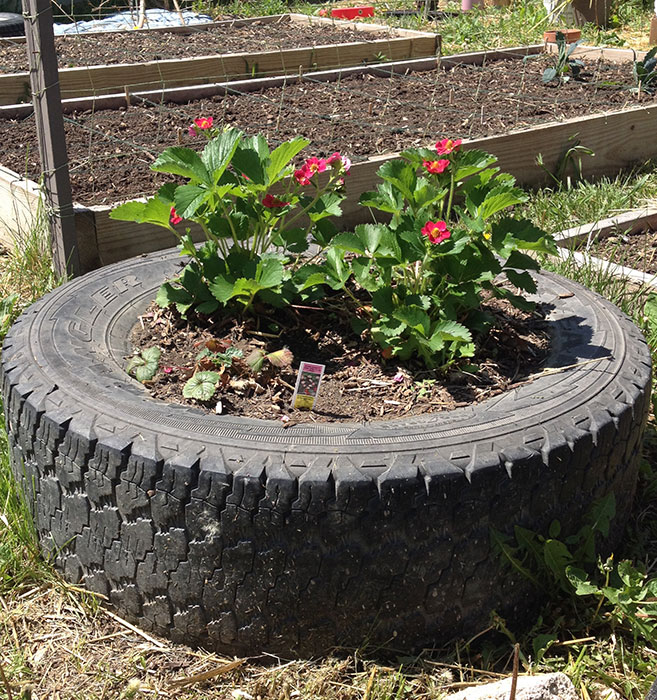 One summer I decided to try planting strawberries in tires as an experiment. Tires can be found just about anywhere for free, and they last pretty much forever, so why not plant stuff in them? I've seen other people use tires as flower planters, and I had a couple of them laying around my yard so I gave it a shot.
I know that strawberries are perennial, but I had serious doubts about whether or not these would survive our South Dakota winters in a tire. And this winter was cold. And long. And miserably COLD. Did I mention that it was cold?
Not only did the strawberries survive their first winter, they thrived! Every spring they came back and produced berries all summer long. So I doubled my little crop by adding more strawberries in a tire next to the first one.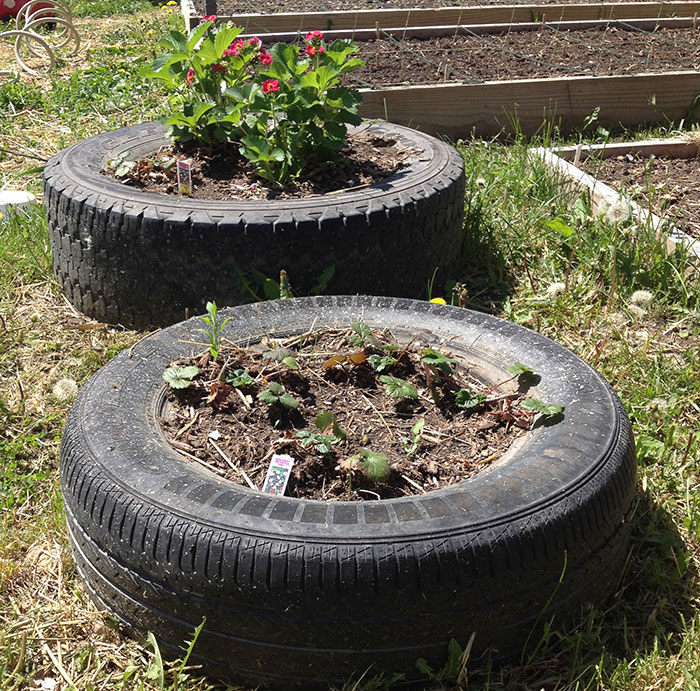 Foam blocks as raised garden beds
This might sound way out of the ordinary, but foam blocks can be turned into some really cool planters. I would not have come across this idea if my partner at the time didn't have my yard half full of foam for construction.
While not always readily available, if you know where to look, you can often find foam like this for free. It's light enough that the beds are easy to move around (when not full of dirt, of course) but also durable enough to withstand weather and kids playing on them.
This planter is made with large blocks of foam taken off of a building in town during a remodel. They were bound for the landfill, but we managed to get our hands on some. We pieced them together with spray foam and giant screws, then spread a thin layer of concrete over them to make them look like stone.
These held up surprisingly well considering the weather in this area and the considerable weight of the dirt. For years I used the planter above for tomatoes and cucumbers.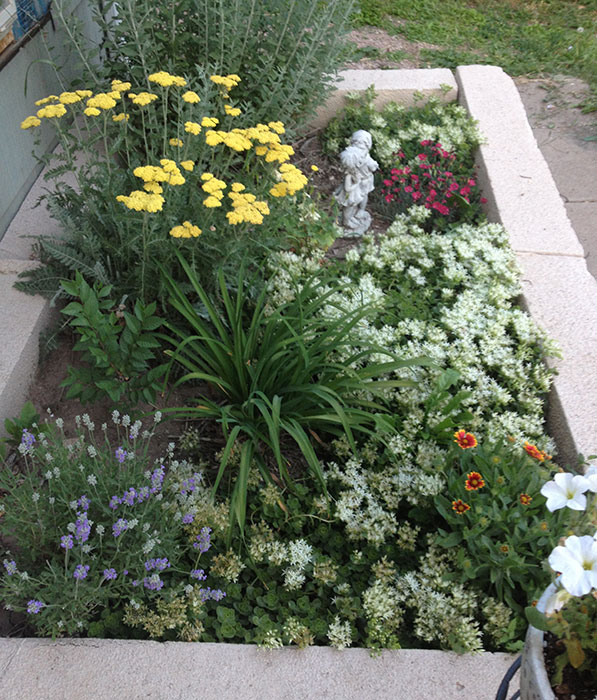 I used the same type of foam blocks to make these temporary raised flower beds in front of my house until I could get something more permanent in place. We buried the blocks in the ground about 4 inches deep, and they looked like they were made of stone even though they were very lightweight. I was quite surprised at how well they held up. They were there for three years before I took them out to redo my siding.
Those are just a few of the materials I have found to use for garden beds, and there are tons of other great ideas out there. You really don't have to spend a ton of money – or any money at all – to create beautiful, functional garden spaces.
More raised garden beds
Need some more inspiration? Here are a few creative raised garden beds made with logs, wood slats, concrete, cinder blocks, railroad ties, and more!