There are limitless ways to grow a garden, and one of our favorites is in raised beds. Raised bed gardening has many benefits over other growing options.
Because the soil is not continuously getting stepped on, it stays loose and well-drained, and raised beds are simply easier to plant and maintain since they are off the ground. Raised beds can also deter some pests – like gophers and rabbits – from reaching your precious plants.
Raised beds can be made from all kinds of materials, but I love the idea of using cinder blocks because they have many advantages of their own. First, they won't deteriorate like wood and other materials will.
Second, they are built to stack, so it is easier and quicker to create a raised bed with blocks than with most other materials. Just stack them in any shape you want, fill with dirt, and plant.
And third, they are cheap. You can buy them at most home improvement stores and you can often find them for free from places like Craigslist and Freecycle.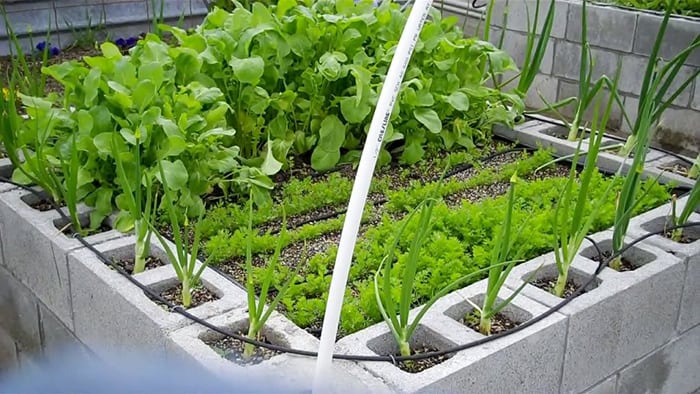 Need a little inspiration? We've gathered up 12 examples of different ways gardeners are using cinderblocks to build raised beds.
12 Raised Garden Beds Made With Cinder Blocks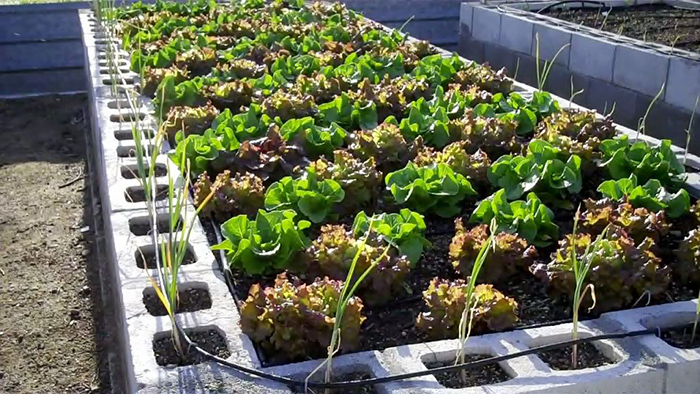 These beds were built by Jon Hughes on GardenWeb. In most of his cinder block beds, he plants a variety of vegetables in the center and onions in the perimeter holes. He grows enough food to donate a huge amount to his local food bank.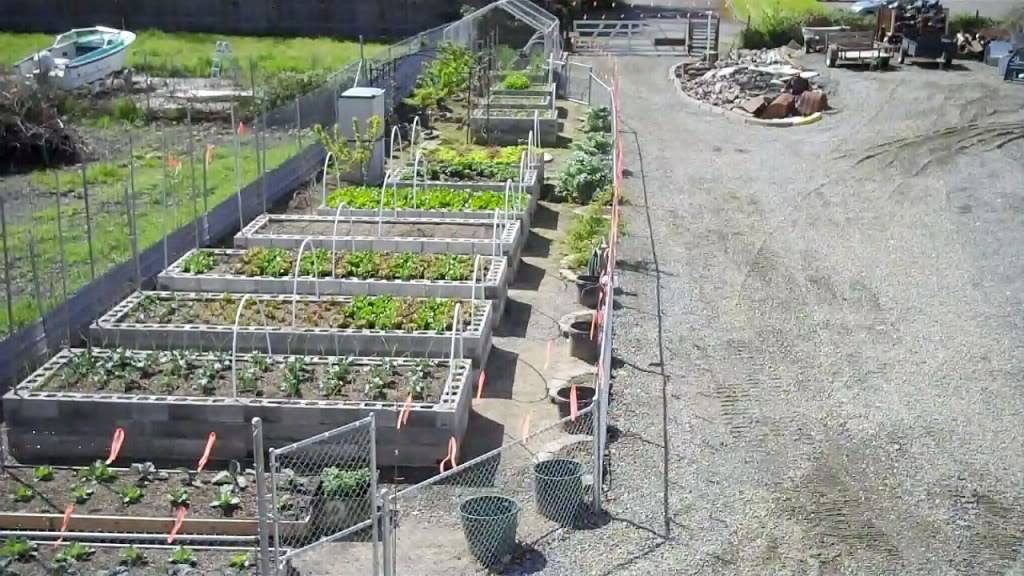 I love the fact that Jon utilizes the holes in the blocks for plants. I could see this method being useful for creeping plants as well, as a way to keep them confined to specific areas. Read more about his setups on the GardenWeb forum.
Beautiful isn't really a descriptor that comes to mind when talking about cinder blocks, but they really can be made into very appealing planting spaces, as this idea from EzHuz demonstrates.
Rather than planting in the hollow of the blocks, pieces of shale or metal placed around the perimeter of the bed make an appealing, rustic border.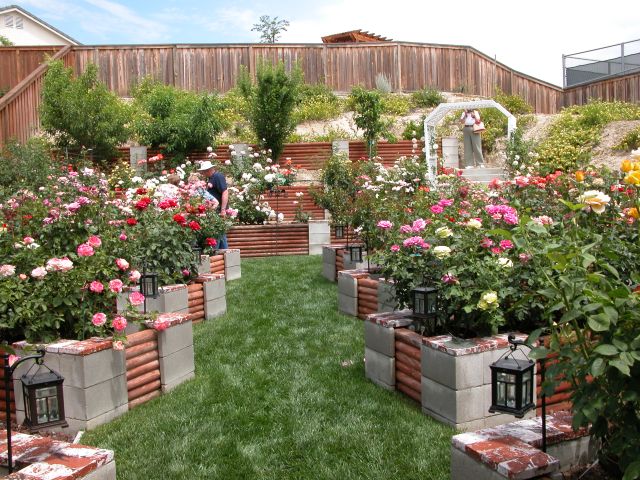 These stunning raised beds, seen at the 2004 San Diego National Convention Garden Tour are built with a combination of cinder blocks and pressure treated logs.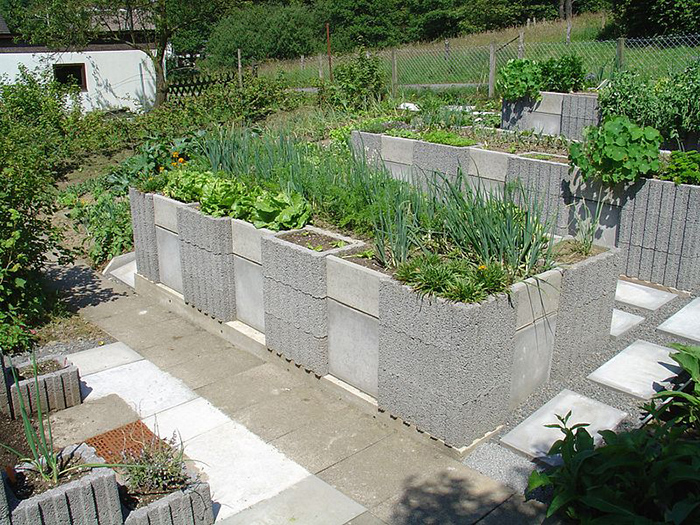 One of the great things about using cinder blocks is that you can easily make your planting beds as high as you want. Think of them as gardening Legos! A bed this high may not provide many additional benefits to the plants, per se, but it would definitely be an easy garden to maintain. via Wikipedia
This gorgeous garden shows an array of wood and cinder block triangle raised beds. This is a very simple and inexpensive way to build a visually appealing garden area. via The Tribune
Think you don't have room for a garden? Try stacking blocks vertically! Non-traditional raised beds like this one from Pandawhale can make functional, artistic planting bed additions to any yard using very little space.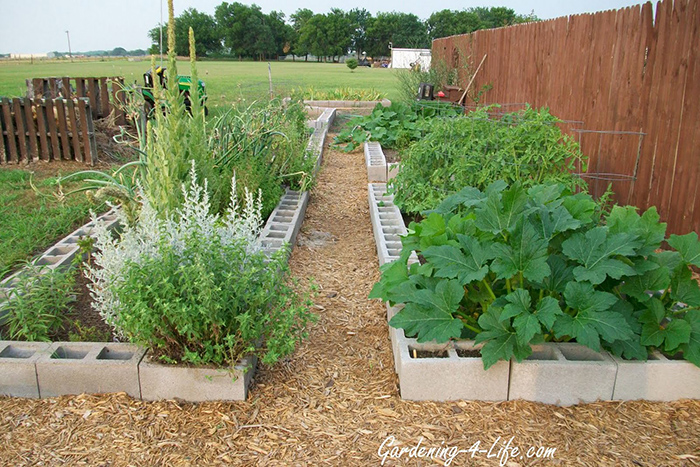 I love this idea from Gardening-4-Life – super simple, single-layer cinder block beds with herbs on one side, veggies on the other, and mulched pathways. Beds like these provide a nice divider between planted areas and pathways.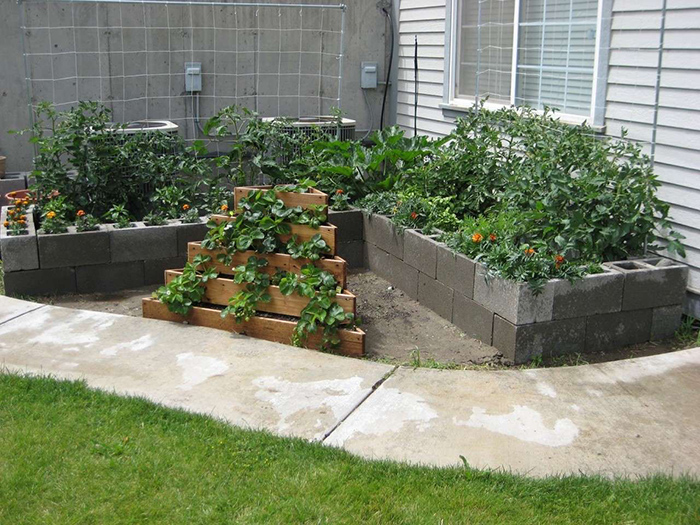 This beautiful L-shaped garden nicely utilizes the corner space beside this home. via the Square Foot Gardening Forum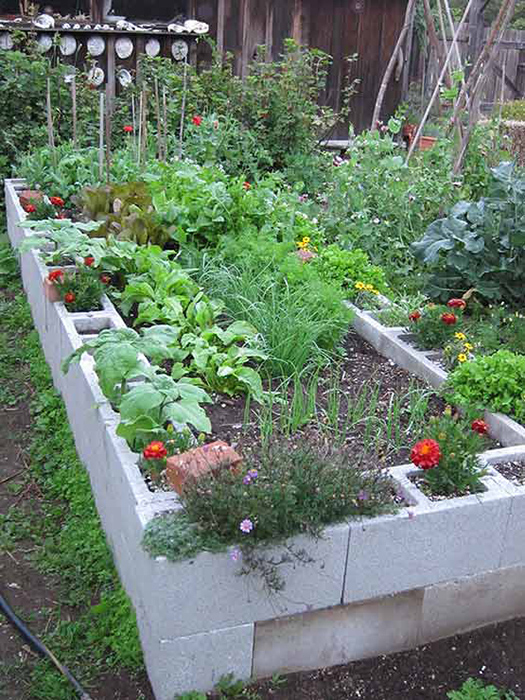 A mixture of vegetables and flowers in these double-layered block beds by Lloyd Kahn makes a nice, productive, gopher-resistant garden space.
Here is another great idea – use a combination of cinder blocks and pavers to make a charming little garden like this one. This proves you really don't need a large garden to grow a nice variety of plants. via HGTV Gardens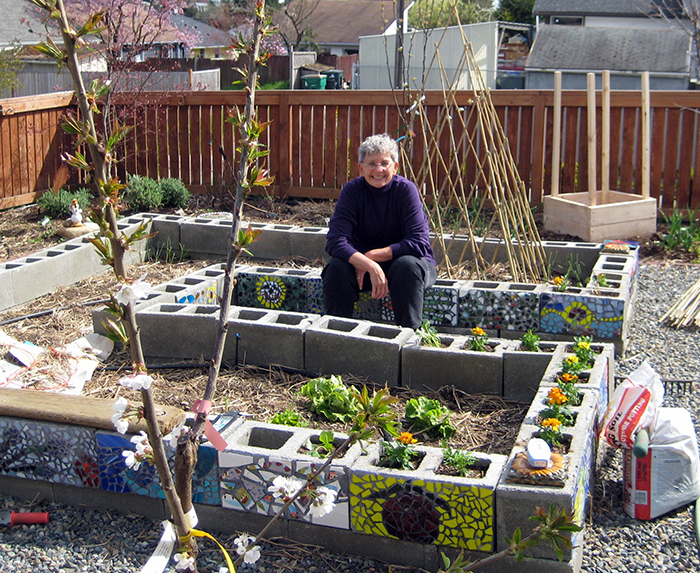 For a touch of whimsy, Grow and Resist made mosaics on the edges of her cinder block beds. What an awesome idea! See her blog for the whole start to finish process of making these.
And lastly, using cinder blocks in a setup like this is a cheap and easy way to add a modern touch to any garden. Stacking blocks vertically is an efficient way to utilize space. via Apartment Therapy
---
Like this article? Subscribe to our newsletter to get more great content and updates sent to your inbox!