This 140 square foot home in Snohomish, Washington, built by Chris and Malissa Tack, is a perfect example of the kind of gorgeous dwelling that can be created with a little imagination, a little money, and just a little space.
Despite its small size, the beautifully finished home on wheels has all the amenities that the couple needs to live and work, including a kitchen with a propane stove, a bathroom with a shower and composting toilet, a loft bed, collapsible work stations, storage spaces, and even a little potty hideaway for their cat.
The couple designed and built the home themselves in about 800 hours, with no prior home building experience. The cost to build the home itself was $20k, plus $12k for the solar array that provides most of the power for the house. Because they live in Washington, where skies are often cloudy, the solar panels are supplemented with electricity over the winter, at a cost of about $1/day.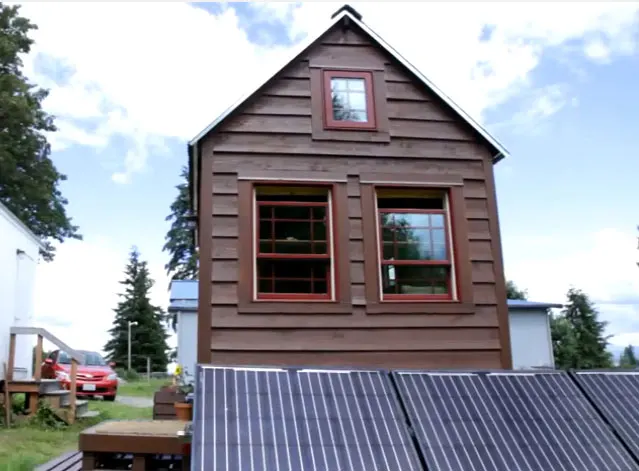 The Tacks decided to build a tiny, mobile house after figuring up the amount of money they were spending on rent – a whopping $58,000 in four years. They now spend $300/month to rent the land their home sits on.
I don't have to worry about putting down roots in one permanent location. We're still young, we love to travel and this house gives us that opportunity.
Images via: tackphoto.com