At 900 square feet and packed with modern amenities, the De Lux shipping container home by Relevant Buildings truly lives up to its name. This deluxe model is built with two 40-foot shipping containers placed to support a lofted roof and tall ceilings.
Relevant Buildings, based in Oregon, uses empty shipping containers sitting in West Coast shipyards and upcycles them into beautiful homes. Their mission is "to make a positive impact on people's lives by offering relevant housing options for those who seek a modern way of living that is kind to the earth."
The De Lux is Relevant's biggest model, a beautiful conglomeration of two recycled shipping containers with 2 bedrooms, 1 bathroom, a large kitchen and living area, a dining room, and a large deck with wrap around porch.
The deck is partially covered, giving residents a nice, large outdoor living area.
My favorite feature in this home is the unique lofted ceiling. It allows room for more windows, enhancing the light and open concept of the home.
The ceiling height in the lofted area is 12 to 13 feet, creating vertical space not easily achievable in traditional container homes.
Beautiful wood accents and cool greys give the home an upscale, contemporary look. The windows and glass sliding door keep the interior bright and airy.
The full-sized kitchen holds plenty of cabinet and counter space with stainless steel appliances. The bar seats two, and off to the right of the kitchen is a dining area (not pictured) with built-in seating.
There is plenty of this space in this home for a couple or small family. Though 900 square feet isn't exactly "going tiny", it is smaller than what many people are accustomed to. This concept utilizes design aspects that make a small space feel large and comfortable.
Though the bedrooms aren't pictured, you can see from the floor plan that Relevant integrated plenty of closet and storage space – always a plus in small homes!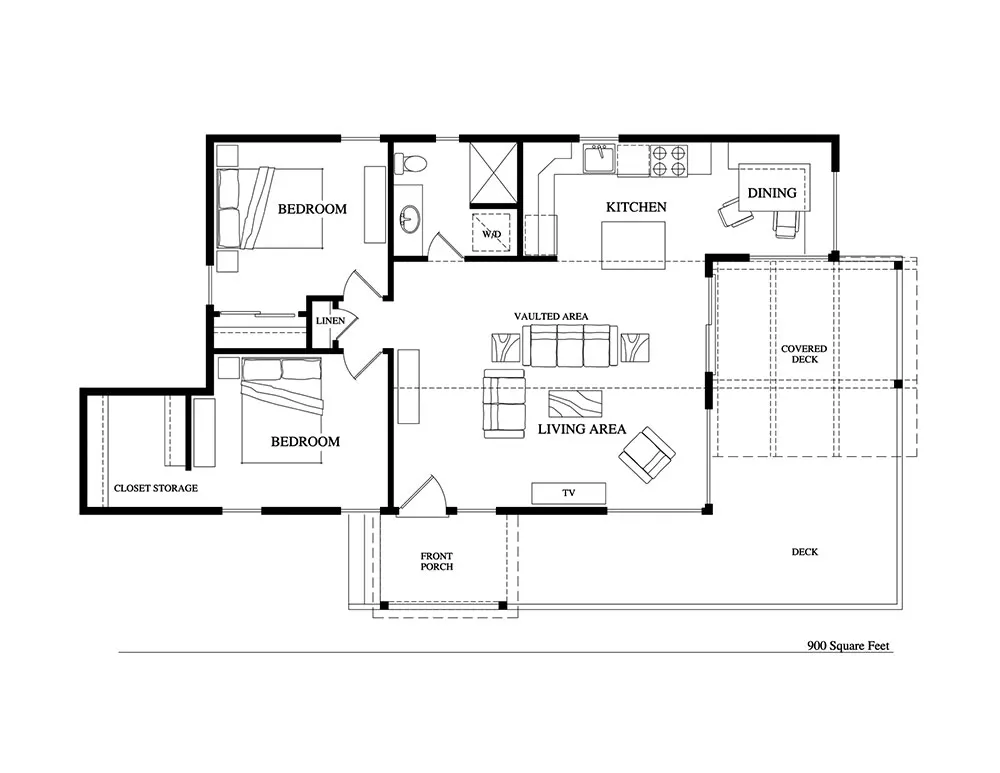 Like all of Relevant's shipping container home models, the De Lux is solar-ready, equipped with floating awnings that can hold panels capable of providing 7 kw of power. That's enough to make this gorgeous creation a net zero energy home!
A luxury home comes with a luxury price tag, so you can expect this one to set you back about $215,000. Given home prices right now, that's not bad – and the price includes installation on your foundation!
Visit Relevant Buildings for more information and to see their other gorgeous shipping container homes, including several smaller models.