Shipping container homes are remarkably popular in the off grid community, and it's no mystery why. When it comes to alternative dwellings, recycled shipping containers are a logical starting point for DIYers, off gridders, and those just looking for an affordable home.
Shipping containers are portable, economical, and can be arranged in countless ways to create the tiny house of your dreams or the ultra-modern multi-family housing unit. They are also highly durable and built to withstand the worst weather conditions.
Anyone with building skills can turn one (or more) of these stuffy steel boxes into a surprisingly attractive, comfortable home.
We started writing about shipping container homes over a decade ago because their potential for efficient, affordable housing was unmatched. Since then, these homes have exploded in popularity, and that trend will likely continue as demand grows for eco-friendly and economical homes.
What are shipping container homes?
A shipping container home is a house built with new or recycled steel shipping containers. Containers are most commonly found in two sizes – 20 feet by 8 feet or 40 feet by 8 feet. They also come in two heights: standard containers are 8 ½ feet tall, and high cube containers are 9 ½ feet tall.
Any combination of these sizes works great for repurposing into homes.
A single 20-foot container can make a gorgeous 160-square-foot tiny house that can be moved with relative ease. Larger, more permanent homes and apartment complexes have been built using multiple creatively stacked containers.
There are countless inspiring examples all over the web of people who build their own affordable container houses of all shapes and sizes.
17 best shipping container homes for sale
If DIYing your own home isn't your thing, there are plenty of shipping container home companies with all kinds of beautiful modular homes for sale. Most of these are built at the company's headquarters and shipped by truck to the buyer's location.
Here is our list of 17 container home companies updated for 2022:
1) Alternative Living Spaces
Price: $35,900 – $108,000
If luxury living in a container is what you're after, Alternative Living Spaces is a great place to start. We previously wrote about one of their container homes for sale – a beautifully bright 20-foot model packed with attractive features.
With large windows on all sides, this home offers 360-degree views of the outdoors. While this model is nearly perfect, in my opinion, ALS offers many custom options for their homes to suit any preference.
The Eco Container Home models are great if you are looking for a simple, modern new home at their most affordable price. These come in 20-foot or 40-foot sizes and are installed with electric wiring, plumbing, HVAC system, water heater, shower, doors, and windows.
The Luxe models come in 20-foot, 30-foot, and 40-foot sizes with several different packages and price points. ALS's homes include various upgrade options, from appliance packages to rooftop decks.
Once you place your order, you can expect your home to be completed in 8 to 10 weeks.
Visit Alternative Living Spaces for more information on any of their home builds.
If you're interested in building your own container home, check out Alternative Living Space's DIY building course and learn from the best!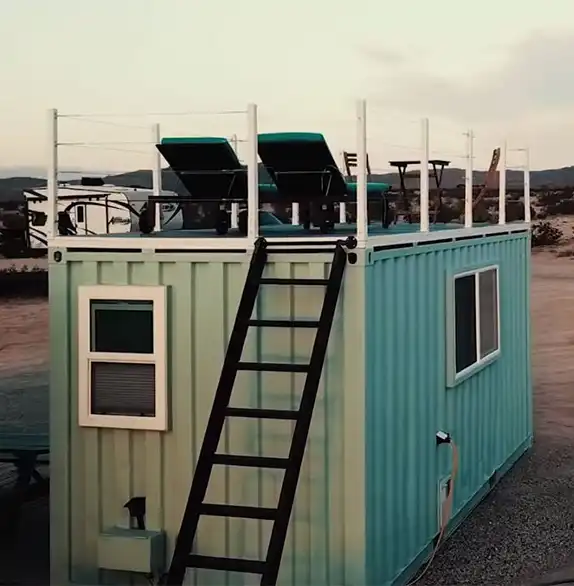 Build A Container Home
Learn from the pros and save money by building your own shipping container home! This free training is full of tips to get you started on your own DIY container home project.
Access the free training
We earn a commission if you make a purchase, at no additional cost to you.
2) Backcountry Containers
Price: $40,000 – $100,000+
Backcountry Containers, based in Texas, custom builds shipping container homes with prices dependent on the size and number of the containers in the build. Homes can consist of single, adjoined, or stacked 20-foot or 40-foot containers. Additional features can be included, such as screened-in porches, rooftop decks, and storage areas.
All their homes are insulated and include AC and heating units, plumbing, and wiring. Also, each home is equipped for hookup up to city drainage or to greywater and blackwater tanks for off grid living.
20-foot single container homes start at $40,000, 40-foot single container homes start at $60,000, and homes with multiple containers start at $100,000.
Get more information at Backcountry Containers.
3) Custom Container Living
Price: $39,950 – $186,900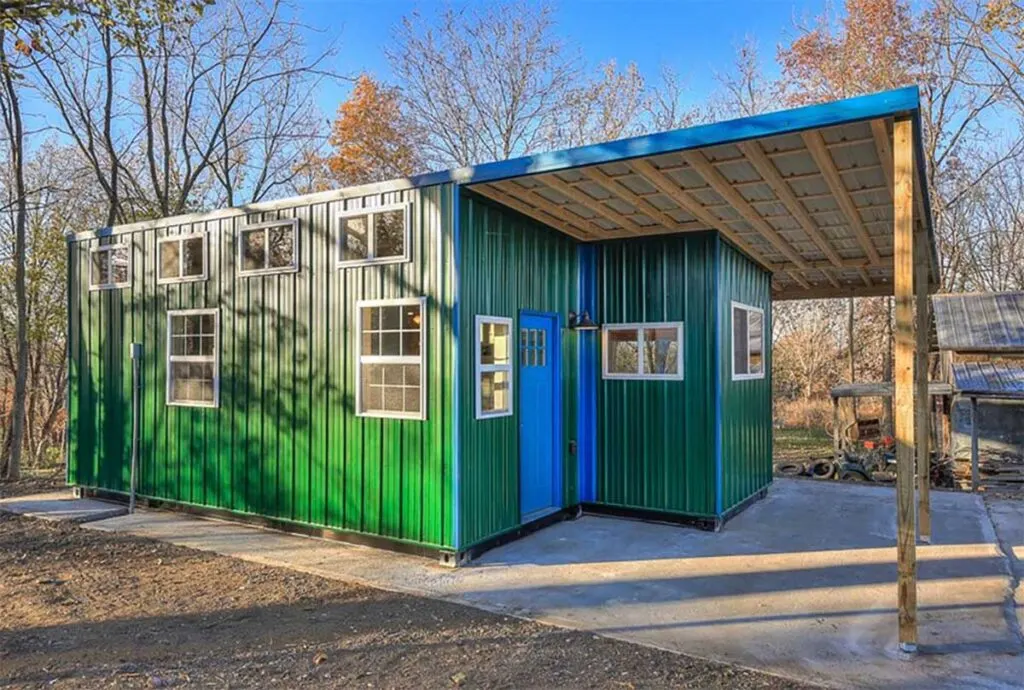 As their name implies, Custom Container Living builds shipping container homes and getaways suited to their buyers' individual needs. They are located in Missouri and will ship homes to all the lower 48 states.
Custom Container Living focuses on quality and affordability, with a huge selection of styles and floor plan options to view for inspiration. As you can see from these photos, the interiors of these homes are stunning.
Prices start at $39,950 for the "Backyard Bedroom" model – a bedroom, office/living area, and bathroom built into a 20-foot container. From there, options include anything from office space to a multi-unit home.
Check out Custom Container Living to learn more.
4) Honomobo
Price: $210,000+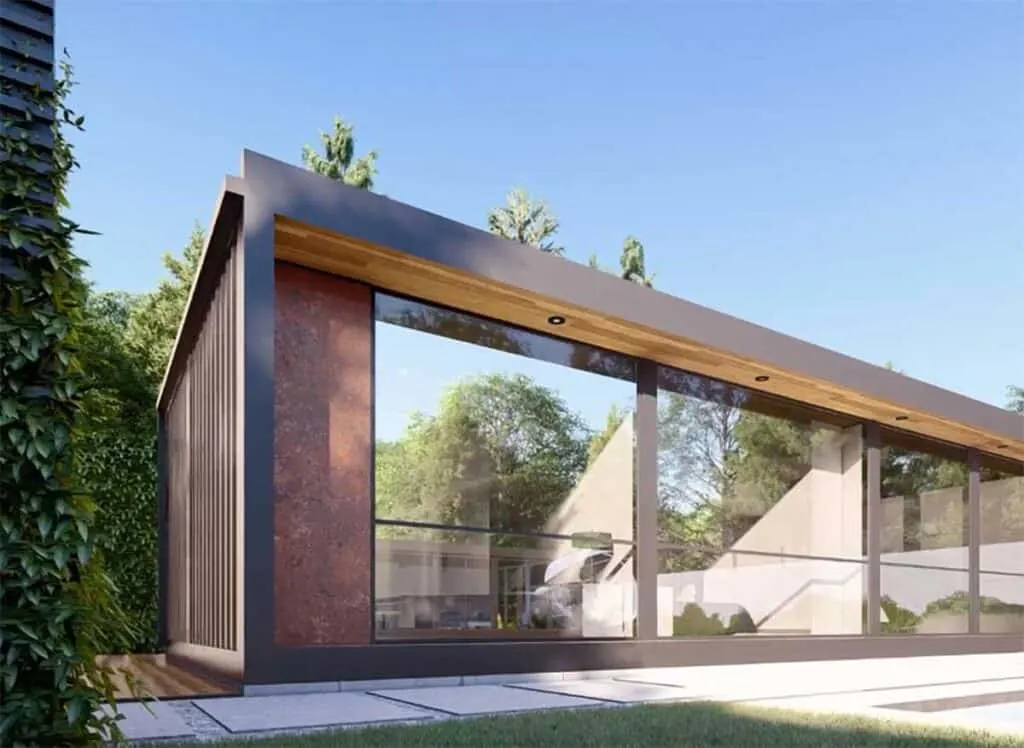 Honomobo is all about sustainable building with a modern aesthetic. They offer everything from backyard offices made of a single shipping container to gorgeous houses built with several containers.
Everything in a Honomobo home is customizable from floor to ceiling, and all of their homes are solar-ready for living off the grid. Depending on your needs and budget, you can go simple with a single-container home (HO1) or get fancy with up to 6 shipping containers (HO6).
Though the prices are slightly higher than other builders, the H series homes are exceptionally beautiful.
See more at Honomobo
5) TAYNR Shipping Container Homes
Price: varies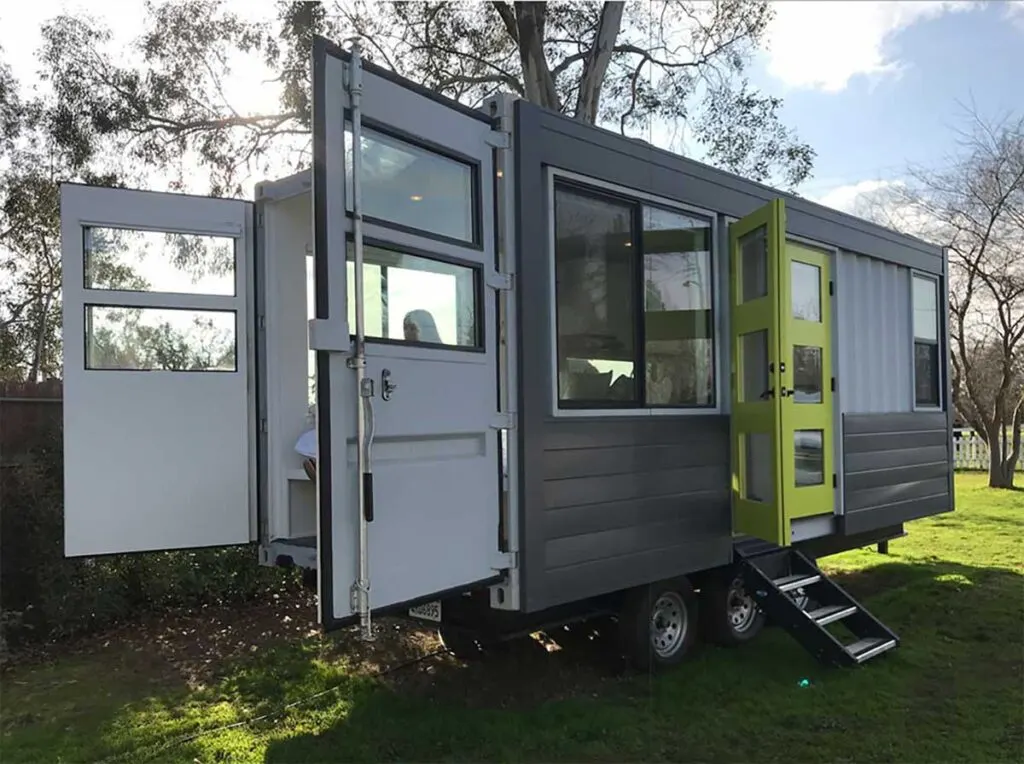 TAYNR specializes in fabricating new structures from recycled shipping containers, with the option of building container homes on wheels for easier portability. Their unique container projects look modern, interesting, and beautifully designed.
According to TAYNR's website, its mission is to provide a solution that replaces traditional construction with methods centered around sustainability and affordability. That sums up why most of us are drawn to container homes!
They offer several attractive models, from 160 to 960 square feet. Their website features completed homes that showcase the creativity and talent of the TAYNR team.
Visit TAYNR for more information, and see the below video tour of one of their beautiful homes!
6) Blok Studio
Price: $60,000 – $120,000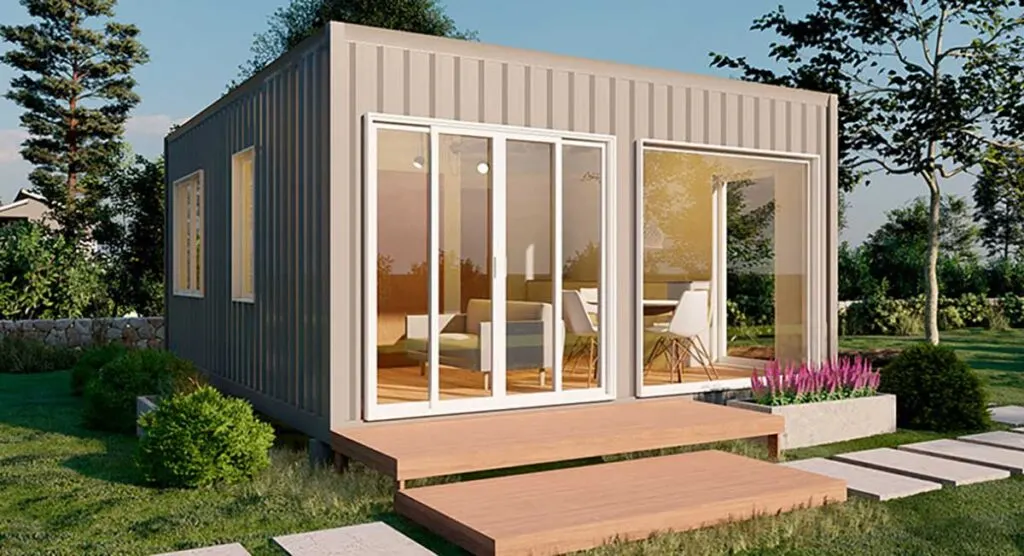 Based in California, Blok Studio makes affordable container structures for residential and commercial use. They currently offer four standard models from 160 to 640 square feet.
Their homes include insulation, full bathrooms, high-quality windows and doors, and kitchens with appliances. The interiors are light, clean, and modern.
Production time typically runs 6-8 weeks once you order your home. Homes are built on Blok Studio's premises in California and delivered nationwide upon completion.
Find out more at Blok Studio.
7) IQ Container Homes
Price: starting at $75,000 NZD
Most of this list consists of container home companies in the U.S. IQ Container homes is an Auckland-based builder supplying beautiful homes packed with eco-friendly features for buyers in or near New Zealand.
IQ's smallest home models are perfect for a backyard office or additional sleeping space. The larger models feature multiple bedrooms and bathrooms, all finished beautifully with a variety of custom choices.
With a focus on sustainability from start to finish, IQ homes are designed to minimize construction waste and utilize passive solar and cross-ventilation. They can be equipped with solar panels, rainwater systems, and various other eco-friendly options.
Visit IQ Container Homes if you're located in New Zealand and want to learn more.
8) Meka Container Homes
Price: $59,200 – $400,000+
We wrote about Meka in our prefab shipping container article, and they still stand out as a builder of fabulous, luxury container homes. Meka sells prefabricated and custom homes made from various configurations of 20-foot and 40-foot ISO steel frames.
While a bit more pricey than the previous models, Meka creates opulent homes with a wide variety of interior and exterior finishings for buyers.
At 320 square feet, Meka's ALP320 standard model looks like a modern studio apartment. It ships finished with one bedroom, one bathroom, a kitchen, and a living/sleeping area starting at $88,900.
If you're looking for a larger home and shopping with a more hefty budget, the top-end prefabricated house in Meka's line, the Santa Cruz 1920, can be yours for $412,600. That price tag will get you a spacious four-bedroom, two-bathroom luxury home.
Head to Meka Modular to see all their models.
9) MODS
Price: varies
Specializing in building a variety of modular structures out of shipping containers, MODS will build and deliver residential homes customized to your needs. In addition to homes, they create offices, retail stores, restaurants, dorms, apartments, and more.
MODS is located in Wisconsin, but they are one of the few container home builders we've found that will ship worldwide.
They do not post a price list on their website, but interested parties are encouraged to contact them for details, as prices vary based on customization options.
MODS has an extensive portfolio of previous projects, supporting their claim of being a leading innovator in designing and building modular structures using shipping containers.
See all their homes at the MODS website.
10) Kubed Living
Price: starting at $123,000
Kubed Living is a California-based design firm founded by realtor and businesswoman Katalina Klein. Kubed offers several predesigned shipping container home options in a range of prices, or you can work with them to create a custom home.
The standard amenities included in each predesigned unit are plenty of windows and doors, luxury vinyl flooring, full bathrooms, kitchen appliances, cabinets, closets, recessed lighting, and more.
The design team at Kubed Living is passionate about repurposing containers into modern, beautiful living spaces. Their shipping container projects are gorgeous, with every detail meticulously considered.
More information: Kubed Living
11) Logical Homes
Price: $200-$300 per square foot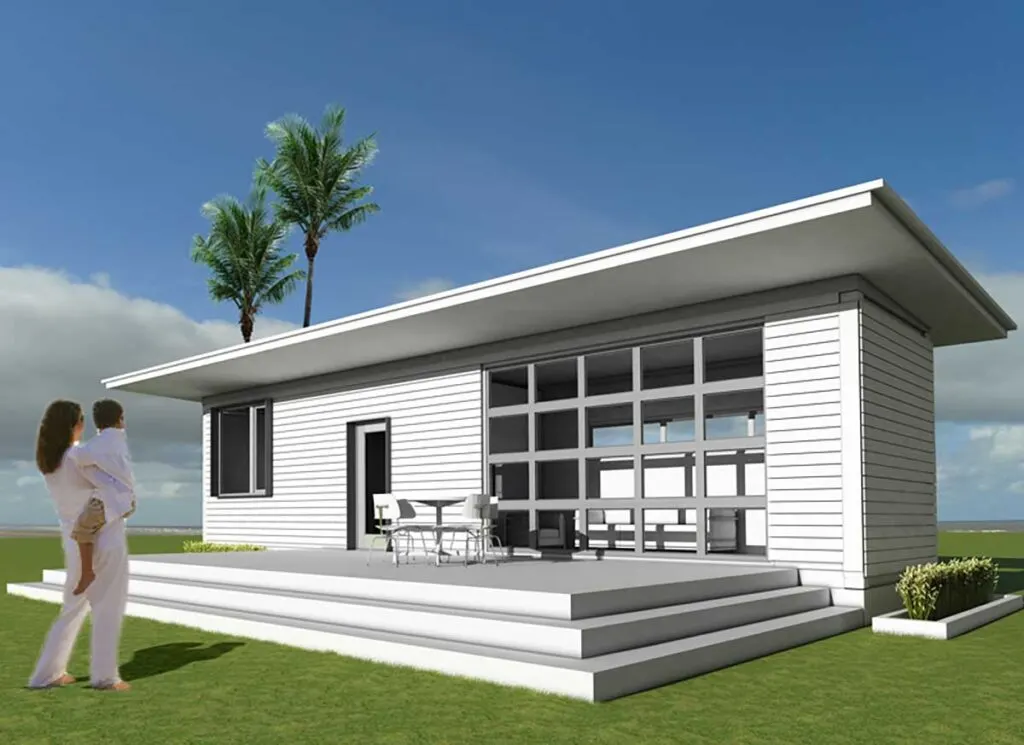 Based in Austin, TX, Logical Homes uses a combination of methods and building materials to create unique and modern homes. They utilize upcycled shipping containers and other eco-friendly materials to build environmentally-conscious and affordable homes.
Logical Homes has something for every budget, from the modest 640 square foot Aegean model to the 3580 square foot Seto model. Buyers can tweak any of these models to suit their specifications or work with the company on a completely custom build.
Construction takes about 12 weeks to complete once you place an order for a home.
See the home models and floor plans at Logical Homes.
12) Giant Containers
Price: contact for a quote
Giant Containers supplies new and used shipping containers worldwide, as well as modified containers. Their portfolio includes several beautiful shipping container homes and unique retail spaces.
Eco-friendly, quality, and affordable buildings finished in a timely fashion are some of the qualities Giant Containers strives to achieve in their builds. They seem to have the experience to back this up; they have the largest prefab shipping container development in North America.
Contact Giant Containers for a home quote and to see their shipping container projects.
13) Relevant Buildings
Price: $52,000 – $469,800
A few years ago we featured a popular shipping container home by Relevant – the De Lux. This home was particularly alluring for its lofted ceiling and gorgeous interior.
Relevant Buildings now offers several appealing home models made with used shipping containers.
Relevant's homes are pre-permitted and fabricated in their shop. While permitting issues and costs can be a hurdle for long-distance shipping, they currently have permit agreements with Oregon, Washington, and Idaho, and are in the process of shipping a home to Montana.
See all the models and price list at Relevant Buildings.
14) Container Homes USA
Price: contact for a quote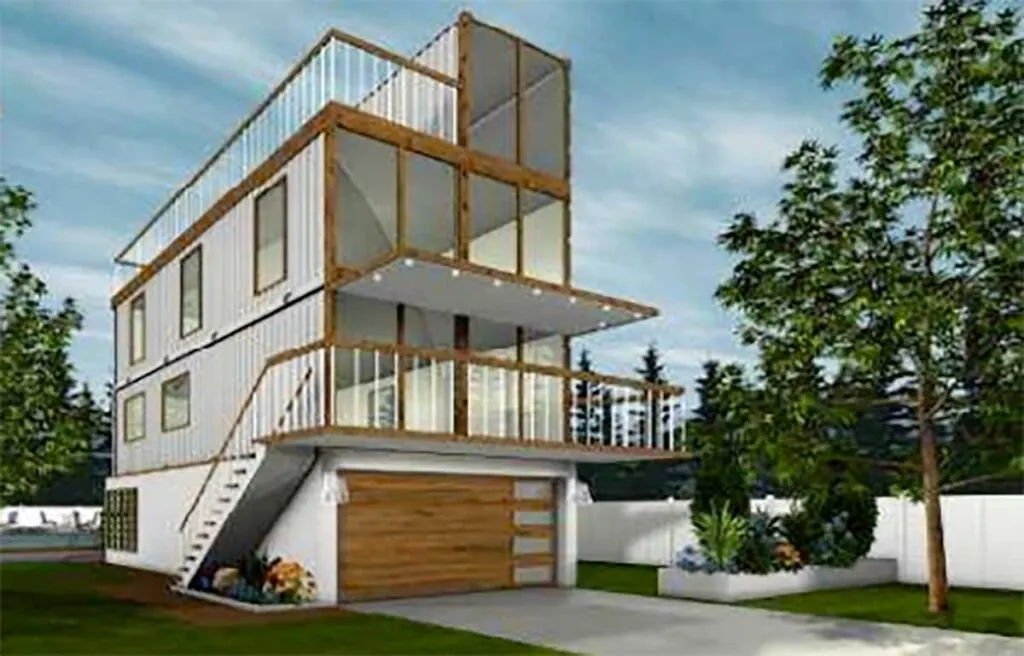 Container Homes USA's mission is simple: to build the most adaptable, durable, and sustainable structures on the planet using shipping containers.
They currently have six residential models on their website. These range from a single-level 1 bedroom home to a beautiful 4 bedroom multi-level home. They also offer blueprints and plans for DIYers.
Check out Container Homes USA for more information.
15) SnapSpace Solutions
Price: starting at $64,900
Snapspace has been in business since 2003 and specializes in quality, eco-friendly, customizable residential and commercial spaces with recycled shipping containers.
They encourage buyers to get creative in their requests; they've even built some really cool shipping container swimming pools. Their other projects include everything from tiny houses to doomsday bunkers.
Snapspace's home office is in Brewer, ME and they have manufacturing facilities all over the East coast.
Contact them at the SnapSpace Solutions website.
16) CW Dwellings
Price: Starting at $49,000
Based in Pennsylvania, CW Dwellings offers several home models for sale on their website, with floor plans and interior designs available for viewing. Like most builders, they use 20-foot and 40-foot containers in their designs.
If the predesigned models don't fit your needs, they will work with you on a custom design. Once your home is complete, it is shipped to you and the crew will help set it up at your location.
Visit CW Dwellings for more information.
17) MAC Container Housing
Price: From £17,050 (Approx. $19,400)
If you live in the UK, MAC Container Housing can build you an affordable home of any size. They have been in business for over 40 years and have many residential and commercial shipping container projects under their belt.
MAC uses new containers rather than upcycled containers. They provide a structural warranty and endless options for customization. Homes are built and fully fitted at their factory. The entire process, from design to delivery, takes approximately 12 weeks.
For more information, head to MAC Container Housing.
Why shipping container homes?
What's all the fuss about, anyway? The idea of living in a steel cargo container might seem strange, but it's not just a fad. There are considerable benefits to building houses with repurposed shipping containers. Here are a few:
Affordability
The steel frame of a shipping container becomes the home's frame, eliminating the need for traditional framing materials used in other homes. This can significantly reduce construction costs.
In addition, shipping containers are plentiful and can usually be obtained pretty inexpensively. If you live near a port, you likely have endless options right down the road.
If you go for a pre-built container home, you'll still pay less than you would for a traditional home, in most cases. See our guide for tips on buying a shipping container.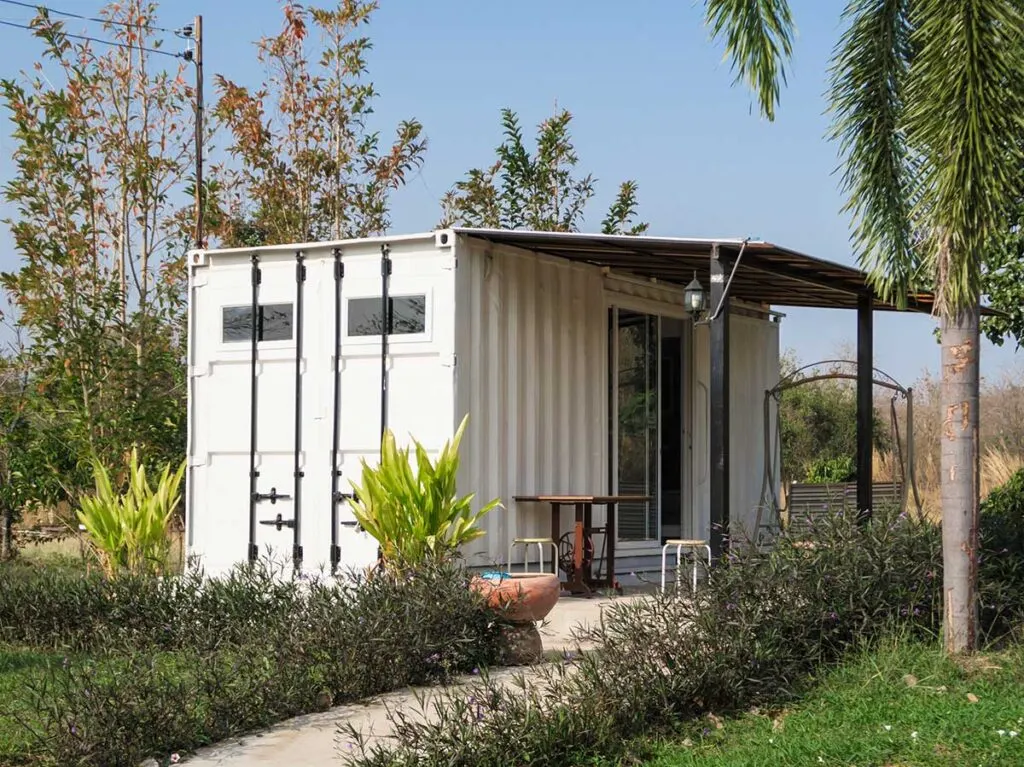 Convenience & faster construction
If you've been a reader for a while, you know we like to compare shipping containers to Legos, and that's basically what they are. They are the perfect size and shape for tiny homes or can be stacked and arranged like building blocks to create some really cool structures.
You'd think using a bunch of rectangular boxes would limit design possibilities, but look at some of the builders on our list to see the vast potential of containers. Some of the designs are pretty incredible!
Most shipping container home builders complete their entire construction process indoors at their location, allowing them to work on homes year-round. This can save months of time over traditional building, while reducing clutter and waste at the home's eventual location.
Portability
Shipping containers are built to be moved. They endure long voyages on ships and are then moved from place to place on trucks or trains.
This doesn't mean you'll want to move your shipping container home around regularly, but it does mean it is much more convenient to do so than with other homes. Your home gets shipped to you from the builder and can be relocated later if you need to move it.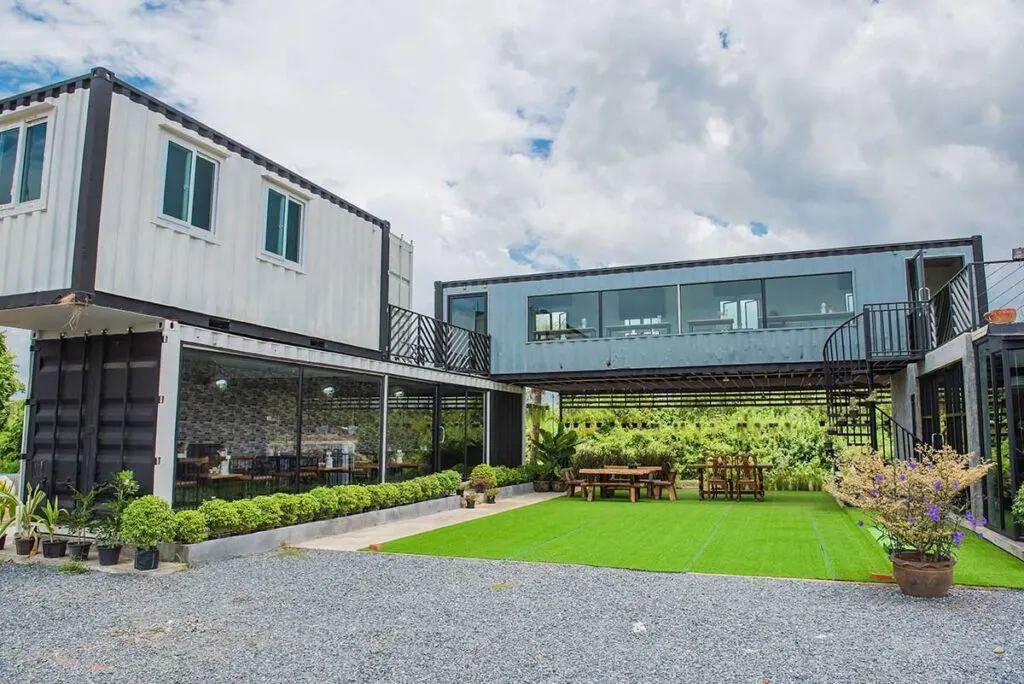 Durability
Shipping containers are designed to be stacked many layers high on cargo ships and at shipyards. They are also made to withstand all the nasty weather conditions a trip across the ocean can throw at them.
If secured properly, they can "weather" all kinds of disasters, from earthquakes to hurricanes and tornadoes to heavy snow loads.
Because they are made of corrugated steel, they are fire-resistant, insect-resistant, and not subject to rot and mold.
Sustainability
Have you seen pictures of the piles and piles of shipping containers sitting in ports around the world? It's mind-boggling. We import more than we export, so there is always a surplus of cargo containers.
Recycling out-of-commission containers makes sense, especially with the lack of affordable housing and the fluctuating costs of building materials. Containers also have a low carbon footprint when used for home building and use very few natural resources in construction.
Versatility
In addition to the versatile design options, shipping containers can be placed in areas where other types of houses can not.
Most container homes are set on pile foundations, so they can be placed on slopes and maneuvered into areas where a traditional foundation is difficult or impossible.
In addition, shipping containers have been used for all kinds of other applications, from underground shelters to portable cafes.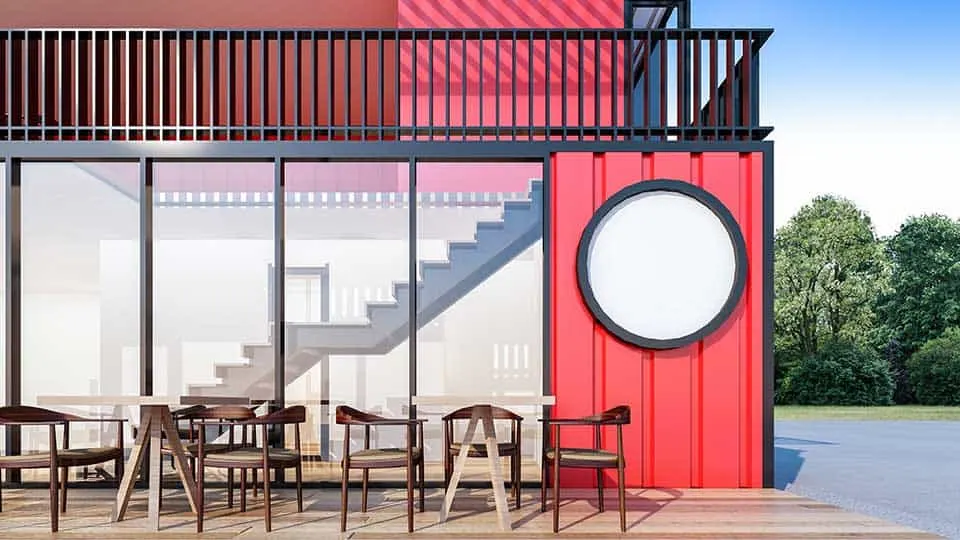 Drawbacks to shipping container homes
Despite all their positive attributes, we'd be remiss if we didn't also point out the potential disadvantages of buying a shipping container home.
Permitting problems
Every state, county, and city is different, and permitting can be a beast even with a traditional stick-built home (ask me how I know!!). Some locations allow shipping container homes without much fuss and some do not.
Container home builders have dealt with all kinds of permit requirements, so they are a good resource if you have questions about getting a home approved for your area.
Transport costs
While transportability is a big plus for containers, it can be costly if the container or home has to be moved long distances from its source.
If you're not working with a builder who handles shipping, you'll have to hire a truck (or multiple trucks, depending on how many containers you're moving) and a crane to set the containers in place once they arrive.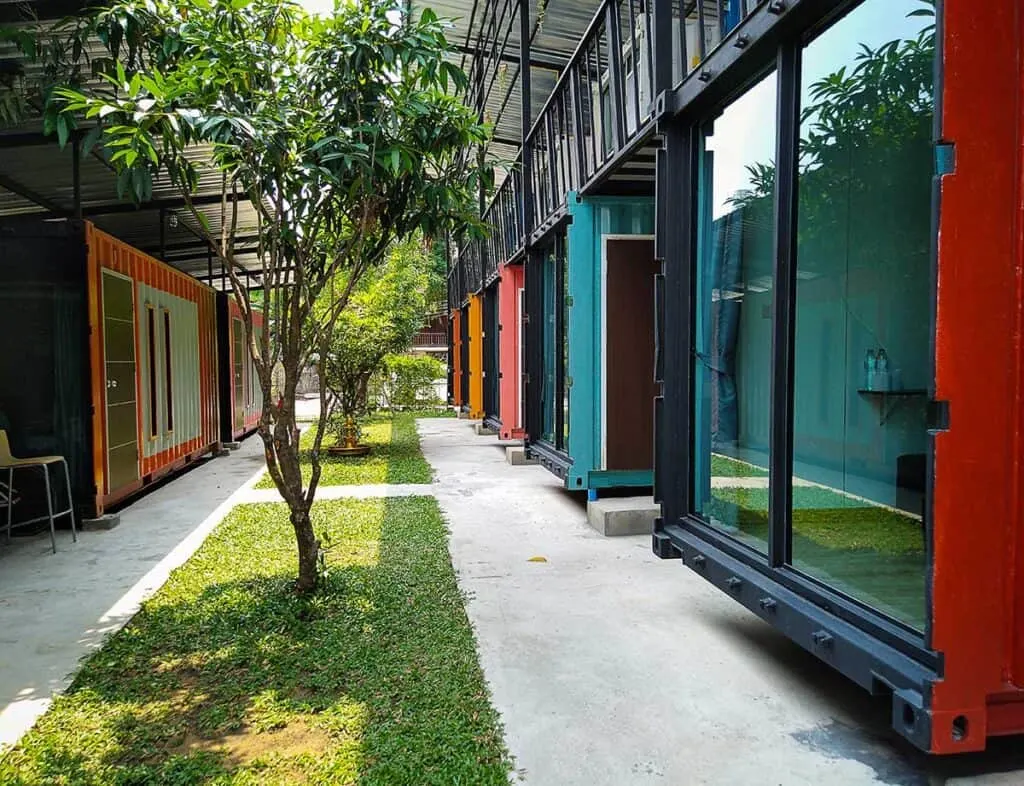 Unknown history
There is no way to know what a used shipping container has hauled, and it may have chemicals lingering within. This, and structural integrity, is why many builders opt for containers that have only made a single trip from China.
While these single-use containers are appealing because they are usually in pretty good shape, it's not the most efficient way to recycle. The older, dented, weather-beaten containers are often left to pile up and rust.
If you find a cheap, older used container in your area, you may not be able to find out how long it has been used or what it was used for. The longer a container has traveled or been exposed to the elements, the greater likelihood of dents, corrosion, and rust, which hinder the strength of the steel.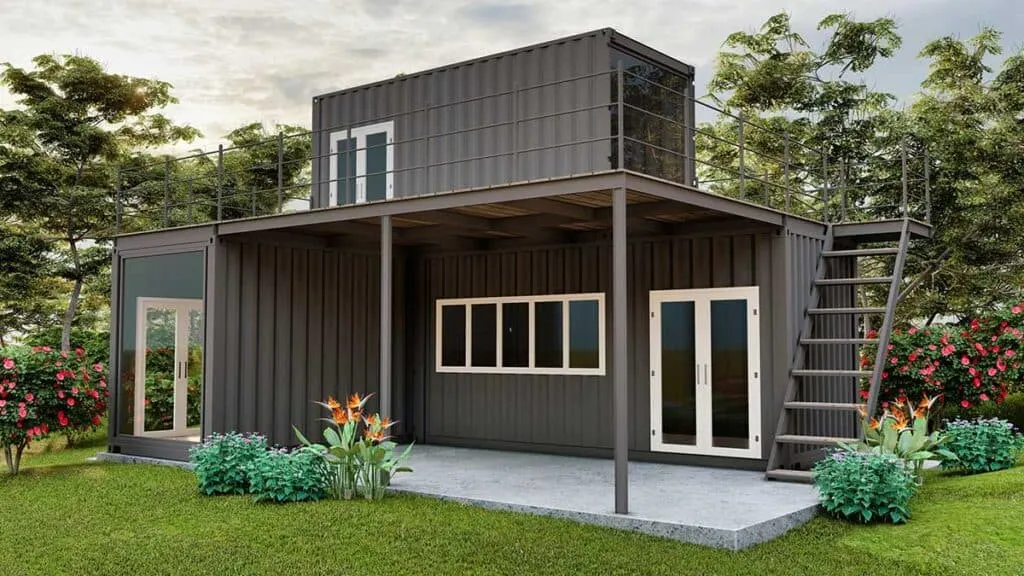 Shipping Container FAQs
Here are answers to some of the most common questions we get from readers about building and buying shipping container homes.
How much do shipping container homes cost?
The cost of a shipping container home will depend on many factors, most importantly, whether you build it yourself or hire a builder. As you see from this list, pre-built home costs vary considerably depending on the size and what amenities are included. They generally range from $29,000 to over $250,000.
If you build a container home yourself, costs include the shipping container itself (usually under $3,000) and other tools, construction materials, and appliances. You might also need to hire experts for work beyond your skillset – welders, electricians, etc.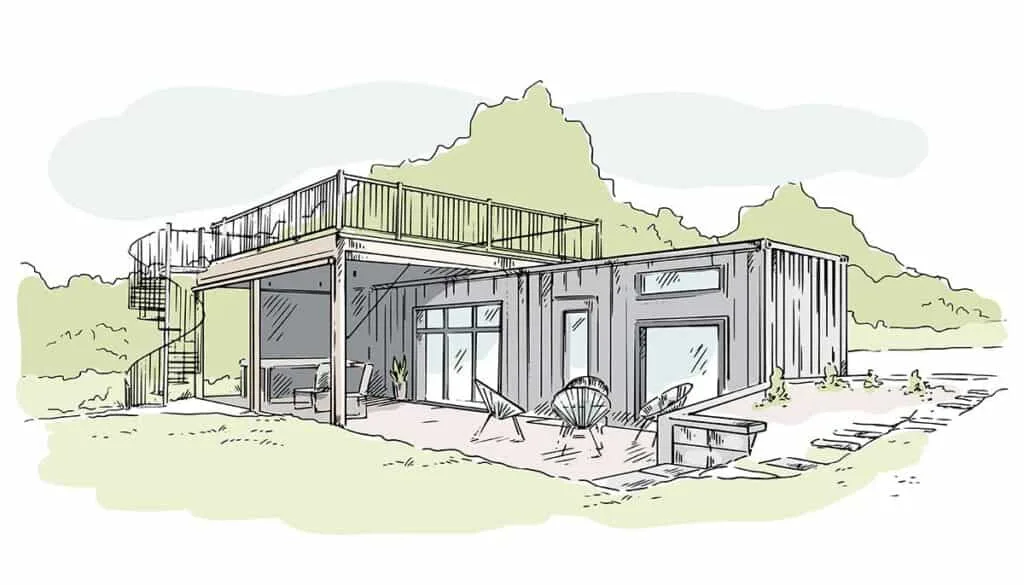 If you cut large holes in your container for windows and doors, you could compromise the container's structural integrity. To be safe, you should consult a structural engineer to help you take any necessary steps to ensure your home is safe and meets codes.
Many of the materials and appliances you'll need to build your own shipping container home can be sourced from used materials stores and online classifieds, making them much cheaper than new or even free.
Will banks finance a container home?
Usually, yes. As the popularity of container homes grows, so do financing options. You might have to get a construction loan first, which is a temporary loan that rolls into a permanent mortgage once the house is completed and set up on your property.
Most banks require the home to sit on a permanent foundation to qualify for a mortgage. And it will definitely have to meet all required building codes.
How long do shipping container homes last?
Shipping containers have an average lifespan of 20-25 years, but with proper preventative maintenance, a home built with containers should last much longer.
The key is to keep the metal from rusting by installing proper roofing, water drainage, and either paint or siding on the exterior to protect the home from moisture.
Do shipping container homes rust?
Over time, yes. But shipping containers are made from corten steel, which is more resistant to corrosion and rust than other metals. It will rust eventually, but slower than other types of steel.
Rust can be minimized with a good weather-resistant exterior on the home and by using the proper preventative measures to keep excess water away.
Most experienced container home builders use exterior paints and other materials that significantly extend the home's life, making it almost rust-proof.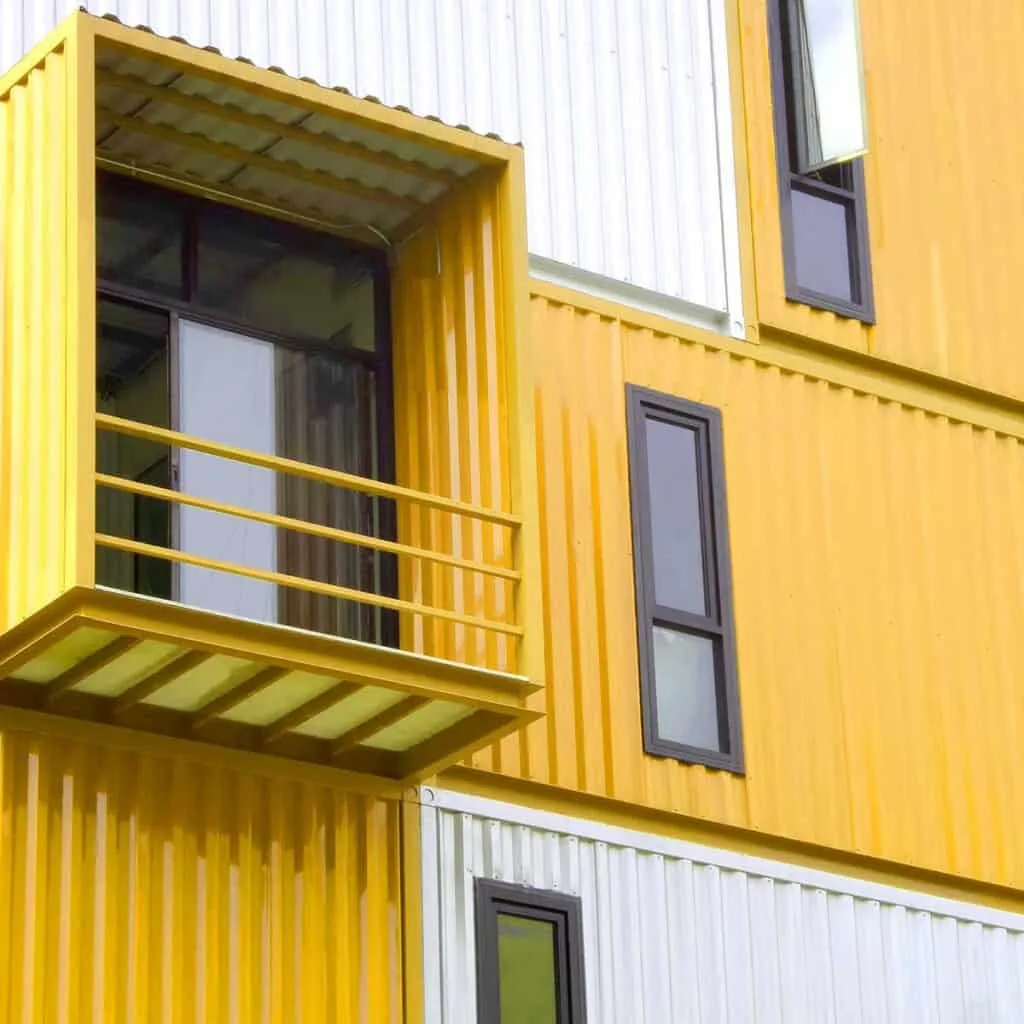 Which states allow shipping container homes?
Most states allow container homes, but every municipality has different building codes and zoning laws. In some cities/counties, it might be a pretty straightforward process; in others, you might have to jump through hoops to get all the necessary permits.
Even if you find a municipality that allows shipping container homes, you might get held back by land covenants. It's best to thoroughly research all covenants and local building codes before investing a lot of money and time in a container home.
So, is a shipping container home right for you?
We haven't seen many alternative home options that are as quick and easy to get into as a shipping container home. They might be just the ticket if you're looking for something affordable and unique that won't take months to construct.
They certainly have their drawbacks and aren't right for everyone, but they should be considered if you're looking for a sustainable home on or off the grid.