If you or your family members are hunters, you know what hunting season means: lots of meat! Stocking the freezer with wild game in the fall to use all year is a great feeling, but sometimes preparing those tough cuts of meat can be a challenge.
We process our deer meat into burger, steaks, and roasts. Since burger is easier to use for quick meals, we always seem to end up with lots of roasts to use up before restocking the meat supply when hunting season rolls around again. Instant Pot to the rescue!
Pressure cooked venison pot roast is a family favorite in our household. It only takes a few minutes of prep time and the end result is deliciously tender and makes great leftovers!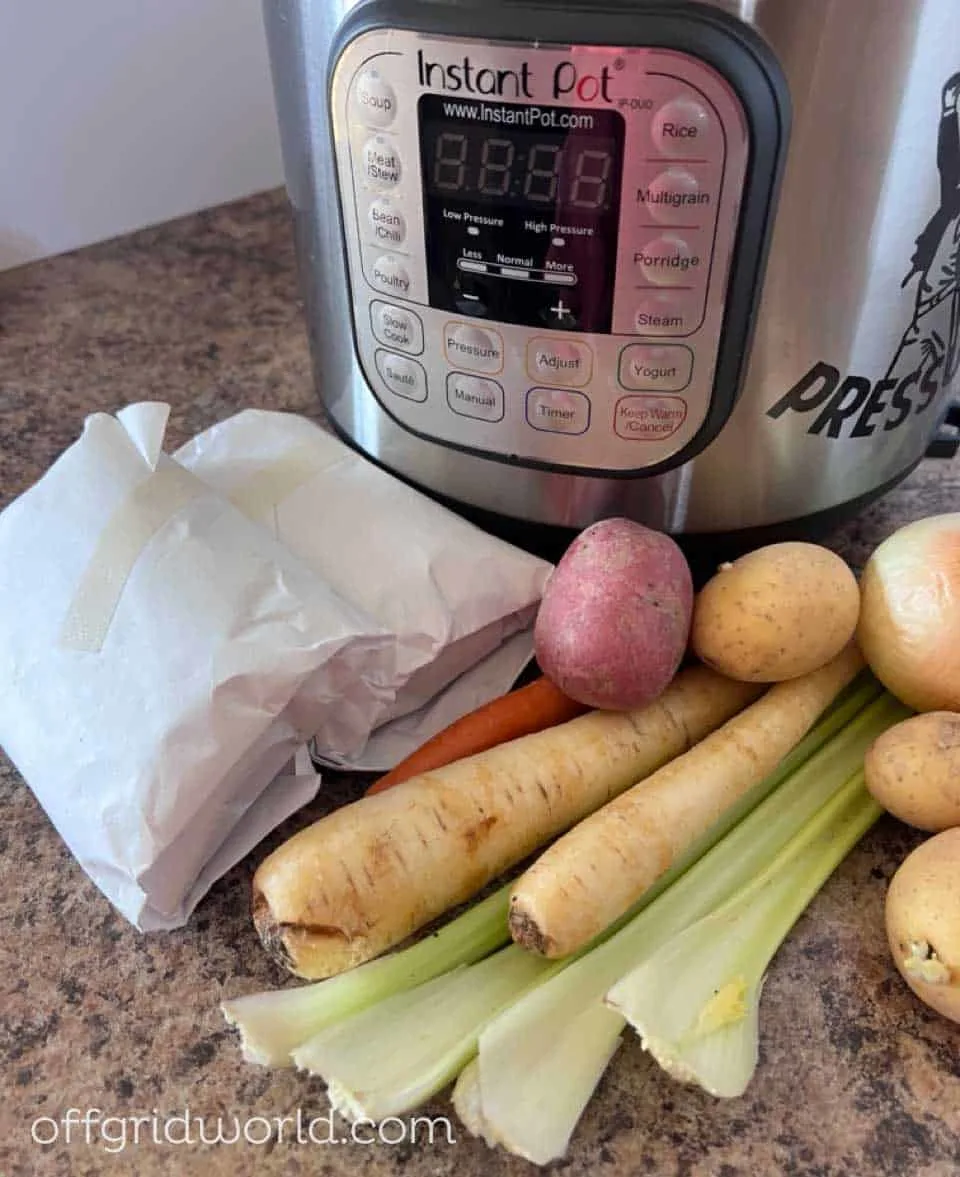 This post contains affiliate links, and as an Amazon Associate I earn from qualifying purchases. This means we may earn a small commission if you choose to make a purchase through the link. There is no additional cost to you. See the disclosure here.
Why use the Instant Pot for venison?
If you're reading this, you probably already have an Instant Pot and don't need to be told how wonderful they are. If you don't have one, this multi-functional pressure cooker can likely replace several of the appliances that are probably taking up space in your kitchen right now.
For tough game meat, it's a game changer. Pun intended. 😉
Pressure cooking is fast, and it actually gives you nice, tender roasts from notoriously tough game meat. No more hours and hours of slow cooking to get a roast that may or may not be dry as a bone or somewhat kind of not really tender.
In my experience, the key to a tender venison roast is the pressure cooker!
Before I had my Instant Pot, I never used pressure cookers. I found them slightly intimidating and complicated. I relied on my slow cooker for game meat. Not anymore!
The Instant Pot is completely uncomplicated and has plenty of safety features, so you really don't have to worry about it. It takes all the guess work out of pressure cooking.
Basically, the device won't function if your lid isn't properly in place, and the lid stays locked on until the pressure is at a safe level. And you don't have to babysit it to monitor pressure levels while cooking. Just set it and forget it!
Unlike a beef roast, venison is very low in fat and needs more time in a pressure cooker to tenderize. For this recipe, you'll let the meat cook on high pressure for 90 minutes, then add the veggies and cook for 10 more minutes.
So let's get to it. Here's how I make delicious, pull-apart tender venison roasts in the Instant Pot.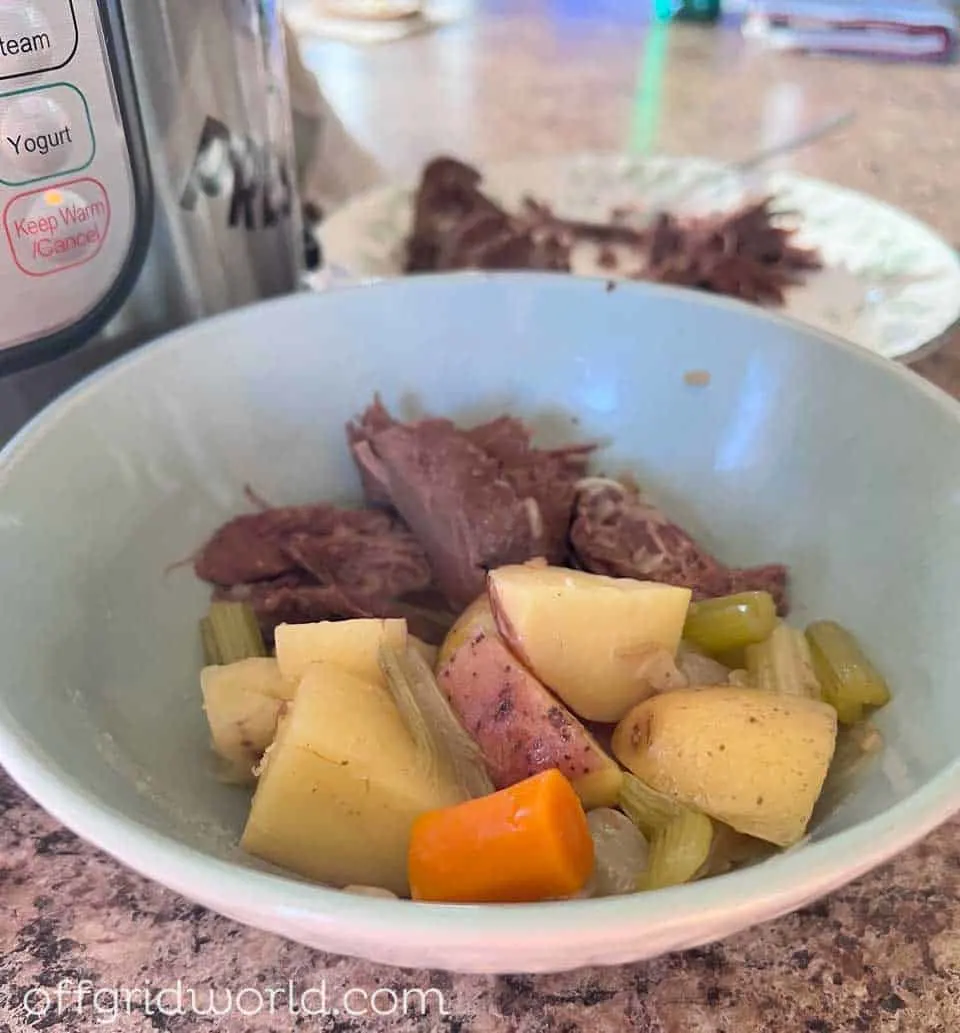 Easy Instant Pot venison roast recipe
Ingredients:
1 tablespoon olive oil or avocado oil
1 (2 pound) venison roast
2 cups water (more or less to almost cover the meat)
1 (1 ounce) package onion soup mix
1 pound potatoes
4-5 carrots or 8 oz bag of baby carrots
1 medium onion
3-4 celery ribs
Salt and black pepper
Instructions:
Add the oil to the Instant Pot insert and turn on the Saute function.
Place venison roast in the oil and brown for 2-3 minutes on each side. Sprinkle with salt and pepper if desired.
Add the water until the meat is almost covered, then sprinkle the package of onion soup mix on top of the venison.
Close and lock the lid, ensure the steam valve is set to the sealing position, and set the Instant Pot to High pressure for 90 minutes.
While the meat is cooking, chop the carrots, onion, celery, and potatoes into large chunks. If using baby carrots, you can leave them whole.
Once the 90 minutes are up for the meat, carefully release the pressure using the quick-release method.
Open the lid and add the vegetables to the pot with the roast.
Close and lock the lid again and cook for 10 more minutes on High pressure.
Release the pressure using the natural-release method.
Place the roast and vegetables on a serving platter and enjoy!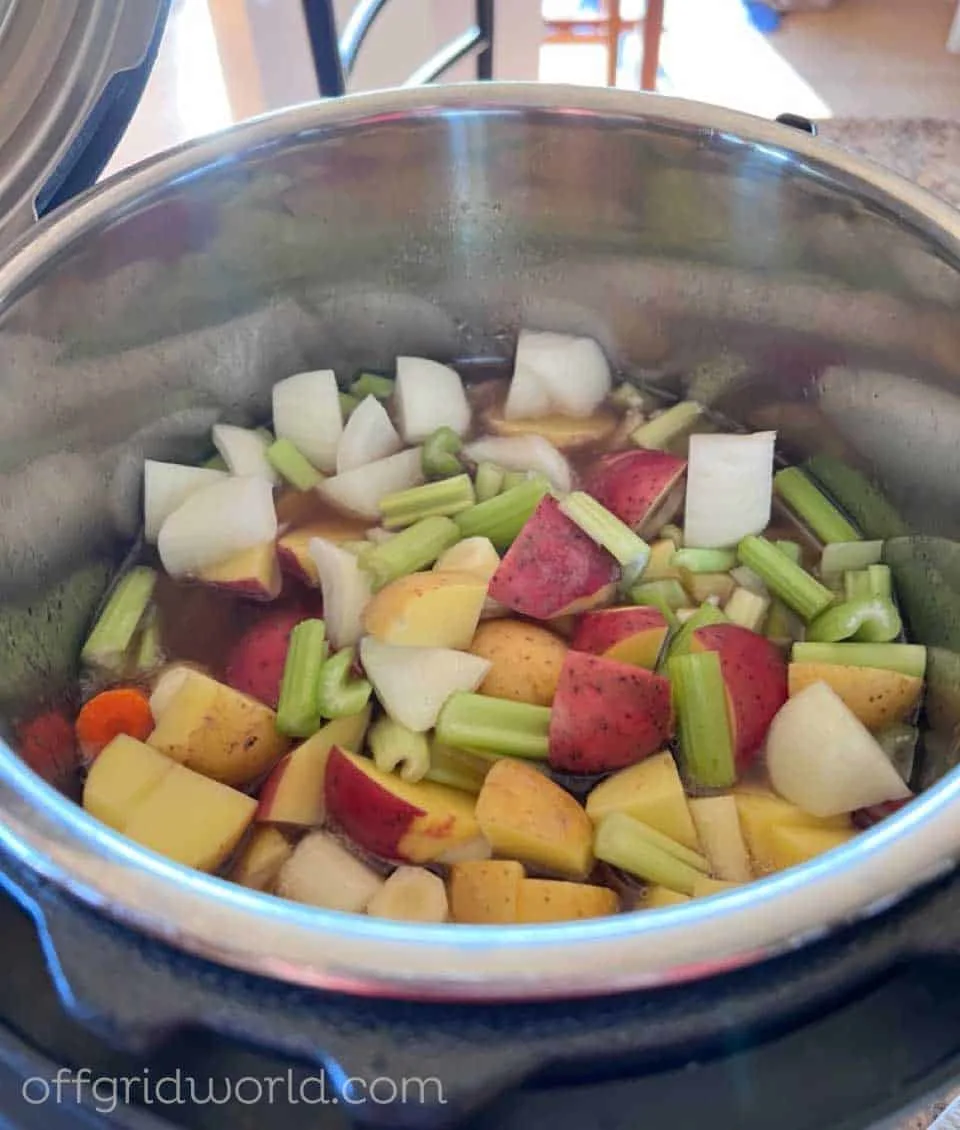 Notes
Since we package most of our meat into 1-pound portions, I used two 1-pound roasts for this recipe, which easily fed our family of six.
The veggies are only given 10 minutes of cook time because they cook super fast in a pressure cooker. If you try to cook them with the meat for the full 90 minutes, they'll turn to mush. Eww.
If you have time, you can make a delicious gravy using the liquid from the pot after everything cooks. Otherwise, just spoon the liquid over the meat when serving.
Store the leftovers in some of the liquid or gravy to keep the roast nice and juicy until you're ready to finish it off.
Many venison recipes use red wine and balsamic vinegar to help tenderize the meat. This is entirely up to you, but I've found I don't really need it.

Another quick way to cook venison roast
Sometimes I like to have pressure-cooked venison on hand for fast meals without making a full roast-and-veggies dinner.
This next method is so simple that you really don't need a recipe. All you need is the meat, your pressure cooker, and broth. And you can cook the meat from frozen if you're like me and forget to set it out to thaw.
First, put the meat in the pot, frozen or thawed.
Next, add the broth. I like to use beef stock as it adds a nice flavor to the meat, but you can use chicken broth, vegetable stock, or water and some of your favorite seasonings. It really doesn't matter, as long as you have liquid in the pot. The liquid is important! Add enough to almost cover the meat.
After adding the liquid, lock the lid in place and cook on High pressure for 90 minutes (cooking time can vary; sometimes I do up to 120 minutes if the meat is frozen).
When the timer goes off, let the pressure release naturally. You can use quick release; I just prefer natural release because I'm usually off doing something else when the timer goes off, so I forget about it. 😉
Straight out of the pot, the meat is delicious and ready to eat. You can enjoy it right away, or if you cook it in bigger batches as I do, you can store it in the fridge to use in different meals over several days. It's perfect if you're looking for freezer-friendly meals too.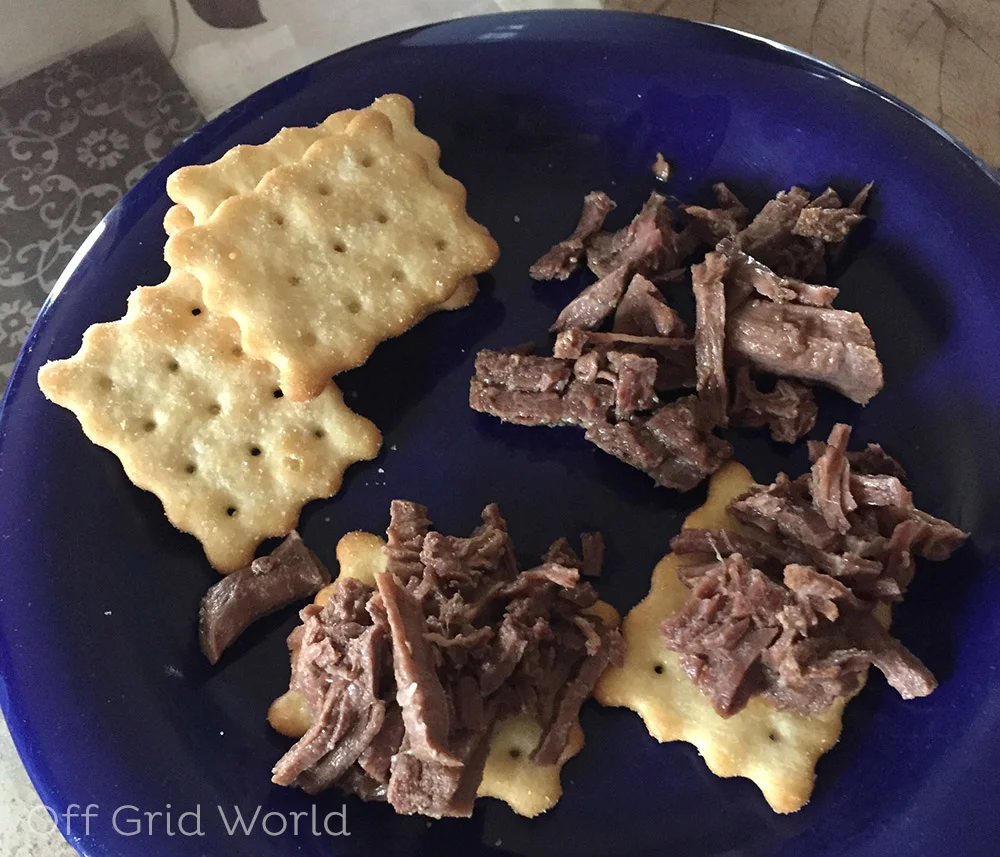 9 ways to use pressure-cooked venison
Pressure cooked venison roast makes a delicious meal on its own, but is also versatile enough to use in other recipes. The beef broth gives it plenty of flavoring, or you can dress it up with different sauces or add it to other recipes for some variety. Here are my personal favorite ways to use pressure-cooked venison:
Add barbecue sauce to make sandwiches – a great alternative to pulled pork
Eat it on crackers as a snack (definitely kid-approved!)
Add it to scrambled eggs for breakfast
Put it in quesadillas
Sprinkle it with taco or fajita seasoning and eat it on tortillas
Add it to soup or chili
Top a salad with it for a delicious, healthy meal
Wrap some up in a large lettuce leaf for a gluten-free lettuce wrap (my kids love these!)
Sprinkle it on top of baked potatoes with your other favorite toppings
The possibilities are endless, really!
I hope you find this method of cooking venison as delicious and versatile as we do. Oh, and be wary when you cook game meats. The smell tends to bring out packs of drooling wolves, at least in our house… 😉