Off Grid Living – an advanced lifestyle
After spending years living without the electric, phone, cable, sewer, and natural gas grids, I can say that there is nothing primitive about off grid living. In fact, with our relatively small 1.7kW photovoltaic solar array and a tiny 800W wind turbine, my wife and I enjoy a very high level of civilization. And we don't worry about paying large bills to utility companies or difficulties when the grid experiences a breakdown.
We have a backup gasoline-powered generator for battery charging when the sun hasn't peeked through the clouds for days and the wind is not blowing. This could be upgraded to a biofuel (alcohol or bio-diesel) generator, more PV panels, or a larger wind turbine.
Electric power is stored in a battery bank consisting of 8 deep cycle floor scrubber batteries, the power delivered to standard 120V power circuits by a pair of inverters. On the environmental end, we aren't contributing to air pollution and mercury poisoning from coal-fired power plants, radiation leaks from nuclear plants, spills from overflowing sewage treatment facilities, or the need to maintain long power lines and tree-free corridors through nature.
We live a fully modern, high-tech life with 2 laptop computers and a sophisticated satellite dish and modem, satellite TV with DVR recording/playback. We also have a full-scale music recording studio with piles of synthesizers, advanced processing, power amps, and electric and acoustic instruments galore!
We use cell phones (2), one of them being a smartphone. We have 2 MP3 players and a massive music library. Of course, we have a blender and mixer in the kitchen, refrigerator, sewing machines (2), power tools, lighting, fans for moving air, and a water pressure pump with standard kitchen sink, bathroom sink, and shower/tub unit.
We don't have an air conditioner or microwave oven but we could have that if we wanted by simply adding a few more PV panels to the existing arrays. We have a composting toilet and a gray water recycling system in an attached greenhouse section, which also grows food while cleaning up the wastewater. We capture and store rainwater and have a connection to a commercial water source if need be ($20/month).
Our 2000 sq. ft. home is about 50% passive solar heated, super insulated. We use two on-the-wall propane heaters and a propane kitchen stove/oven and have a built-in fireplace in the bedroom. Our propane bill is about $1200/year. We have a deck out back with a 10-mile view from the hilltop.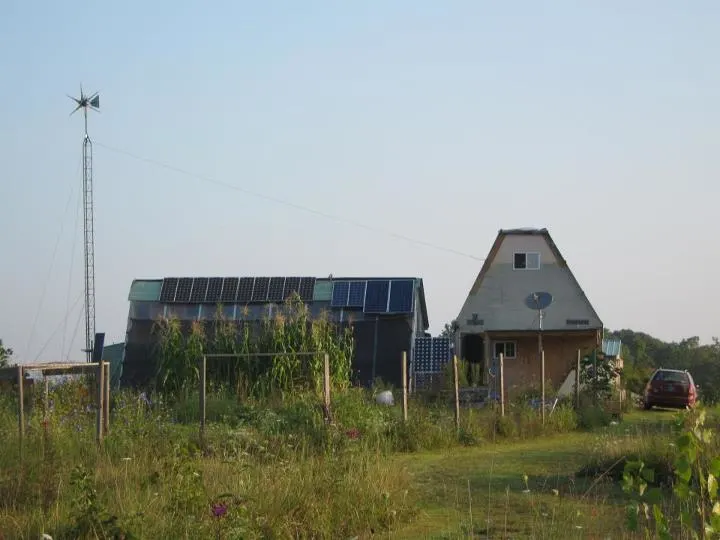 We built it ourselves, bit by bit over several years, spending no more than $50,000 total, a fraction of the cost of a standard home. We could have done better. Improvement can be made. That's why we built it, to learn how to do it better as well as to provide us with a nice place to live without the hassles and harassments of a suburban lifestyle. That kind of living, including hospitals, library, banks, vet, hardware, grocery stores, schools, churches, gas stations, party stores, restaurants, and everything one might want from a corporate lifestyle is only 10 minutes down the road.
We are not isolated nor disconnected from regular society. We just don't have to participate in it very often if we don't choose to. We get to garden organically, culture fruit and nut trees, eat wild berries, pick wild herbs, hunt mushrooms, walk through the woods, and lay in the yard naked.
We dug 6 mini-ponds and are surrounded by frogs (several types), dragonflies, butterflies (including the monarch), wild bees for pollination, birds in abundance, and there are deer to watch in the fields in the early morning and at twilight.
We can see the stars! We have 16 acres, 6 of them woods (with a spring), and the rest in fields which we are mostly allowing to go back to nature. About 1 acre is mowed.
We paid $1000 down and are purchasing this on a land contract, about $400/month including our land/property taxes. That's off-grid life on Faerie Hill.
We welcome people to join is. If you are interested, please visit Faerie Hill and ask us how you might get involved.
———————————————–
Off Grid Living – an advanced lifestyle
http://www.facebook.com/notes/terry-kok/off-grid-living-an-advanced-lifestyle/268607269839327