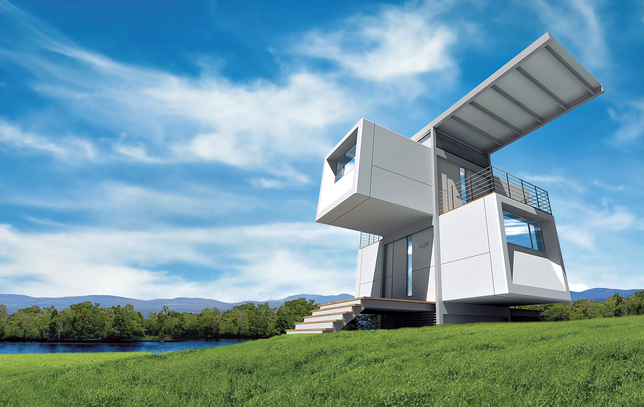 Very cool design! Similar to many shipping container home designs.
The price of this prefab modular off grid home is $350,000. (not including the land). Although beautiful in design, and as practical as a prefab modular house is, the problem is the price. $350,000 just for the home is relatively expensive and almost certainly prices it outside the affordability of most folks, especially when you factor in the cost of the land which most probably puts this home+land combo in the $500k range. Realistically speaking, this isn't exactly affordable. But it damn sure looks cool!
Building a home like this from shipping container homes not only cuts out the use of new materials for prefab construction, but it recycles used containers which helps negate any new materials you add to the home during it's construction.
Making it affordable while keeping this basic design is relatively simple. Two shipping containers placed in the same configuration with reinforcement to support the design can probably be done for around $35-$50k (including 1-5 acres of land; depending on where you build it.)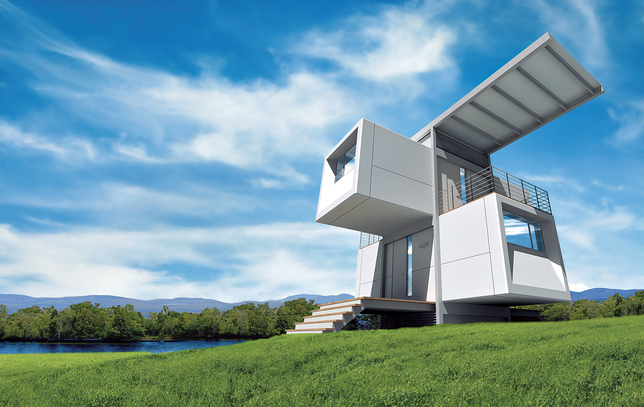 Shipping container cost about $2500 each delivered to the site, add in $10k each for materials, another $5k for permits, and probably another $15k for solar and wind power systems. $50k is easily doable.
Even if you over figure cost and DOUBLE it to $100k it's still very affordable and prices it within the budget of most Americans.
A bare-bones modular shipping container system, with no luxuries, may be possible to build something similar for $25k if you don't splurge on amenities/materials.
I'd love to build something like this, if for no other reason than to find out how inexpensive and practical we could build it. 😉
~Eric
————————–—————— "…We're heading into an uncertain future, but two things are clear: Technology is getting better and the environment is getting worse. Fortunately, the former offers solutions for the latter,… Considering the $350,000 price tag, any prospective buyer would certainly hope that the compact home makes up for its price through its exceptional efficiency. Many sustainable purchases are justified as upfront investments for long-term savings, and this is no exception. "We are gearing the house toward first-adopter clients who are interested in the potential of a fully self-sufficient, environmentally clean, yet extremely comfortable, residence," says Specht. "If the sales figures are high enough, the costs will inevitably come down with quantity efficiencies." With its eco-cachet and forward-looking functionality, the zeroHouse aspires to become the Prius of prefab. Like a hybrid car, it is a tool for lifestyle change that anticipates challenges and arms owners with solutions before the problems have fully taken hold. Owners get to feel both responsible and stylistically bold—a perfect formula for setting a trend…"Read more: http://www.dwell.com/articles/sweet-nothing.html#ixzz2AqecOXBe

Source: http://www.dwell.com/articles/sweet-nothing.html#ixzz2Aqd4fh6y