Off-grid living requires the use of tools. How else are you going to build and continue to maintain your homestead? Not only do the right tools make living easier, but they also keep you productive. Off-gridders know that it is essential to remain prepared at all times. It's the key to being 100% self-sufficient.
While it might seem simply rugged to live a life off the grid with nothing but hand tools, it just isn't practical. Modern technology has given us power tools and we should use them to our advantage. Having them saves time and gets those projects done with ease.
Five essential power tools for off-grid living:
Chainsaw
There's no doubt about it that every homestead will require the use of an axe. Having a trusty axe to rely on is sure to get you out of many jams with brush or trees. However, when you face the possibility of clearing a large amount of brush, you are going to want more than an axe.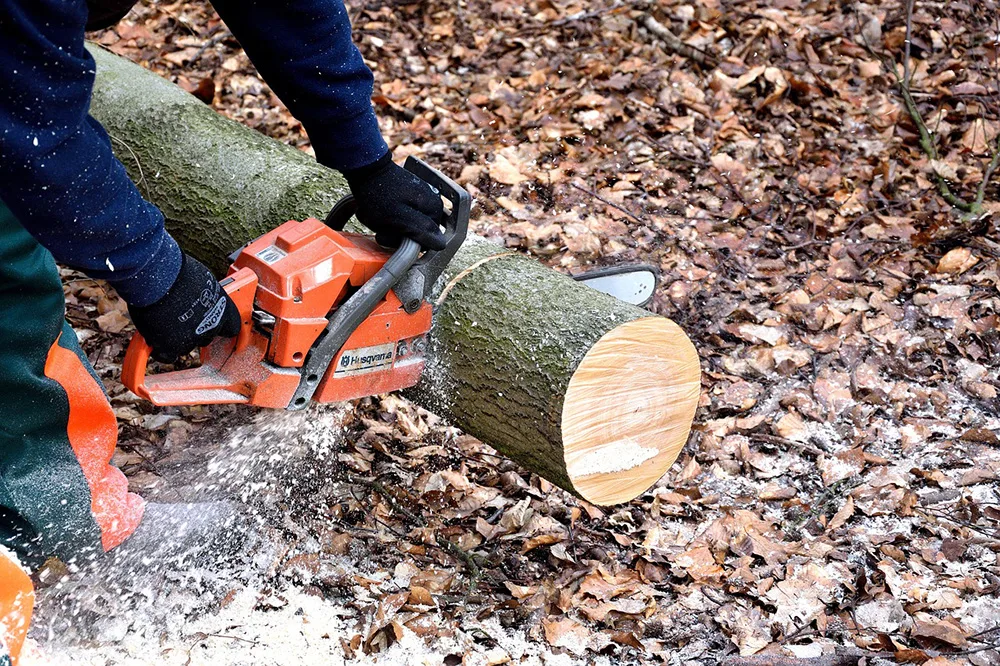 A high-quality chainsaw speeds up your work so that one person can perform the work of multiple men with axes. Another aspect of the chainsaw is that you can easily produce your lumber instead of having to purchase it. This is especially useful if you want to build your cabin. It also becomes an essential aspect to clearing trails or roads after a storm.
There are multiple brands of chainsaws that come highly recommended and will last you for many years. One of our favorites is Husqvarna. Because it is a combustion-driven tool, you will need to supply fuel for it. That might also require the use of fuel stabilizers depending on how long you'll be storing the fuel. If you prefer, there are battery-operated chainsaws available, but you'll need to be sure to keep the battery charged at all times.
Drill/Driver
A cordless drill or driver is a key tool to keep around for drilling holes and driving screws. They are also invaluable for connecting pieces of material together. You'll use it not only to drill your starter holes but even for the uncommon like adding some ventilation to your outhouse.
When you purchase a cordless drill, don't forget to stock yourself with various drill bits as well. Many times you can find these for a lower cost at yard sales if you don't want to purchase them new.
With a brand like DeWalt, you receive a Lithium-Ion battery that will hold a charge longer than others. This means you can use the drill anywhere as long as you've charged the battery first. It's also wise to keep a hand drill around and learn how to use it just in case you ever find yourself in a jam.
Keep in mind that an impact driver is a different tool altogether. This is ideal for driving or removing bolts and screws. They have more torque and a fast-moving hammer which pounds at the bit. An impact driver relieves some of the pressure you exerted but isn't needed as often as a regular cordless drill.
Reciprocating Saw
Many people refer to this as a Sawzall and it is a beast when it comes to demolition tools. Not only are they compact, but they easily cut through steel and wood. The blade will measure anywhere from four to eight inches and you'll find it to be helpful when cutting pipes, pruning trees, and doing any demo work.
The downside to using a reciprocating saw is that the blades are disposable, so you'll need to have stock on hand. Remember, you don't ever want to cut with a dull blade because that is dangerous.
The key to finding a good reciprocating saw is to look for a cordless version. This way, it is easy to use anywhere you need it as long as you've charged the battery. DeWalt makes a highly-rated saw that doesn't break the bank. If you are going to purchase multiple power tools, it might be wiser to grab a kit instead. These offer tools such as your cordless drill and reciprocating saw in one plus they share the same battery.
These aren't a replacement for having a good old-fashioned hand saw. The biggest difference is that with a hand saw; you have to power it. This can become exhausting when working on larger projects.
Table Saw
A table saw is a necessary item to have, especially if you are building your own home. Cutting the planks and boards to the exact measurements needed takes a high-quality product. Use this in conjunction with your chainsaw to mill the lumber that you need. Simply run your slabs through the table saw to get the precise dimensions required.
The other plus to having a table saw is that you'll be able to do your cabinetry work with ease. While hand-crafted furniture is best done with hand tools, the table saw is effective at everything else you need to make. They exceed the capability of many larger saws and accurately make straight cuts with no issues. DeWalt makes a compact table saw that takes up far less room than many other versions.
If you already own a circular saw, it is simple to turn it into a table saw with just a few steps:
Construct a table. You can start with some simple saw horses if you desire. Then, add some cross pieces.
Leave a removable panel. Put a hole in the middle of your table and use a removable panel to make mounting easier. Just remember to place all the hardware on the underside of your table.
Construct a flat edge for the fence. It is also quite easy to use a block plane to handle bumps.
Mount your saw to the panel. Cut your slot in the panel and mount your saw on the bottom of it.
Place the fence parallel to your blade. You might need to pull back the guard to make this happen.
Practice cutting. Before you rely on any piece of machinery, you'll want to test it out on some scrap materials to ensure everything is setup properly.
Power Sander
Yes, it is good to have that sanding block handy for smaller tasks, but a power sander makes large work quite easy. You will use a power sander to smooth out most wood and metal. Many people who are building their off-grid home will find numerous uses for the power sander. In fact, it a helpful tool to have any time you want to paint or build furniture. Belt sanders are also good for sharpening some of your hand tools. Remember to stock up on sandpaper in a variety of grits. The larger the number of grit you purchase, the finer the paper is.
With the various sanders available, it's sometimes difficult to figure what works best. Here are the main types of sanders you'll encounter:
Belt Sander
A belt sander is designed to smooth large, flat surfaces that are rough. It is a heavy tool and uses sanding belts instead of paper. Ideally, you want this type of sander if you'll be removing old finishes such as stains, varnishes or paints. Skil makes a lightweight belt sander that is fairly portable.
Belt sanders are available in a variety of four standard sizes. The size is a reference to the belt they use. You'll find a 3×21-inch which is the most popular size as well as the 3×18-inch which is the most compact and easy to control. Also, they're also available as 3×24-inch and 4×24-inch.
Orbital Finishing Sander
This sander is lightweight and easily controlled with one hand. It also remains fairly quiet. This sander won't damage the piece you are working on easily, so it is a popular choice for a beginner. You wouldn't use this for heavy-duty projects, but it does work well for smoothing wood, rounding sharp edges and knocking off some coats of paint.
These are also referred to as quarter-sheet sanders. That's because they use a one-quarter sheet of a standard 9×11-inch piece of sandpaper. The two spring-loaded clamps are what hold the paper against the sander while the pad vibrates in orbits. Some, like this Black & Decker model, even feature a dust-collection system.
Random-Orbit Sander
Many people confuse the random-orbit sander with the orbital sander. They look alike in design, housing and palm-grip, but there is a difference. The orbital sander uses a square pad while the random-orbit sander utilizes a round pad. With the ability to move in random orbits, this vibrates in tiny circles and spins in circles at the same time. That makes it ideal for stock removal plus ultra-smooth sanding projects. It's not going to remove wood as fast as the belt sander plus it is more cumbersome to control when compared with the orbital finishing sander. With that said, it is the most versatile electric sander to own and the preferable choice if you are only purchasing one.
With a random-orbit sander, you have the one-handed grip that many people like plus a barrel-grip on some models. They also feature either a five or six-inch diameter pad. Orbital sanders are also fairly inexpensive with a variety of models like this Black & Decker for under $30.
Conclusion
There are plenty more tools that are worthy of being in your off-grid arsenal, but the ones mentioned above will be used the most. Not only are they ideal to have for everyday projects, but also for larger tasks you want to accomplish. While it is an investment to purchase power tools, you're going to save the money the first time you would've needed to hire a professional.
***
Mark is a professional woodworker with a passion for power tools and do-it-yourself projects. Despite working for over two decades in the tools industry, he is always looking for new tips and techniques and spends his free time sharing his expertise on ToolsCritic.com