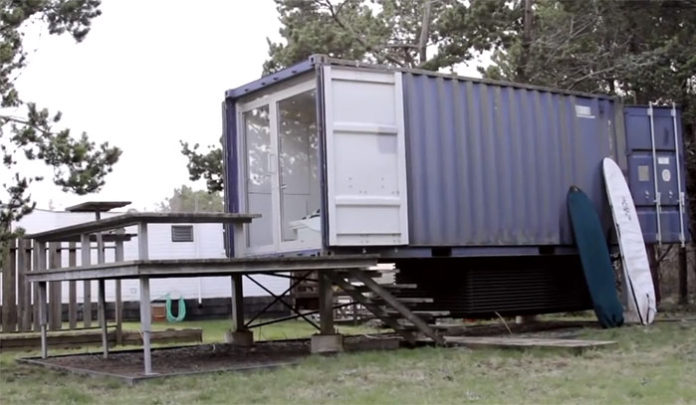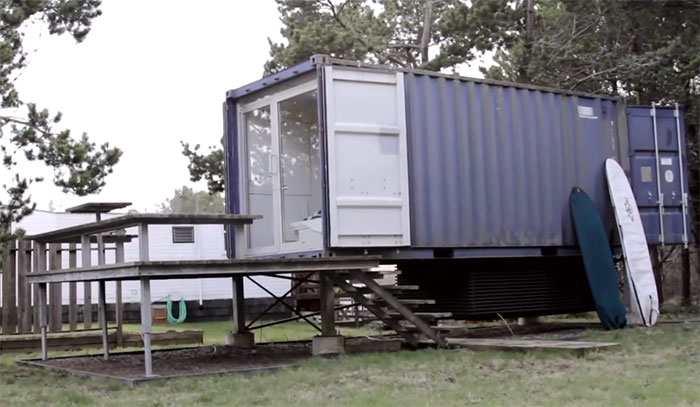 This unique take on a tiny shipping container home was built by Hartman Kable in Seattle, inspired by a New York architect.  Built from a 20-foot by 8-foot container, the home is only a total of 160 square feet and exceptionally modern and minimalistic.  With some creative design work and storage options, the home has everything one might need for comfortable living, including a kitchen, a water closet bathroom with shower, sink, and toilet, plenty of storage space, seating areas, and a bed.
Kable decided to design the container home as "raw" as possible, doing very little to the exterior and keeping the interior super simple and open.  All of the furniture – the shelves, table, bed, and seating benches – are built into the wall and can all be folded up when not in use.
While the white materials inside the home appear new and pristine, Kable says most everything in the house was built using recycled materials.  There are no windows on the sides, but each end has full glass doors (remnants that used to be installed in a mall) that let in plenty of light.  Those, combined with the white interior, make the space surprisingly bright and open.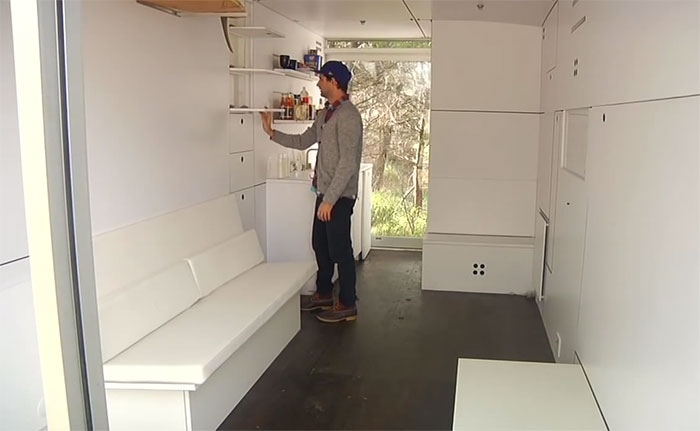 A nice deck outside the "bedroom" end of the home provides a relaxing seating area.  When Kable is away, the ends of the container can be closed over the windows to securely close up the home.  See this video for a tour of Hartman Kable's home.  It's a gorgeous example of how well-utilized space can make living in a tiny  home very comfortable.