The chicken coop craze doesn't seem to be going away anytime soon. People are coming up with some pretty fantastic designs for their feathered gals – some fancy, expensive, and elaborate, and some rustic beauties made with repurposed materials. No matter how they're made, they are pretty cool to look at. We decided to follow up on our previous adorable chicken coop post and go on a search for more, so here are 20 more ridiculously adorable chicken coops to feast your eyes on.
A nice mix of bright colors can turn an ordinary coop into a beautiful showpiece. This coop, seen on the Garden Web forum, is built in a flower garden and accented with antiques.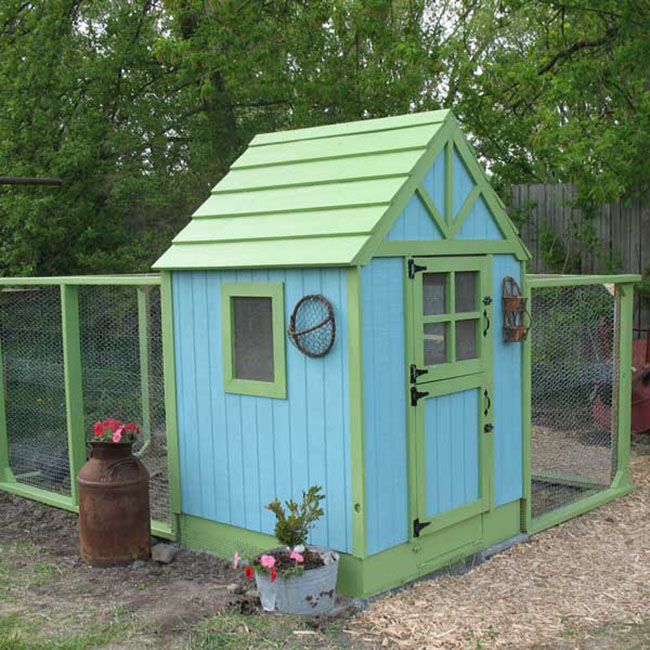 Chicken coops don't get much more rustic than this one, built into an old tree trunk, with aged wood door, roof, and windows. This sits in the corner of an industrial park in New York. Image via Flickr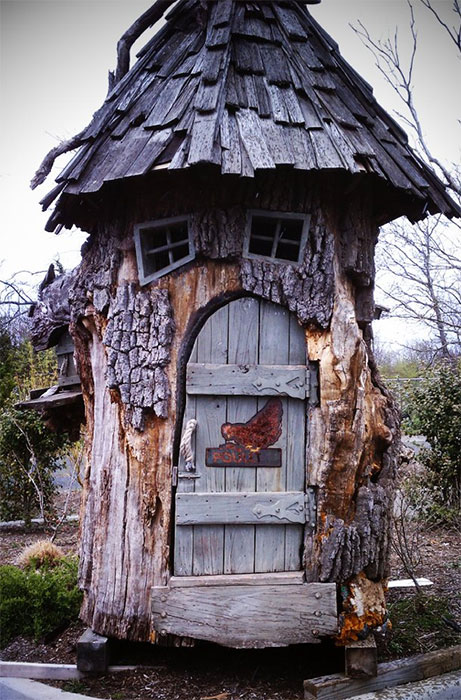 An old garden shed was transformed into this "Palais de Poulets" with a vine-covered tower and living roof. Beautiful! Via Debra Prinzing

How ridiculously cute is this?! Instead of one big coop, this little chicken town seen on Varbak features several small buildings on a wooden platform for the chickens to reside and lay their eggs.


Here is a gorgeous chicken tractor (mobile chicken coop) built to match the house near which it resides. Via The City Chicken

This immaculate black and white "Many Feathers Cottage", seen on Vintage Garden Gal, was built by Monte & Donna Partlow in Sequim, Washington. It is complete with electrical wiring, insulation, vinyl flooring, and easy access to the picket fence enclosure.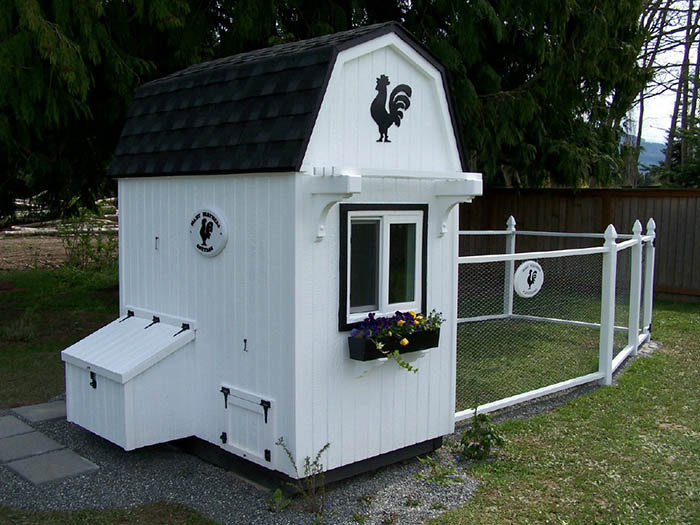 The "Bayou Chicken House" at Easter Creek Farms is made entirely out of repurposed materials, so it cost almost nothing to build. It took a little creativity to gather up all the materials, and the result is pretty inspiring. See the building process at Backyard Chickens.

This fancy chicken cottage with a little wood front deck and mini picket fence sits on top of the chicken run to save space. Via Backyard Chickens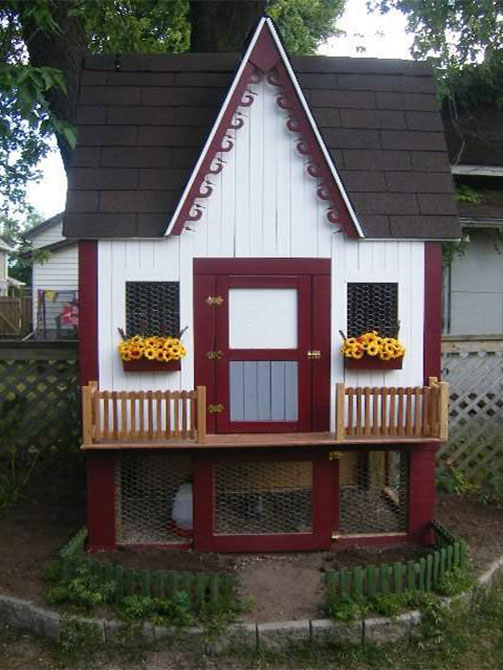 This old coop, seen on Fingers in the Dirt, has an interesting shape and takes up very little space. Something similar could be built pretty easily out of pallets or other repurposed materials.


I absolutely love the combination of natural wood and bright colors on this coop featured on Popsugar. The colors match the flowers that adorn the outside of the building.


For more something with some old west charm, check out this coop from It's a Green Life.


Bluebetween on Backyard Chickens built this beautiful coop full of fun and practical features, including plenty of storage space, water towers for easy watering, and easy access.

This awesome little red barn chicken tractor from BKeee on Backyard Chickens is the perfect size for a few hens, and is easily portable.


Here is another great example of an adorable little coop made out of all recycled materials. Via Flickr

Here's another space-saving design with the house sitting on top of the chicken run. There's even space for a little garden. Via The Wall Street Journal


This colorful coop from Sunset is modern simplicity, with gorgeous colors and a living roof.

A quaint A-frame coop made with recycled materials is avery simple, inexpensive way to house chickens. Via Flickr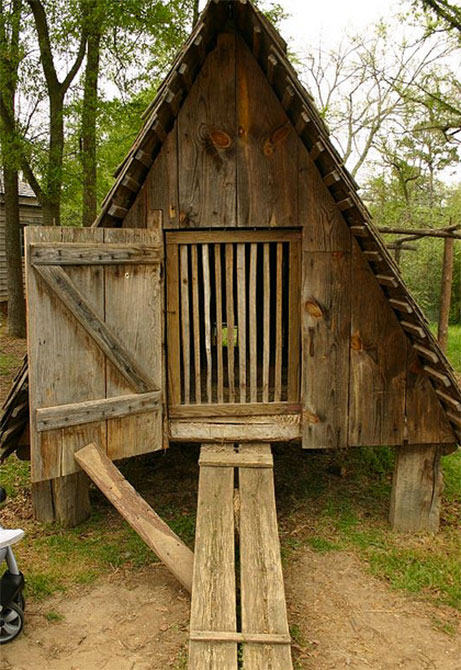 A geodesic dome avaiary/chicken run is an awesome idea. These are available on Etsy, and would be a pretty cool DIY project. Via Buzzfeed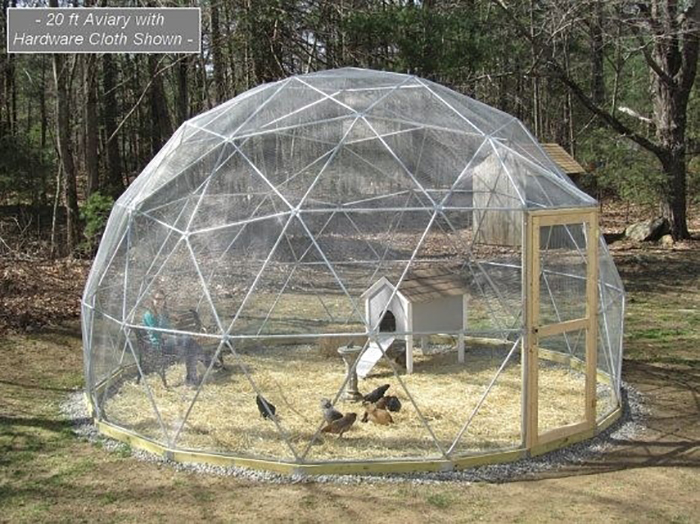 This classy chicken tractor seen on Candy's Dirt has lots of room for the chickens to roam but can still be easily moved around.


Last but not least, here is a fabulously unusual coop featured at a flower show. Odd…but cute! Via Flickr