Living willow structures are a cheap and sustainable way to add gorgeous elements to your property. They are fun to create and are functional, providing shelter or fencing in addition to decorative aspects. Using willows to create shelters, fences, and sculptures has been popular in the UK for ages and is becoming more popular in the US. Check out these 15 amazing living willow project ideas for a look into the types of things that can be made with willow whips:
15 living willow project ideas
1. Living willow dome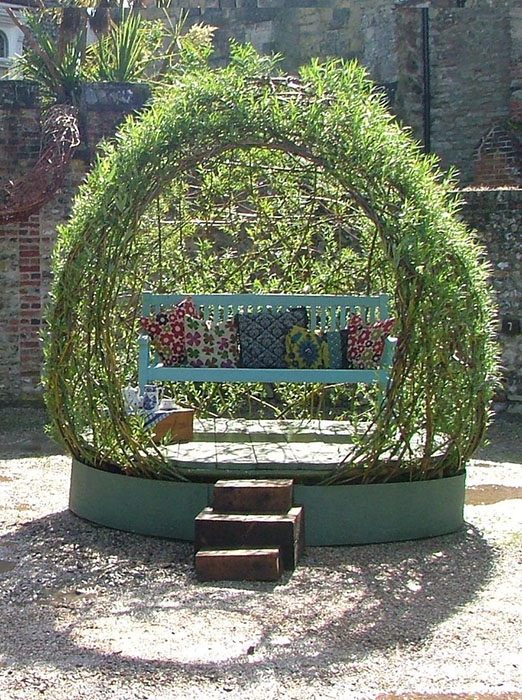 This living willow dome, made by Two Circles Design, is a mobile living structure made to be moved around to festivals and outdoor shows. This would be beautiful as an outdoor seating area and could also be used for weddings and other events.

2. Living willow tunnel
A living tunnel would be so much fun to have in a garden. It would be the perfect shady place to hang out on hot summer days, and kids would love it! This tunnel was made by Willow Culture in the UK – creators of many whimsical living willow garden enhancements.

3. Willow fence
Fences made of willows are extremely functional and easy to maintain. As they leaf out and create new growth, they make an excellent privacy fence. This example was made by Lakeshore Willows in Ontario.
4. Mature willow privacy fence
Here is another example of a fence, also by Lakeshore Willows. This is a more mature fence with taller willows and more leaves.
5. Willow arbors
Amazing structures can be made out of willows, like these arbors seen on EarthPlay. These would make a beautiful and fun addition to any yard or park, requiring little maintenance once established.
6. Willow-sheltered seating area
Here is another beautiful live willow seating area providing shade in a yard. This willow dome was made by artist Kim Creswell, who makes incredible sculptures out of willow branches.
7. Willow fence in winter
This living fence graces a courtyard in Toronto. The willows are mature enough to provide privacy in winter, and even more in the summer when the fence fills out with green leaves. Image via Toronto Gardens.
8. Artsy willow tunnel
This beautiful living tunnel doubles as a showy piece of outdoor artwork in a community park. Image via Common Designs.
9. Willow den for kids
For a fabulously fun idea for kids, check out this living willow den for kids from Raining Sparks. Forts don't get much better than this!
10. Willow tunnel in a garden
This willow tunnel adds some vertical space to a garden plot and acts as a natural divider between the garden sections. Image via Woven Worlds.