In a world of cookie-cutter homes, people are looking for living spaces that are unique, affordable, and reliable. With housing prices climbing, is there an alternative to a 30-year mortgage? Many have found shipping container homes to be the solution.
Unlike a traditional home, building a DIY container home can give you the freedom to create whatever kind of structure your heart desires. Whether a single-container tiny house or a multi-story mansion made from several containers, you can customize your home to fit your needs and budget.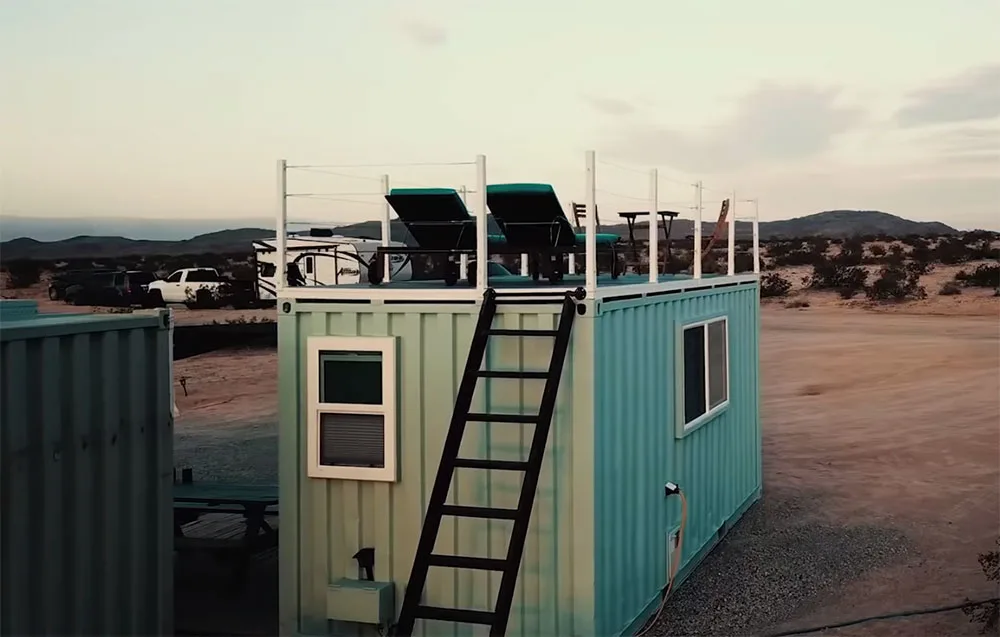 Why build a container home?
Shipping containers are exceptionally versatile and can be used for many different applications: full-time housing, added to properties for extra living space, rented out as Airbnb rentals, or converted into auxiliary structures such as pool houses, home gyms, and home offices.
The durable corten steel exterior does much more than provide a unique aesthetic; it enables the container to be one of the strongest structures on the planet, giving your home the strength it needs to withstand almost any natural disaster.
One of the advantages of building with shipping containers is that you can perform the build-out yourself. This will not only save you a lot of money on your home but will also allow you to design a structure that is right for you and your family's needs.
Thousands of people across the U.S. and the world have already paved the road for how to do this, and in this guide, we have distilled this information into a clear roadmap for how you can build your own shipping container home.
How to Build a Container Home: the Basics
Find your location
The first step in a DIY container home journey is identifying where you want to build your structure. One of the most important things you should do before starting your build is to contact your local zoning and building department to understand what the regulations are in your region and what codes you will need to meet.
Typically, major cities have higher building safety and energy standards, so the cost to build will be higher than in more rural areas where the regulations can be minimal.
Finalize your budget and design
Once you've decided on a location and determined that you're able to build a new container home on your property, the next step is to understand the code requirements. Then, you're ready to finalize your overall budget and design.
When planning a shipping container home build, you want to make sure that your design is in alignment with your budget. There is a misconception that shipping container homes are much cheaper than traditional construction. However, in many instances, the cost to construct a container home will be similar to the cost of building any other style of custom home.
Using standard construction costs will help you as you are estimating your total budget. Costs in a DIY build will still be cheaper than purchasing a finished home – sometimes a fraction of the price. If you're on a strict budget, you can keep these costs even lower by upcycling materials and appliances.
Obtain your building permit and prepare the site
After your design is finalized, you will want to submit the floor plan and other construction documents to your local building department. They will review the plans and provide you with a building permit once all the items meet the local building codes.
With approval, you will have the authority to move forward and begin your project. It's important to first have your land properly developed and prepared for your home. This includes grading the site, installing the proper utilities, and pouring your foundation.
Place the containers and start construction
With the foundation poured, you will be able to move your shipping containers into place. This is something you can do on your own or arrange with the seller you purchased your containers from.
This step is contingent on several factors, such as the ease of access to your property, the type of foundation, and even the weather. Once you have your containers in place, you're ready to begin construction.
The first stage of the construction process is performing all of the structural work on the containers. This includes cutting out holes in the steel corrugation for hallways, doors, and windows, as well as properly reinforcing those cutouts with tube steel.
It's important to follow your engineered drawings during these steps to ensure everything is structurally sound and will meet code.
Interior rough-in
Once all the structural components are completed, you will move into the rough-in stage. In this stage, you will frame out the interior of the home with metal or wood studs and install your doors and windows.
Then you'll install your electrical, plumbing, HVAC, and insulation. We recommend using closed-cell spray foam for the insulation to prevent any condensation from developing on your interior shipping container walls.
Interior build-out
With the rough-in completed, you'll then move to the interior build-out. You'll install your wall finish of choice which could be drywall, shiplap for interior walls, plywood, or an alternative product.
For flooring, you can choose to keep the original container floors or add the flooring of your choice. From there it's time for the cabinetry, interior doors, baseboards, and trim.
Final touches
For the final touches, you'll finish out all of your electrical and plumbing as well as any built-in furnishings that will be in the home. This is also when you'll get your appliances installed, such as your refrigerator, dishwasher, and laundry machine.
With the construction of the container home completed it's now time to move in and enjoy your hard work!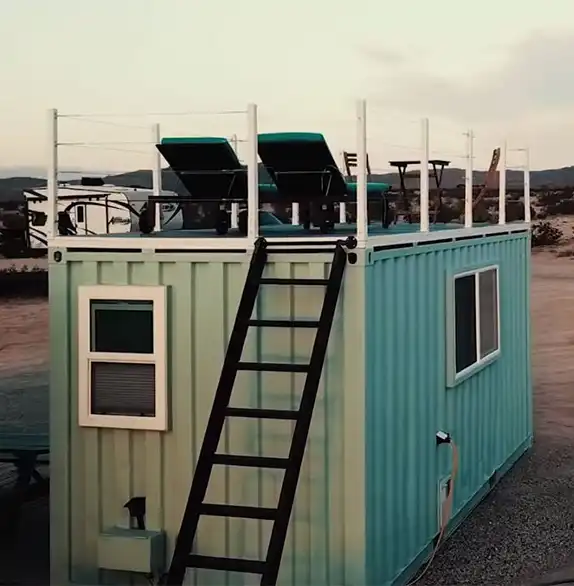 Build A Container Home
Learn from the pros and save money by building your own shipping container home! This free training is full of tips to get you started on your own DIY container home project.
Access the free training
We earn a commission if you make a purchase, at no additional cost to you.
DIY container home building FAQs
Now that we've covered the basics, here are answers to questions we commonly see from DIYers considering building a container home.
How do I know if a DIY container home is right for me?
Building a container home can be a great project for anyone wanting to build their own home "outside the box" of traditional construction. You'll want to consider a few factors, such as how much space you'll need for your family and lifestyle.
Whether you are looking to build a tiny home from a single unit or a larger home with multiple containers, the versatility of shipping containers makes them an attractive option for unique, durable structures. If you're a do-it-yourselfer, not afraid of hard work, and have a passion for building, this may be the perfect DIY project for you.
What are the most important things I should consider before building a shipping container home?
The essential first steps to the container building process are checking local building codes and ensuring your property is suitable for a shipping container structure. If either of these prevents container home builds, you'll have to rethink your options.
You'll also need to plan out the construction of your home thoroughly, including design, materials, and any other necessary supplies and expenses.
Finally, you'll want to make sure you have the right tools and experience to complete the build.
You'll also need to adequately prepare the site and arrange for proper transportation of the containers to your property.
How can I find building plans for my project?
Finding the right building plans for your project is crucial to ensure that the building meets codes and safety standards that your municipality requires.
You may consider working with an architect or engineer to help design your plans. Alternatively, there are plenty of resources online that offer ready-made building plans for shipping container homes.
How do I get approval for my shipping container project?
Approval for DIY shipping container builds varies by municipality. Generally, it will require an application process with local zoning departments and compliance with all applicable codes and regulations in your area. Unlike modular homes, which are built off-site, DIY builds usually require additional permits.
It's a good idea to have a basic floor plan ready when you stop in at your local permit office. This will help make the process go a bit quicker and smoother. If your project is not approved, they will be able to give you feedback on the necessary changes required to go forward with obtaining permits.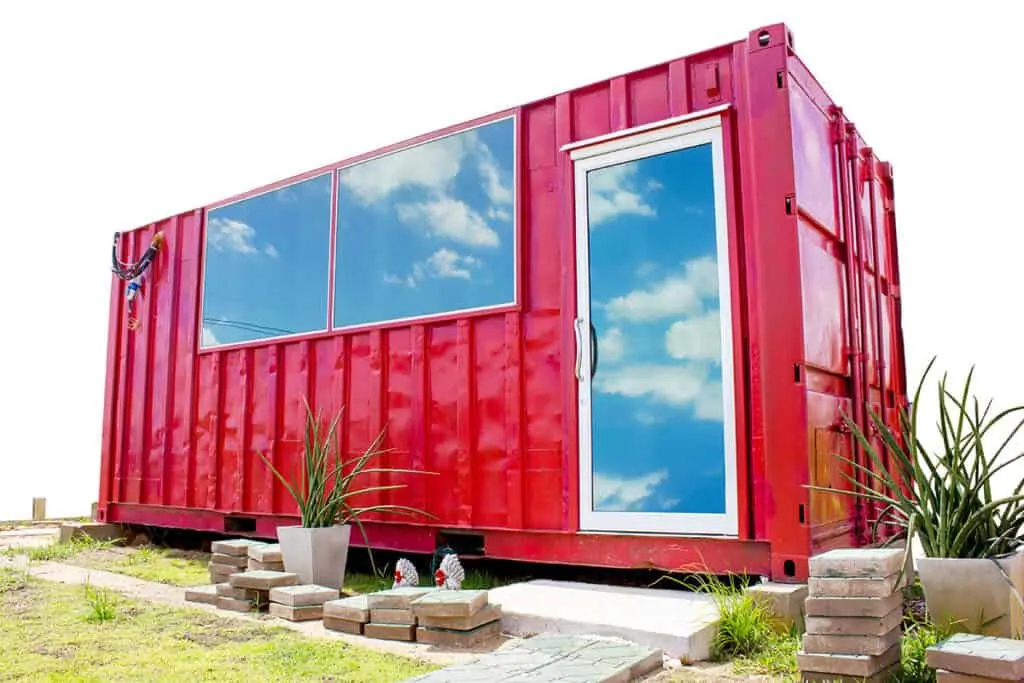 What materials are typically used in shipping container construction?
In addition to the corrugated steel and tube steel on the container itself, common materials used in construction include wood lumber for interior framing, drywall, shiplap, plywood, trim and baseboard moldings, electrical wiring and piping, and insulation. For finishing the interior, materials can include paint, flooring, cabinetry, windows, and traditional or glass doors.
How long does it take to build a shipping container house?
The timeline for building a shipping container home can vary depending on the size and complexity of your project. Generally speaking, it can take anywhere from several weeks for a simple single-container build to a year or more for more complex builds.
Is building a shipping container home difficult?
Building a container home can be challenging but also rewarding. Just as the length of time required for construction varies, so does the difficulty. It all depends on the complexity of your build.
Having a solid plan in place from the start will make the process go much smoother. Naturally, working with steel shipping containers is a different process than most other types of construction, but with the right knowledge, building your own container home is very doable.
Is it best to use new or used containers for a DIY build?
Whether you choose new or used containers really depends on your budget, the look you're going for, and how much work you want to put into your project.
Because they have minimal wear and tear, new shipping containers are preferred by many builders. They require less work to prepare for the build and ultimately result in a longer life for the structure.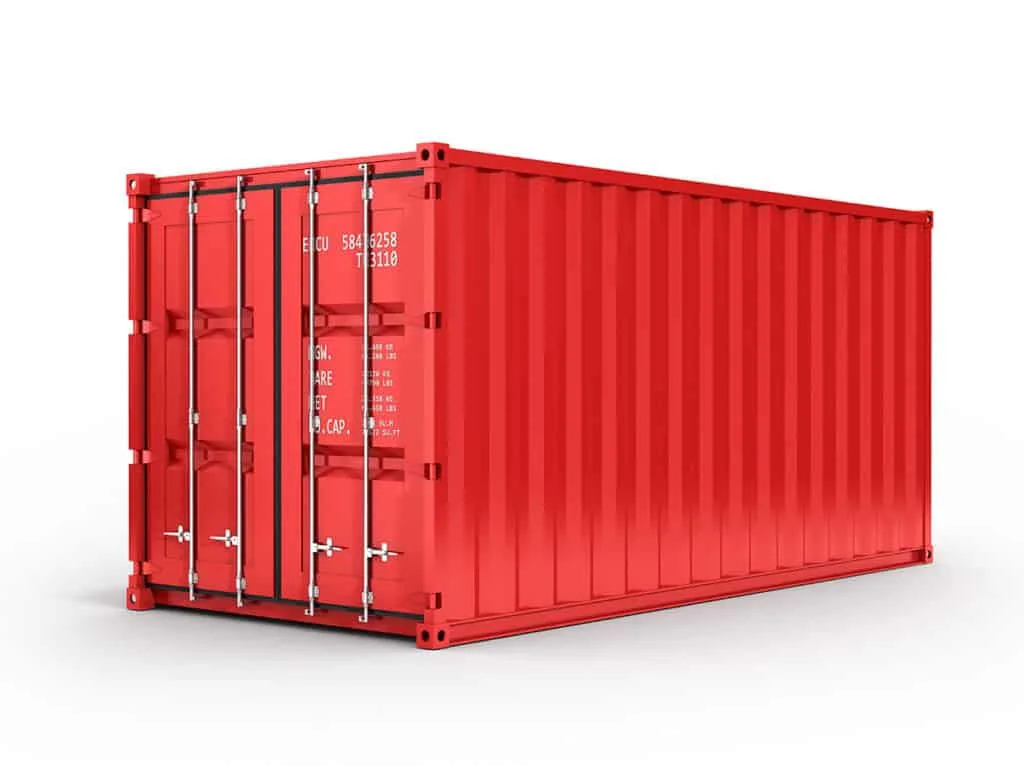 If you have a tighter budget and know what to look for, used containers can be perfectly suitable for building as long as they meet safety standards and are properly prepared. A used shipping container in excellent condition can look nearly new – but at a much lower price.
Keep in mind that some counties will require you to use new containers for your build, so be sure to check this before purchasing your shipping container.
Where can I buy shipping containers?
Depending on your location, you may be able to find local suppliers of shipping containers. If not, many online retailers offer them. Make sure you're buying from a reputable source and that the containers meet all necessary safety standards.
For detailed information on what to look for when shopping for a used container, be sure to check out our guide for buying a shipping container.
What is the most efficient way to transport and place the containers onto my foundation?
Shipping containers are most commonly moved with tilt-bed or rollback trucks. This is the most efficient and safest way to move them. As for placement, you may need a crane or other lifting mechanism to lift the containers off the truck and onto your foundation.
If you don't have access to a crane, it may be possible to use a trailer and winch system to move the containers into place at your building site. Be sure to exercise caution when using this method, as it can be dangerous if done incorrectly.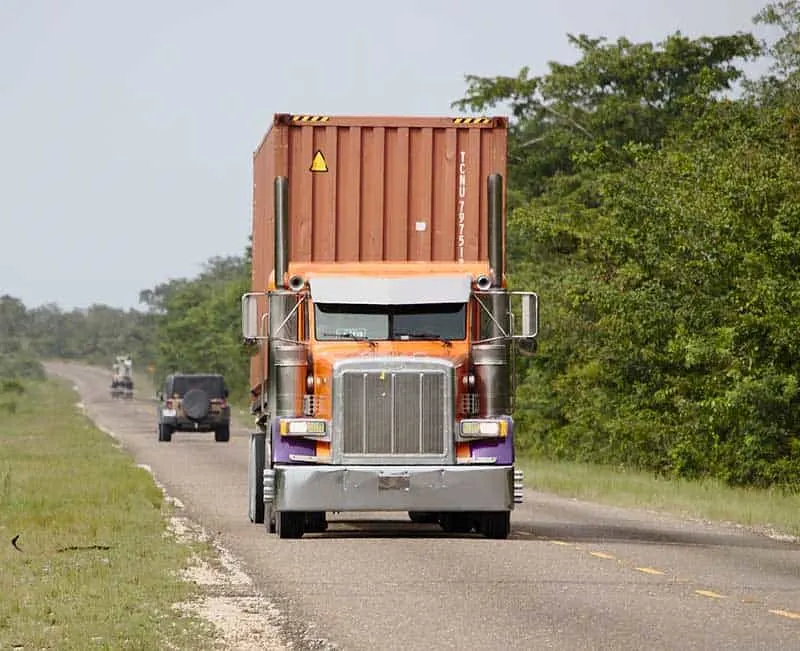 What tools will I need for DIY shipping container construction?
You'll need basic building tools such as a drill, saws, screwdrivers, hammers, and other hand tools. Additionally, you will likely need specialty tools, including an angle grinder and welder, to handle the initial structural work on the container.
What is the best way to ensure my DIY container home meets safety standards?
The best way to ensure your home meets safety standards is to work with a qualified structural engineer or a builder with experience in shipping container architecture. They will be able to provide detailed plans and advice throughout your project.
Additionally, once you apply for the necessary permits with your local zoning department, the individuals responsible for inspecting your build will help ensure that all safety standards are met.
Are there any special considerations for constructing and placing containers on my property?
When placing storage containers onto a plot of land, consideration should be given in regard to whether the land is suitable for such structures, the location of utility lines, and possible zoning restrictions.
Some factors, such as steep hills or lack of easy access to your property, can make building a container home more difficult.
What are some common mistakes to avoid when building a shipping container home?
When it comes to DIY shipping container builds, there are a few common mistakes that should be avoided.
First, it's important not to skimp on the materials you use. Quality materials can help ensure your home is safe and secure. Upcycled materials can save you a great deal of money, but you'll want to make sure they are still in good condition.
Second, it's essential to be familiar with local building codes before beginning your project. This is important so that you can ensure that your home is allowed in your area and meets all of the necessary safety standards.
Finally, it's important to take your time and do the project right. The DIY process is rewarding, but it requires a great deal of patience and precision to get the best results. Shortcuts may save you some time but could lead to costly mistakes down the road.
If you're interested in building your own shipping container home and want to learn from experts, you can check out this free training from some of our favorite container home builders at Alternative Living Spaces. We've featured their work in previous articles, including the Joshua Tree container home. In their training, you'll learn key tips and tricks to build your DREAM container home for LESS.
Good luck, and happy building!