There are not many things better than a steaming pot of venison chili on a cold winter night. Chili is definitely one of my family's favorite dinners – even for the picky ones! And I love it because it is so fast and easy to make on busy school nights. It is also cheap to make and healthy!
Venison chili basics
Though we're using venison here, chili can be made with just about any meat you like, or you can leave the meat out altogether. For our family it's a great way to use ground venison and other game meat over the winter when we have a full freezer.
This is such a versatile dish, you can add or omit pretty much whatever you want. As long as you have the basics – beans, tomatoes, and seasonings – the rest is up to you!
I prefer to make my chili in a Dutch oven on the stove, but this recipe is super easy to adapt to a slow cooker or Instant Pot. See the notes below the recipe instructions for some tips and variations.
When I make chili, I almost never use an actual recipe or strictly follow measurements, so feel free to wing this one! The beauty of chili is as long as you get the basics in, it pretty much always turns out great. 😉
Venison chili recipe
Chili Ingredients:
1-2 pounds ground venison
2 cans (14.5 oz) diced tomatoes
1 can (4 oz) chopped green chilis
1 can (6 oz) tomato paste
1 can (15 oz) kidney beans or mixed beans
1 can (15 oz) chili beans
1 chopped green bell pepper
1 chopped onion
3 minced garlic cloves
1 teaspoon ground cumin
3 tablespoons chili powder
Salt and pepper to taste
Instructions:
In a Dutch oven or stock pot, cook the venison over medium-high heat until the meat is almost browned.
Lower the heat to medium and add the onion, garlic, and green pepper. Cook for a few more minutes until the meat has finished browning and the vegetables have softened.
Stir in the canned beans, tomatoes, tomato paste, chili powder, and cumin, then bring the pot to a boil.
Reduce the heat and let the ingredients simmer for 30-45 minutes.
Add more salt or pepper to desired taste.
Spoon into bowls, top with favorite toppings, and serve!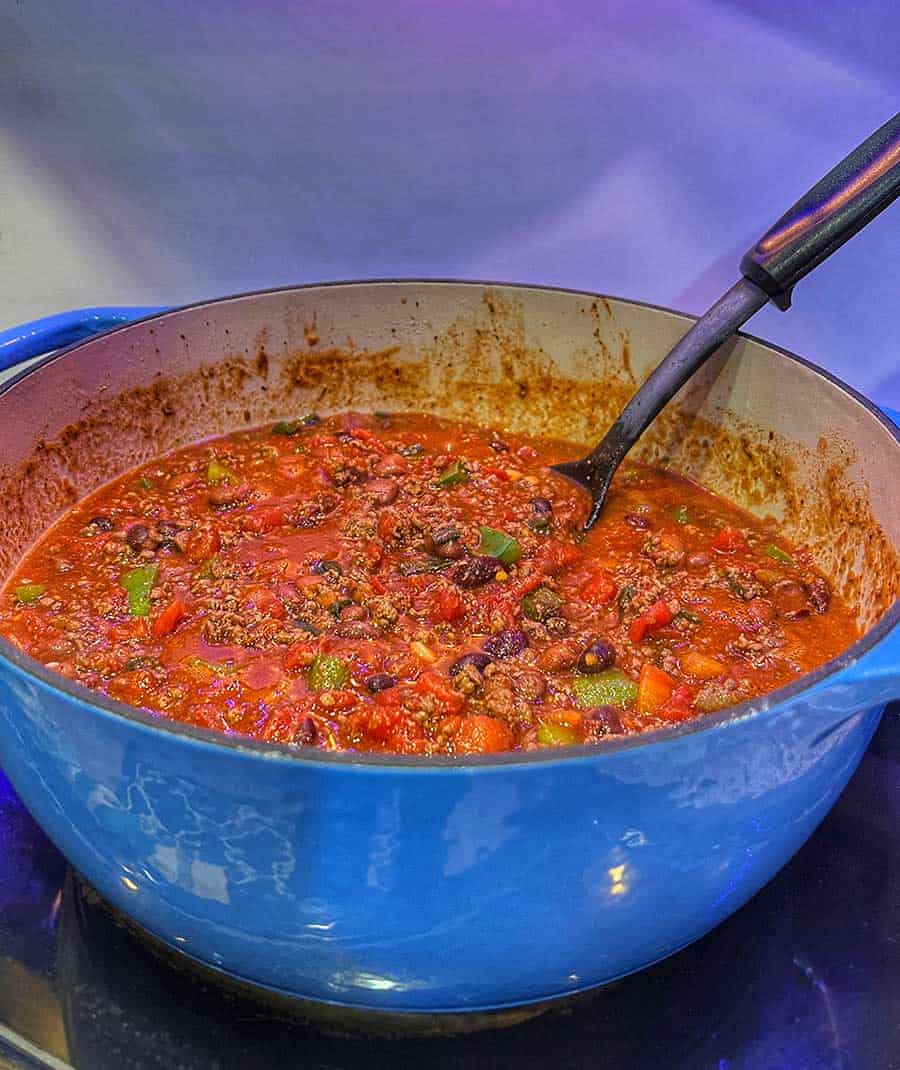 Venison chili tips and variations:
To get an extra dose of veggies in your meal, add in whatever other vegetables you like, including celery, carrots, or other root veggies. I like to sneak some greens – like chard or spinach – into our chili when I have them on hand.
If you aren't partial to diced green chilis, omit them altogether or just add more tomatoes in their place.
You can use just about any kind of beans you want in this recipe. If you don't want to use canned beans, cook your desired dried beans and substitute them with canned.
When I am in a hurry or feeling impatient I don't let the chili simmer long. Instead, I crank the heat up to a mid boil and cook it faster. If you do this, you may need to add some extra water and stir often to keep it from sticking.
Get creative with toppings! Cheese, sour cream, avocados, chives or green onions, fresh herbs, corn chips, and crushed crackers are just a few delicious ideas.
Chopped fresh tomatoes also taste great in chili. This is a great way to use up your late tomato harvest in the fall or frozen garden tomatoes over the winter.
Store leftovers in a covered container in the fridge and enjoy for a few days.
Crockpot venison chili
If you want your chili ready and waiting for you after a long day at work, you can easily make this recipe in a slow cooker.
Brown the meat and vegetables following steps 1 and 2 above. Add to a slow cooker and stir in the rest of the ingredients. Add some water if the mixture seems too thick. Cover and cook on low for about 8 hours.
Enjoy this classic and don't be afraid to adjust any ingredients to suit your taste!